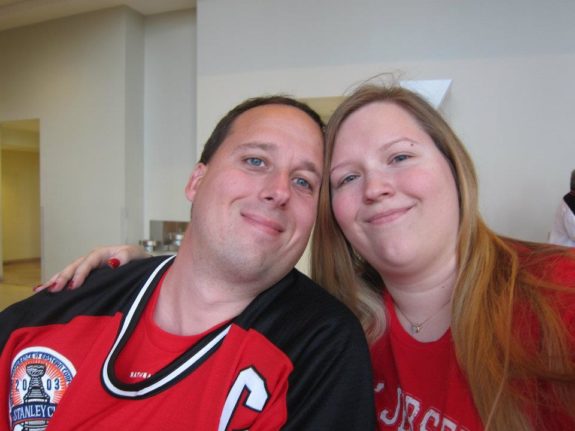 Any fantasy hockey expert will tell you that the hardest opponent to face is not the unknown but it is another expert. This week on "He Said/She Said", the two experts meet in the THW Live Fantasy League. When these clashes happens, does it get personal? It does a little but mostly in a pushing buttons type of way. For people that do not know hockey fans fire and foremost, this kind of ribbing is the norm.
Our previous articles focused on survival and other fantasy dilemmas. This one goes in the mother of all different directions like mentioned above. Basically a collision of collision results.
A Fantasy Hockey Rivalry:
These matches are not just matches. Anytime I go into a battle with a fellow fantasy hockey expert, it is always something a little bit more. There is no way of getting around that fact. Competition yields a rush to check scores or make a move, maybe more. Legend has it there were a few meetings before the one this week. Here are those stories.
Week 16 2012 Season:
TEAM
SKATERS
GOALIES
TOT
NAME
G
A
ATOI
SOG
BLK
STP
W
SO
GAA
SV%
Polish Express (148-43-19)
34
28
20:51
208
74
19
5
0
1.956
.9324
6-3-1
Jersey Devils (111-80-19)
8
20
18:29
174
88
9
4
0
1.676
.9444
3-6-1
Basically a couple years ago this was like taking a knife into a gunfight. Rachel had enough offensive weapon to run wild in the league and that is just what she did. The thing is the genesis of a fantasy strategy was born as there was a realistic goal. What is that you ask? Simply a tie or something close was the ideal. Yes all the goaltending categories were close but so were assists and even shots on goal until the weekend. Wins were right there too. Categories were to be had but Rachel's team was just too good.
Some categories just were not going to happen (ATOI, goals, and special teams points). The funny thing is adaptation breeds a little bit of something different every time. You will see that in later matchups. There is more.
Semifinal Round — Playoffs 2013
TEAM
SKATERS
GOALIES
TOT
NAME
G
A
ATOI
SOG
BLK
STP
W
SO
GAA
SV%
#5 Jersey Devils (59-37-14)
18
23
19:19
164
72
10
3
0
0.950
.9615
7-2-1
#1 Polish Express (76-24-10)
15
19
19:25
153
73
7
0
0
3.204
.8870
2-7-1
Then there was the shortened season last year. The differences were as clear as day. Injuries would play a role for both teams but ultimately it would come down to goaltending, which wasn't a contest again. This time it did mean something as offensively the terms were a bit more even. Brian Elliott of all players was a key move that unexpectedly worked out for so many fantasy players. Sometimes these things just happen. The injury to Erik Karlsson was painful but Rachel said it best, "my goalies were just not good that week and really not much else was either".
Sometimes that is just how it works in fantasy hockey. The beauty is the Polish Express won two years ago, the Jersey Devils won last year, so who wins this year? That answer is yet to be determined? However…..
The League Dynamic….
This is what has dramatically changed. There is way more balance than the three previous years of this ESPN league. For example, five to seven teams could feasibly walk away and take the crown. That could not be said before. What happens this week does not go a long way in determining a champion. It really is for the tiniest bit of bragging rights while chasing a bigger goal….another title. Let's see what happens.