With the Buffalo Sabres destined to have at least one top-five pick this summer and the NHL Central Scouting Bureau (CSS) recently releasing its midseason rankings, it's time to analyze how the NHL's top draft prospects could fit into the Buffalo Sabres roster and overall bigger rebuilding plan.
Sam Reinhart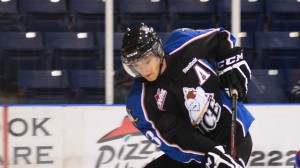 Going into the season, Reinhart was the frontrunner to be selected first overall, but CSS has him ranked fourth. Reinhart comes from a strong hockey bloodline. His older brother Griffin is a 2012 draft pick selected fourth overall by the New York Islanders, and the eldest Reinhart brother Max has played with the Calgary Flames this season, while their father Paul Reinhart is a former NHL All-Star.
Reinhart possesses a high hockey IQ and natural on-ice instincts. Along with his intellect, the Kootenay Ice forward also has great vision and a good set of hands, making him a natural playmaker. In addition to his playmaking ability, his versatility makes him a good fit for the Sabres. Although Reinhart is naturally a center, he played the wing at World Juniors because of Canada's depth up the middle. The Sabres need help at both positions so Reinhart's willingness and ability to play at either spot makes him a valuable commodity for the Sabres.
In spite of Reinhart being younger than most of his competition, Reinhart didn't look out of place at World Juniors. In fact, he performed very well creating opportunities and limiting mistakes and playing an all around smart game. Reinhart's addition to the lineup would immediately inject an added punch to the Sabres lackluster offense.
Aaron Ekblad
Aaaron Ekblad was teammates of both Sam and Griffin Reinhart at this year's World Juniors. Even with Minnesota Wild's Matthew Dumba on the roster, Ekblad was Team Canada's most consistent defenseman throughout the tournament.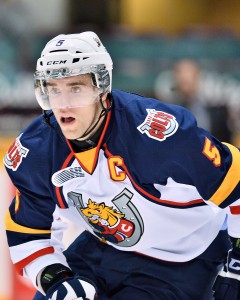 Like Sam Reinhart, Aaron Ekblad wasn't rattled by the World Juniors stage and remained poised and confident in spite of his age. Ekblad is a true two-way defenseman and can make things happen in all three zones of the ice. Given his hockey sense and ability to pass the puck, Ekblad can be an asset on the power play as well as a true force on the blue line because of his size (6'4″, 216 lb).
Because of the Sabres need to find scoring and the fact that they just drafted Rasmus Ristolainen and Nikita Zadorov last year – both of whom had outstanding showings at World Juniors – it's unlikely the Sabres will draft another defenseman this early. It would be fun to imagine Ekblad playing with those two as well as Tyler Myers and Brayden McNabb. That's be an enormous blue line.
Samuel Bennett
Samuel Bennet is the man currently listed as the top prospect by Central Scouting. He may not have the flash that we've come accustom to seeing at the top of the draft, but he more than makes up for it with his high octane style of play. His energy and quick feet allow him to create chances and he's not afraid to crash the net and go to the tough areas to score goals.
Bennett is the type of player the Sabres covet, especially coach Ted Nolan. Imagine pairing Bennet with Girgensons and another energetic forward. That could possibly become the hardest working line in hockey. If Bennett is on the board, it will be extremely difficult for the Sabres to pass him up given his compete level and style of play.
Leon Draisaitl
Leon Draisaitl aims to be the highest selected German-born player in quite some time. Going into World Juniors, Draisaitl was selected as one of the top players to watch by many hockey pundits. However, he was one of the few high-caliber players who failed to impress in Sweden. Playing for under-skilled Team Germany, many expected Draisaitl to pave the way for the team, but he was almost non-existant. His biggest splash came when he was suspended a game for an illegal hit.
This brings with it the concern that Draisaitl may struggle without a strong supporting cast and maybe shouldn't be looked at to be "the guy." That would mean Buffalo would be a less-than-ideal situation for him.
From a need standpoint, Draisaitl could be a good fit. He's a playmaking center whose best asset is his intelligence. He possesses soft hands and is an excellent skater. His on-ice vision is the catalyst to his playmaking ability.
With a long season still in store, many in Buffalo are already looking to the offseason. Who do you think the Sabres should take in this year's draft?