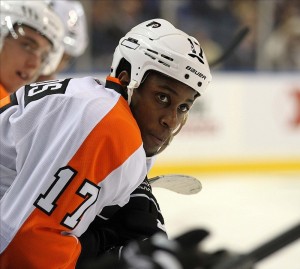 Much has been made recently about the breakout of Philadelphia Flyers' winger Wayne Simmonds and how he leads the NHL in points (22) over a 17-game span dating back to December 17. A gritty forward in front of the net, Simmonds' development comes as no surprise to folks around the league.
Before the Flyers acquired the Ontario native in 2011 via the Mike Richards deal, Simmonds was a hot commodity for potential trade suitors with none being more attracted to him than the Atlanta Thrashers. Ever since he broke into the pros, Simmonds has flashed glimpses of stardom, which is what made such an attractive target.
Now, though, everything has come together. The man dubbed, "Wayne Train," has established himself as one of the best young skaters in the NHL. Thankfully for the Flyers, they were the beneficiaries of a trade that fell through between the Los Angeles Kings and Thrashers.
[Keep Vivid Seats in mind for your Flyers tickets needs]
In 2010, the Kings were filled with promising young talent on their team. The front office knew they just needed one more piece to become serious contenders in the Western Conference. That piece, they thought, would be Ilya Kovalchuk. A four time 40-plus goalie scorer, including two seasons with 52 goals, Kovalchuk was set to hit the open market where he would seek a lavish contract.
The Thrashers, after having a reportedly 12-year, $101 million extension declined by the Russian, realized they weren't going to be able to re-sign him and decided to put him on the trade market so they could at least get something in return for his departure.
When he became available, the Kings were one of the teams interested. The Thrashers believed they could get whatever they wanted in return for one of the league's premier goal scorers. So who did they desire from Los Angeles?
Wayne Simmonds.
When the right-winger broke into the league after being selected 61st overall in the 2007 draft, Simmonds picked up 23 points in 82 games. While not putting up flashy numbers, it was clear that he had something special in him. His second season saw his numbers double as he registered 40 points on 16 goals and 24 assists.
Atlanta realized that Simmonds was on the path to stardom and made it known that they desired him in any deal that involved Kovalchuk. The team also wanted the Kings to deal either Dustin Brown or Jack Johnson.
While the parameters of the trade discussions were never identified, it had to be tempting for the Kings to give up some of their younger players for an All-Star caliber player. The Kings probably never had any intention on including Dustin Brown, which may have been the main roadblock, but with both Simmonds and Johnson, along with Drew Doughty, having expiring contracts at the time, it's not farfetched to believe an offer involving two of those players was proposed.
When the trade finally fell through, Kovalchuk wound up being shipped to New Jersey in exchange for Johnny Oduya, a 2010 first-round pick and a pair of young skaters who have yet to make a mark in the NHL in Niclas Bergfors and Patrice Cormier.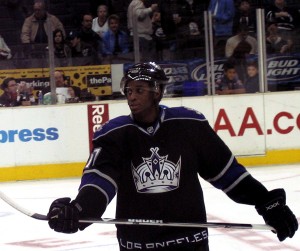 In hindsight, the Thrashers – who became the Winnipeg Jets in 2011 – probably would have preferred to take any offer from the Kings that involved Simmonds or Jackson or Brown (if he was included).
Thankfully for the Flyers organization and their fans, Simmonds wound up staying put in LA for one more year before being packaged with Brayden Schenn in what has become a rewarding trade for the black and orange.
At this point in time, Simmer is just 25 years old, leads the team with 17 goals and is second behind Claude Giroux with 37 points. That's pretty amazing and is worth a big 'Thank You' to both the Atlanta Thrashers for demanding too much and to the Los Angeles Kings for standing strong and resisting the temptation of landing one of the top three players in the league.