Another victory for the San Jose Sharks on Monday night was powered by the small forward wearing the number 8.  Joe Pavelski heating up has come at the perfect time for Team Teal.  With two other key forwards on the sidelines, Pavelski is shouldering the burden of scoring.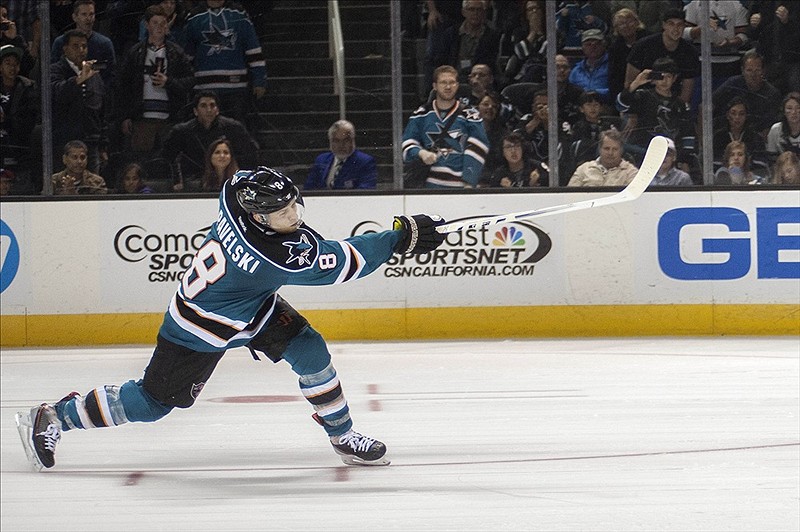 Forwards Going Down, Pavelski Heating Up
In seven games since losing forward Logan Couture, the Sharks are a surprising 5-2-0.  A 1-0 loss to the Bruins is nothing to be ashamed of and the Sharks have done well on the offensive side of the puck since to maintain their position in the Pacific Division.  The Ducks are flying away from the rest of the league with unreal play.  It took the defending Stanley Cup Champs to stop an 8 game winning streak.
What is even more impressive, are Pavelski's advanced stats since that night.  He has been moved up to play alongside Joe Thornton and Brent Burns but is thriving on the top line.  Of course with pass-happy Jumbo as his center, Pavelski heating up is not a surprise.  The game-winning goal of last night's contest was a redirect from Big Joe to Little Joe.  But in the last seven games, he has not recorded a negative Corsi relative percentage.  In fact, it has only been under 8% twice (both ended up being wins anyways).  His best game, was a mind-numbing 32.4% against the Bruins in a 1-0 loss!
27 goals in 50 games. I can't even fathom the truckloads of money Pavelski would have gotten in free agency this summer.

— Fear The Fin (@fearthefin) January 21, 2014
Pavelski Proving He is Worth the Contract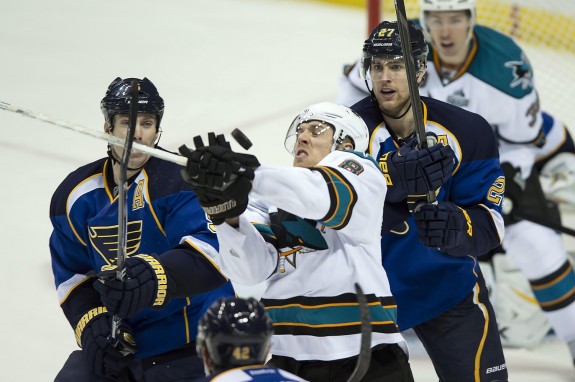 Over the offseason, many questioned whether Logan Couture got shafted after Joe Pavelski earned an identical 5 year deal from the Sharks.  After all, Joe is five years older than Logan and definitely has not produced the numbers Couture is capable of.
But there is an aspect to Joe's game that cannot be measured.  Pavelski is a spark plug for the Sharks.  His hard work makes up for his lack of size.  He is one of the hardest working skaters on the rink.  Pavelski heating up is a direct result of his own work ethic.
Number 8 is also versatile.  He has played on three separate lines with numerous line combinations.  He can adapt to whoever he is playing with and whoever he is playing against.  Pavelski has been a top power play forward as well.  10 power play goals this season is good for third in the league.
Earning McLellan's Trust
His zone deployment has also steadily fallen over the course of the season implying that Todd McLellan trusts him to protect the defensive zone.  He didn't start a single shift in the offensive zone against the Detroit Red Wings on January 9th.  The Red Wings are a team McLellan loves to beat (as they were a former employer of his).  And the ultimate sign of trust in a player is putting him on his heels and tasking him to keep the Wings out of the net all night long.
Overall, Pavelski has been durable and consistent.  In a league where consistency is rare and injuries are common, Pavelski stands out.  He plays his heart out and never seems to be out of a play.  Pavelski has played at least sixty games in every season since his rookie year (excluded the lockout-shortened year).  He just surpassed his career-high goal total as well.  If he continues his hot streak into the Olympics, he might even steal a medal for the US.
Check out our partners at TiqIQ for the best deals on San Jose Sharks tickets for all 2013-14 games.