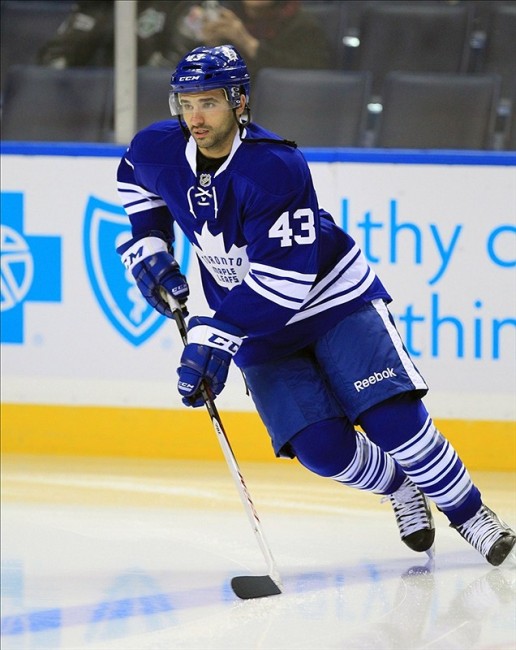 Perhaps the Toronto Maple Leafs should think about trading Nazem Kadri a little more often.
A little after a week since GM Dave Nonis said he would be "willing to trade" the 23-year-old, Kadri has scored 5 points in 3 games, producing physical, committed performances. In short, he's played like someone desperate to prove himself as a valued member of the organization.
After Nonis' suggestion that a trade was distinct possibility, Kadri produced a verbal response very unlike the stock answer for a player under the trading microscope — "You just try not to pay attention to that stuff, and concentrate on your game." Kadri responded that "it would be terrible… I don't see it happening, I don't want it to happen. This is my home. This is where I want to be. Until otherwise, I'm going to give it everything I have."
[Get Your Maple Leafs tickets from Vividseats.com] 
It would have been easy to say that and then go missing, as he has done for good portions of the season. But his performance against Montreal was dripping in swagger and confidence. Perhaps he needed the motivation — Kadri has long been seen by Leafs management as a player with higher opinion of himself than perhaps is warranted.
Saturday night, he played how the Leafs would prefer him to play every night. He began by decking Andrei Markov in the first shift of the game, then later completely undressing defenceman Alexei Emelin with a sweeping deke before setting up Cody Franson for the game's first goal. It was an electrifying moment as the entire Air Canada Centre bellowed in admiration, producing a noise almost as loud as when the goal went in.
Monday night in Phoenix he continued where he left off, a whirling wrist shot finding the net through traffic to propel the Leafs to a season-high fifth straight win.
Kadri's unreliability is as frustrating for Leafs fans as it is for his management. For a team sometimes lacking in charisma, he exudes the stuff, celebrating goals like it might be the last one he ever scores, and occasionally, out of nowhere, crushing unsuspecting opponents with aggressive hits.
He's a player who despite his flaws, as James Mirtle suggests in the Globe and Mail, would be an enormous loss for the Leafs if they did decide to pull the plug. Whilst the responsibility is Kadri's to ensure he shows up to the rink on occasions other than when the Canadiens are in town, he remains a young, supremely gifted hockey player that needs to be nurtured with love slightly less tough than was shown to him by Ron Wilson.
Don Cherry, by the way, may undeniably be a xenophobic, Jurassic-era clown, but his defence of Kadri was on the money when Wilson seemed to delight in putting him down in public during his time as coach. Carlyle, though hardly a teddy bear, has been tough but fair, insisting Kadri work on his game and off-ice habits whilst at the same time trusting him with considerable ice time – he logged just under 20 minutes against the Canadiens.
There's still a long way to go. 12 goals and 19 points in 47 games isn't a world-beating numbers total by any means and it's not good enough to produce on such an irregular basis. But the Leafs would be crazy to trade this guy — there's still just too much potential.