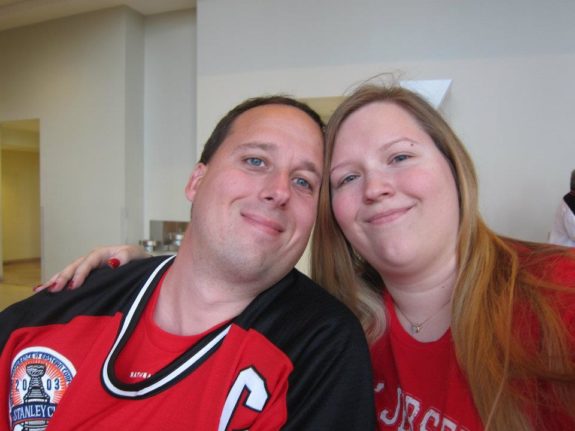 Our "Women In Hockey" series returns on The Hockey Writers. This segment of the series will at times have a more "He said / she said" concept to it but this has the makings of being something special. At the very least this is not going to ever be dull. People will have their questions I am sure and that is what I am counting on actually. This has to be interactive fantasy hockey fans for it to work.
The column will occasionally mix some New Jersey Devils perspective along with the usual and unusual fantasy hockey news and notes. Furthermore, we will go into what makes the fantasy mind tick. It really is not enough to know at this point.
If you really think about it, the average fantasy hockey expert really does let their results speak for themselves. Now let's get into this a little deeper even though this is more or less the introduction.
Thy Woman Of Fantasy Hockey
First, our regular will be Rachel Cena. There will be the occasional guest that takes on various debates, etc. However, Rachel will be the main go to person of this column. The first thing that will be asked is what does she bring to the table? Honestly, there is so much more than meets the eye. No topics are going to be out of bounds. Rachel plays fantasy hockey differently than most. Some numbers that she comes up with will be called "Rachel Stats" to make life a bit easier. Please keep in mind that 95% of these are far from advanced. They are just a method to a means s to speak.
When Rachel joined my fantasy hockey league in 2011, I really had no idea what I was in for. The thing is this. A lesson often learned is that you never quite know what you are up against until it is far too late. After the first month, there was that first look at the standings and then a gasp. Literally, Rachel had won every week and was 1st overall in the 12 team league.
That was my first sign. As the weeks went on, she only got better. Before I knew it the regular season was over. Literally there were 23 regular season weeks and not a single head to head week lost. If that was not enough, she steamrolled through the playoffs like it was nothing. For me, it was not humbling. I was just flat out impressed.
Those who truly love the game and the craft, respect it. For all its luck, there is that inherent skill. The mix of luck and skill along with its mastery is a constant struggle. For those who truly understand that, they are the ones who continually succeed at fantasy hockey. The results below speak for themselves.
[table id=267 /]
The THW Live Fantasy Hockey League has seen an increase in competition every single year and yet Rachel has risen above the best again and again. Some of the best and the brightest from the fantasy hockey industry and The Hockey Writers. Oh, there are just a few things. The asterisk is for the shortened season and obviously this year's result is only as of Sunday.
Will The Debates Be Spirited?
Absolutely! If one only knew how animated discussions get between us about hockey then you would understand. This column will be fun but it will also not be afraid to push boundaries. Sometimes we all think differently and I would like to believe that Rachel has changed some of the ways that I play fantasy hockey.
=========================================
You can follow me @ChrisWasselTHW and Rachel on her account @rachelrc. Sure we may not talk fantasy hockey all the time