Just as he does on a nightly basis for the Dallas Stars, Kari Lehtonen proved his worth and showed why he is one of the more underrated goalies in the NHL. Lehtonen was named the NHL's first star for the week ending on January 26.
In four games last week, Lehtonen posted two shutouts, a 1.25 goals-against average and .944 save percentage en route to a 3-1-0 record. It couldn't have come at a better time, either. The Stars began the calendar year with one of the worst slumps in team history. After starting 2014 with six straight losses and a 1-8-1 record through 10 games, the Stars needed to turn things around. Luckily, all streaks eventually end. In fact, the team made a complete turn around and had a three-game win streak thanks to improved overall team play and strong performances from their goaltender.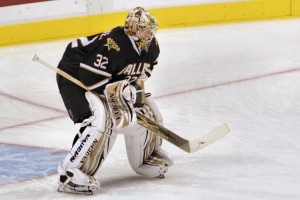 Recapping Lehtonen's Week
The Stars kicked off the week with a messy 4-1 loss to Nashville, their third loss in a row, but then kicked the slump the next night with a 4-0 win against Minnesota. The shutout was Lehtonen's second of the season. He added another shutout four nights later against the Pittsburgh Penguins. His third shutout of the season was also his fourth in 80 games and his eleventh since coming to Dallas in 2010.
Lehtonen plays much better than his career shutouts indicate. His final numbers tend to look very similar each season and this season is no different. Since joining the Stars, Lehtonen has posted a 2.59 GAA with a .916 save percentage. This season, he currently has a 2.55 goals-against average and a .914 save percentage along with 20 wins. He has played in three-fourths of the team's games each season he has been in Dallas.
Night after night he makes highlight reel saves look easy and keeps a calm demeanor no matter the circumstance. Last week alone he displayed his skills with a few magnificent saves. He stopped a breakaway by Kyle Brodziak, a close-ranged one-timer by Matt Cullen, a tip by Joffrey Lupul in the crease and a deke in tight by Evgeni Malkin. He plays that way nearly every game.
Finally, Some Recognition
Like every goalie, Lehtonen has occasional off-nights and bad bounces against him, but he keeps calm and stays the course. Despite being in the top three in the league in games played, shots against and saves, he does not receive much national attention. He even leads the league in assists with four (two of which came this month alone). He won't garner attention for assists either because he is not a flashy puck-handler. He just quietly and calmly plays the puck when and where it should be played. His lack of national attention can be attributed to a combination of the small hockey market that Dallas is and that he is not a league leader in the biggest statistical categories for goalies: wins, GAA, save percentage and shutouts.
Since he finally had the statistics last week to match his excellent play, he received some much-deserved national recognition. He posted the best weekly numbers he has had all season, but he really did not play better than he did any other week. The Stars' offense picked up recently, the team defense was stronger and more cohesive and he kept his consistent play going in net, which all led to better numbers.
All in all, it is good to see Lehtonen be awarded the NHL's first star of the week. Maybe because of it there will be a few more people who understand what Stars fans have known for about four seasons now: Kari Lehtonen is one of the best and most underrated goalies in the league.