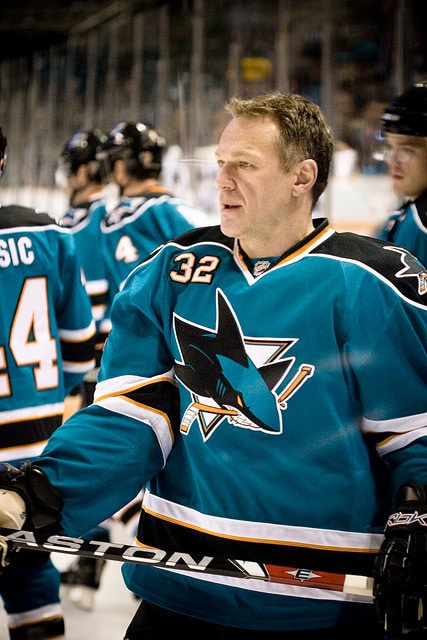 BY TERRANCE GAVAN – HALIBURTON, ON
We see it all the time in tennis.
An older retired player lending some one on one coaching to an up and coming or struggling player.
Jimmy Connors almost got it going with struggling former US Open champ Andy Roddick, until AR decided that Jimbo's coaching technique was, ahem, a little too strenuous.
There's the rub.
Older players have a lot to offer. But sometimes the mentorship just falls on an unwilling body or a lethargic mind.
Haliburton cottager Cody Hodgson posesses neither of those twin deficits.
Indeed, the youngster, the 10th overall pick in the 2008 National Hockey League entry draft , has dedicated his life to hockey excellence.
He is compelled  to muster every ounce of his overflowing energy to improving his game.
This summer he enlisted the help of Claude Lemieux, a wily NHL veteran who is tough, talented and a possessor of that je ne sais quoi intangible. The guy got 'er done. He's lending sorcerer's secrets to a willing pupil; and Cody Hodgson and his team hope that it will be enough to earn him a spot on the Canucks roster this year.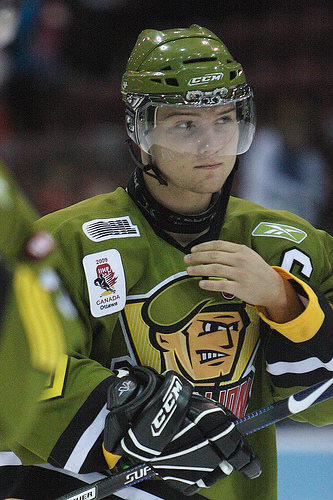 Hodgson has done everything that his parent club, the Vancouver Canucks, have asked. He's fought through some very hard injuries since 2009, the most perplexing of which was an unprecedented and career threatening back injury suffered during training in the summer of 2009.
That injury has haunted him. Subsequent news headlines in Vancouver questioned this kid's NHL readiness, his future and – inexplicably – his courage.
You may question some some parts of Cody Hodgson's game. But courage is not one of them. This kid has played through injury and has done everything the Canucks have asked him to do. He's a positive kid, a two-way player and the real deal. Nothing's changed since draft day 2008 when Vancouver picked him as their number one. If anything Hodgson is a more durable, and more complete player today than he was in 2008-09.
There were times over the last year when pundits had Hodgson pegged as trade bait. Vancouver drafted Hodgson with an eye to his leadership and his own je ne sais quoi qualities.
He's got solid dibs on promise. But does he have the support of his coach Alain Vigneault? I've got my own ideas about that particular slice of Peyton Place, which I will leave alone for the nonce. I've written reams about Cody since moving to Haliburton. I've watched him play and I've talked to him. So let's set some of the buffoons on hf boards straight right now.
He's not a prima donna and he's not slow. And yes, bloggers, he plays injured. He's first and foremost a team guy. He's not quick, but neither are 89.9 per cent of NHL players. So let's drop that whole meandering red herring. He can put the puck in the net and he sees the ice. Nuff said.
During his major junior career with the OHL's Brampton Battalion Hodgson was a First Team All-Star, won the Red Tilson Trophy, William Hanley Trophy and CHL Player of the Year Award in 2009. He has been named to two OHL All-Star Games, holding the record for most goals and points in a single game.
Hodgson has represented Canada at two International Ice Hockey Federation (IIHF)—sanctioned events, winning gold and leading tournament scoring at both—the 2008 IIHF World U18 Championships and 2009 World Junior Ice Hockey Championships. In 2007, he won a gold medal with Ontario at the Canada Games. He also represented Canada at the 2007 Ivan Hlinka Memorial Tournament.
Cody Hodgson led all scorers on Canada's gold Medal Junior Team. He outshone John Tavares in that World Junior Tourney.  He also won the scholastic award in both the OHL and CHL. Smarts, talent and overflowing dedication to the game. That's what Hodgson brings to the table.
Unfortunately Cody Hodgson is a centre on a team that is rich between the wings. Vancouver Canucks have made some amends to the aspiring young star. GM Mike Gillis apologizedat a press conference  for a misdiagnosis on Hodgson's back. And last spring they brought him up from the Manitoba Moose for their Stanley Cup run.
This season?
Well, Cody Hodgson may be facing his toughest year yet. He has a chance in September of proving that he is part of the Canucks, ahem, interesting future. With the aging Sedins? The Canucks have to invest at some point in their youth. And that requires hard decisions. Hodgson is hell bent on making this team. No wonder. The Canucks have a chance to dominate the Western Conference again this year.
With that in mind, Hodgson has put his faith in two former NHL'ers Gary Roberts and Claude Lemieux. Roberts is now a fitness and diet guru to a large number of young NHL players like Hodgson, Stamkos and many other young disciples. Roberts's training facility is a hive of activity. And Hodgson is one of Roberts' most dedicated novitiates.
The Globe and Mail's James Mirtle had a nice little piece on "Scary Gary Roberts" yesterday.
Since his retirement from theNHLtwo years ago, the 45-year-old Mr. Roberts has become almost legendary for his ability to train and pump up young prospects. His first disciple, Tampa Bay Lightning star Steven Stamkos, is the perfect example: He added 15 pounds of muscle after his rookie season and led the league in goals with 51 as a sophomore.

Ever since, players have been lining up at Mr. Roberts's door – 42 pro-level players are training with him this summer – but few realize that the most extreme part of his strategy involves the kitchen instead of the gym.

Players are assigned a diet that has no wheat, no sugar, no soy and no processed or packaged foods. Everything must be organic, from deli meats on up, and the 26-item list of what players should eat includes goat's milk, sunflower sprouts, mung beans, salba, chia and hemp.

While their workouts at Mr. Roberts's High Performance Centre gym north ofTorontoget most of the outside attention, players find that it's what they eat that's the most important part of the program.

"It's nutrition, then body maintenance – treatment or yoga – and then it's the training. If you don't do the first two, the third one's not going to work out that well," says Mr. Roberts.

The diet has earned a few grumbles fromNHLplayers, with some saying it's bland or hard to follow – never mind the cost for those not yet making millions. But those concerns never reach the ears of the man who became known as "Scary Gary" throughout his career.
That's part one of Hodgson's regimen. Part two includes Lemieux and his part in Hodgson's remake was related in the Vancouver Province recently. Excerpts from Tony Gallagher's revealing piece are below.
The Canucks coaches and management have held several conversations with the Hodgson camp — which now includes his personal coach Claude Lemieux, if you can call him that — and whether or not the club agrees 100 per cent with this new initiative and all it might one day involve, it certainly has the player stoked and ready to try to have his best training camp ever.

"I am really excited to be completely healthy again, strong and really looking forward to camp," said Hodgson, who will come into town right after Labour Day.

"It's been the best summer in a long time for me and I'm coming in as ready as I can be to help regardless of the roster, what positions are open or not or what the coach is thinking. It's his job to make those decisions and my job to be the best player I can be no matter where I'm used."

Hodgson said those words like he truly meant them.

Whether this personal-coach approach is a one-off or an idea that may catch on with a lot of young players around the league remains to be seen, but there's no question it has really given Hodgson a mental lift, which is one of the areas he and Lemieux have been working on.

"I've been through a lot of different situations in my career and I think I'm going to be able to help the players I work with both on and off the ice with both mental and physical preparation," says Lemieux, who now lives inToronto, given his own son is an aspiring hockey player.

"I remember a situation in New Jersey about two months into the season I was at rock bottom and thinking 'I need to get out of here, I want a different start in a new organization.' But Lou Lamoriello [Devils GM] and I talked and he expressed faith in me, and a few months later I was the MVP of the playoffs. A fresh start in another city wasn't what I needed at all. I needed to make some adjustments in my attitude and look at the team around me differently.

"Vancouveris one of the best organizations in the game; why would you want to go to another team? You have to look at your surroundings in the right way and I think Cody's definitely doing that."

Lemieux is involved with a company called 4Star which works with and represents athletes, and they've established a working arrangement with Hodgson's agent, Ritch Winter's Sports Corporation, to help their hockey clients. Hodgson is one of the higher-profile players to have this type of help.

"We've had a number of discussions with the coaches and management in Vancouver and we expect to talk from time to time," said Lemieux, who is really looking forward to the new role as a substitute for playing. "Being able to help another player, to me it's the next best thing to playing yourself and that's something I can't do anymore."

"He's helped me with quite a few things," says Hodgson. "We've worked on mental preparation, footwork, shooting and places to shoot and different ways of scoring. It's been really interesting."

How will this work out for Haliburton's Cody Hodgson? Well, the Canucks are starting the season without number two centre Ryan Kesler and gone is Raffi Torres, who took Hodgson's spot on the fourth line during the Canucks' final series against the Bruins in the Cup final.
So that leaves the door open for Hodgson.
Hodgson will try to place a Tackaberry firmly between the door and the jam and will attempt to storm the bastille. With an eye to earning a treasured spot as a regular two or three centreman.
Hodgson has done everything in his power to enhance his chances in a deep, deep roster.
Now. It's time to put the best laid plans into action.
However it works out in Vancouver?
There is a gnawing feeling of  urgency regarding the 2011-12 season.
gav@pardontheeruption.com twitter.com/terrancegavan