There is no doubt that Carey Price is the best goaltender in the league right now. He is currently leading all statistical categories and has been a huge reason why the Montreal Canadiens are on top of the Eastern Conference. It will be hard to argue that he isn't the most deserving winner of the Vezina trophy, awarded to the NHL's best goaltender. Price's fantastic year and the success of his team has also catapulted his name to the head of the list of Hart trophy contenders. And rightly so. The fact that no skater is running away with the scoring title just makes this  feel like a year that a goalie will be named MVP. But it shouldn't be Price.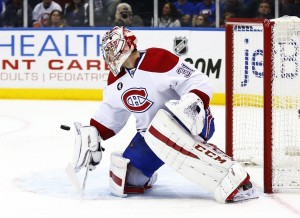 The Habs are a Good Team
Now before you get up in arms over my last statement, just give me a chance to explain. Carey Price is most certainly on my ballot of the three Hart Trophy nominees. He is the league's best goalie. But that's not what the Hart trophy is supposed to represent, at least not by it's official definition. On the NHL's website, the Hart is described as such: annual award given to the player judged to be the most valuable to his team. Not the most talented player, but the one who has done the most for his team. Now, I won't even pretend that the award has lived up to it's true definition because very often the Art Ross trophy winner is the player who takes home the MVP award, assuming his team in the playoffs of course.
Unfortunately, because of the loose interpretation of the award, it leaves the decision open to much debate, with many factors to weigh. Carey Price has been fantastic this season. There is a good chance, in addition to the Vezina, that he'll also win the Ted Lindsay award, given to the league's most outstanding player as voted on by the players. Many people will say, and deservedly so, that he is the reason the Montreal Canadiens are so good, and I'm not disagreeing. But, I can't help but believe that a team challenging for the President's Trophy probably has to have more than just one good player.
The Canadiens are a team that wins by committee. They don't have a player who is in the top 10 in scoring. (Although Max Pacioretty is having a very strong season with 36 goals and 65 points so far). They rely heavily on Price's goaltending. Back-up goalie Dustin Tokarski has just six wins in 15 starts. But, the Canadiens aren't a team randomly coming out of nowhere and surprising everyone. They went to the conference final last season. They are a good team expected to do well. They are strong defensively, with one of the best d-men in the NHL in P.K Subban. Still, many will say that their success is mainly because of Price and he should win the Hart. And perhaps in any other year, I would wholeheartedly agree.
The Wild were Dead in the Water
It didn't seem so long ago that video arose of Minnesota Wild coach Mike Yeo absolutely ripping his team in practice. The Wild had struggled all season, and were far out of a playoff spot. Many felt that Yeo was close to losing his job. But a trade on January 14th sparked a change. Devan Dubnyk didn't exactly come in with a sparkling reputation. He was deemed not good enough for the Edmonton Oilers, and bounced around four organizations since his first trade in January 2014. But perhaps Dubnyk needed the Wild as much as they needed him, because it's been a match made in heaven.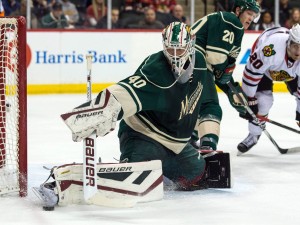 Dubnyk has a record of 26-6-1, with five shut-outs, thus far in his Minnesota career. He has a .939 save percentage and a 1.70 goals against average in his 34 games for the Wild. (And by the way, he is second to only Carey Price in both those categories). He's also somewhat of an ironman, starting in 34 consecutive games for Minnesota. Since the All-Star break, the Wild have a league-leading 49 points in 30 games, and have an NHL-best record of 26-6-2 since January 15th. And what's more, the Wild are now in a playoff spot, something that didn't even seem possible when Dubnyk was acquired.
Now, because there is so much debate around what makes a player the most valuable, many will cite a team's place in the standings as a big factor. In other words, because the Canadiens are doing better than the Wild, Price is more worthy. But, let's look at the reality of what Minnesota has done this season. They looked to be completely out of it, with very little hope, but Dubnyk put the team on his back and literally carried them into a playoff spot. Yes, Carey Price is the best goalie in the league, but what Devan Dubnyk has done for his team just can't be ignored.
Minnesota has six games left in their season. If they hang onto their playoff spot, there is no way Dubnyk can not be on the ballot for the Hart trophy. But he is much more than just a nominee to me. Yes I understand that Carey Price makes a really good case to win. He is a huge reason why Montreal is having such a good year. But Devan Dubnyk is the only reason the Minnesota Wild are in a playoff spot. Give Price the awards for best goalie, and best player. But don't downplay how valuable Dubnyk has been to his team. He is what the Hart trophy is supposed to mean.
Marcy, a former hockey player, is a hockey correspondent on CTV News and TSN radio. She began her career as a Sports Journalist in 2009 and has been part of The Hockey Writers since 2010, where she is currently a senior writer and editor.