"In the long run men hit only what they aim at." – Henry David Thoreau 
Given the recent play of RJ Umberger and Scott Hartnell I know this isn't the greatest juncture to bring up such a ludicrous claim, but I've also never been great with timing. So, tough luck.
Fact of the matter is the Umberger/Hartnell trade wasn't about the performance of both players. It never was. It never will be. Scott Hartnell is the better offensive player. His numbers speak for themselves. It was about being able to build for the future. Hextall is aiming to ice a Stanley Cup contender over the coming years and it started with the Umberger trade.
Hextall on Hartnell trade: "It's not my job to judge popularity contests. I made a trade that I thought would help our team, and still do."

— Bill Meltzer (@billmeltzer) November 12, 2014
While many fans were hoping for some modicum of scoring from RJ Umberger, he has barely been able to alter the scoresheet for the better. He has three points in 16 games and is a -6. Still, he's better for the Flyers than Scott Hartnell. Thinking otherwise just proves that you're looking at the trade superficially and with the wrong mindset.
If you're wondering why the Flyers aren't doing as well as they'd hope, look no further than the implementation of the salary cap brought on by the NHL after the 2004-05 lockout. GMs have been trying to ice competitive teams while complying to salary cap limits for a decade now.
The Flyers have never been even remotely successful at cap management and their team now is Exhibit A of the problems you can run into without wiggle room. With the albatross contracts given to Ilya Bryzgalov, Scott Hartnell, and now Vinny Lecavalier and Andrew MacDonald, the Flyers have found themselves between a rock and a hard place.
While the rest of the Metropolitan Division improved during the offseason, Ron Hextall was forced to remain stagnant. Now the after effects are beginning to show.
The difference between RJ Umberger's contract and Scott Hartnell's (monetarily speaking) isn't much different. Umberger is a modest $175k less than Hartnell's, but the major difference is Umberger's ends two year's earlier.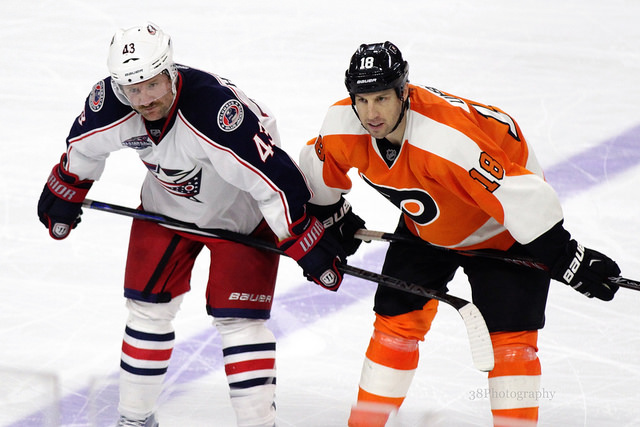 That's two years earlier that the Flyers will be able to use money to fill a glaring hole in the lineup (#1 defenseman or 1
st
line LW). That's two years earlier that the Flyers don't have to shuffle lines every game to find a perfect fit. That's two years earlier that the Flyers can start competing for a playoff spot.
This team is – and was always – a longshot to make the playoffs. That was self-evident on July 1st, during training camp, during preseason, and at present. I know that. You know that. Ron Hextall knows that. Still, he made the correct move, whether you want to believe it or not.