Last week Michael Gwizdala brought to our attention the top 10 selling NHL jerseys in terms of individual players. Well, that got me thinking, what are the top 10 best looking NHL jerseys? Of course this is just one man's opinion, feel free to chime in with your thoughts in the comments section below.
In no particular order, the following are the 10 sweetest NHL sweaters.
Chicago Blackhawks' Reds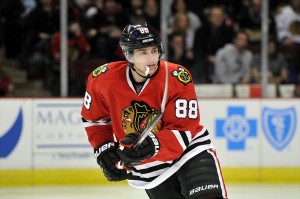 An oldie but a goodie, the Blackhawks' powerful red jersey and Native American logo is one of the most iconic jerseys in all of hockey. This original six franchise has barely made any alterations to their main jerseys and rightfully so, these are forever lasting. Even if you are not a Blackhawks fan, if you are just a general hockey fan, or one who roots for an Eastern Conference team and just likes cool jerseys, there is arguably no better choice than a Blackhawks' red. Perhaps throw a Kane 88 on the back, or can go old school 27 Roenick. Either way, you will be looking fly.
Montreal Canadiens' Whites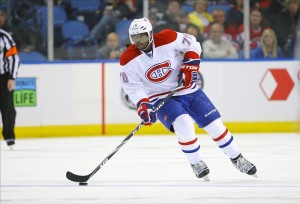 There is no NHL franchise with a more storied history than the Montreal Canadiens. The famous C-H logo really pops on the white jersey. Personally, the logo seems to get a bit lost with the red background of their home red sweaters. Their white jerseys however, are absolutely gorgeous. Perhaps you slap on a 76 Subban or go old school and 9 Richard on the back. Beauties.
Los Angeles Kings' Blacks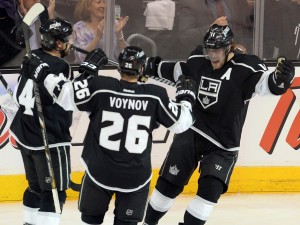 Given the nature of growing up in the Bay Area, my mind is ingrained to poke fun of the Kings jerseys and criticize them. If I'm being honest though, the Kings look really good in their home black sweaters. If you're a Kings fan, can't go wrong with a Kopitar 11 black jersey.
Philadelphia Flyers' Orange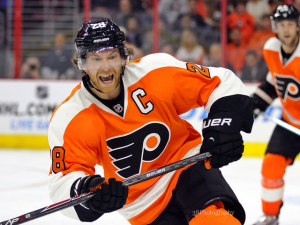 Perhaps this is partially my Bay Area bias coming into play but I absolutely love the Flyers color scheme. The orange and black is a great combination. Their bright orange jerseys are incredibly unique and you can't go wrong with a Giroux 28.
Detroit Red Wings' Whites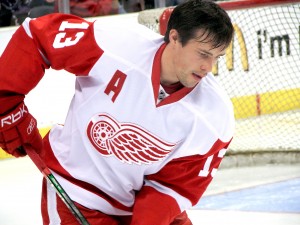 Another iconic logo, the Red Wings' flying wheel has been a staple of the franchise for its entire existence. Similarly though to the Canadiens, something about their white jerseys makes the famous logo pop a bit more than on their red jeresys. If you are going to go for a Datsyuk 13 or old school Yzerman 19, definitely go with the white sweater.
Pittsburgh Penguins' Whites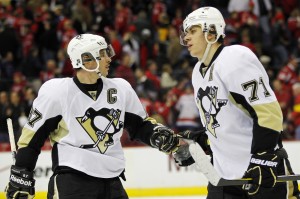 Similarly to the Habs and Wings, the Penguin logo on the Pittsburgh white jersey really jumps out at you. There also might be something to do with the black font of Crosby 87 on the back that just looks better than white font on black background of their dark jersey. Personally, if you are a Pittsburgh fan, the white jersey is the way to go.
Minnesota Wild's Reds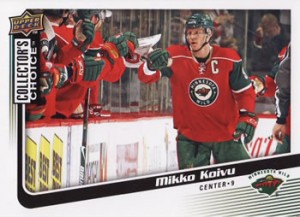 Personally, the red, green, and white combination on Minnesota's current white jerseys makes me want to vomit. Their primarily red jerseys though with the green sections on the sleeve look ridiculously awesome. A Parise 11 jersey or Koivu 9 jersey in red is the way to go if you are a Wild fan.
San Jose Sharks' Whites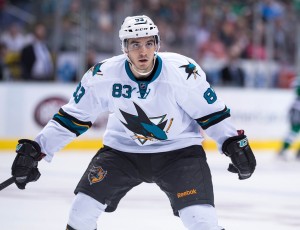 Growing up rooting for this team, their white jerseys have always been the least attractive. However their current whites are absolutely stunning. Taking away the teal shoulder covers was a brilliant move, as they look much better with the teal collar and laces popping in contrast to the white background. If Sharks fans are going to buy a new jersey, a Pavelski 8 jersey or 19 Thornton sweater is really the way to go. As for me, I'll probably be getting a 57 Wingels white sometime soon.
Boston Bruins' Blacks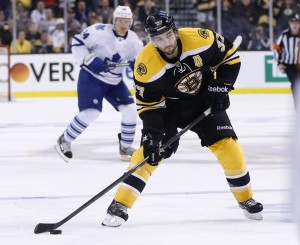 Not sure why, but I've always liked the Bruins. Many fans around the league really dislike Brad Marchand, but for some reason I'm a big fan of his play. Perhaps it is just seeing them in the playoffs so frequently but the way that B logo looks with all the connecting lines and the yellow popping out of that black background, just gorgeous. You cannot go wrong with a 40 Rask, or 37 Bergeron.
New York Rangers' Whites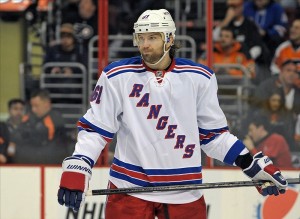 What can you say about the Rangers whites? They are just awesome, the diagonal writing of Rangers in blue across that white background just really jumps out at you. The color scheme is great and for similar reasons as listed for other sweaters, the Rangers' whites just look that much better than their darks. Fans cannot go wrong with a 26 St. Louis or a 30 Lundqvist.