Winter Classic? Or Just Another Outdoor Game?
Before you read the article, just think to yourself as a hockey fan. Do you know who's playing in this years Winter Classic? Do you know where the game is at? Do you even know if it's a ballpark or football stadium?
It may seem obvious to some people, but the casual hockey fan, and even some longtime are struggling to find excitement for this years game. And the NHL only has themselves to blame.
Last years Winter Classic was an overwhelming success. The game was perfect. It was cold, it snowed, two original six rivals went head to head infront of 105,491 people,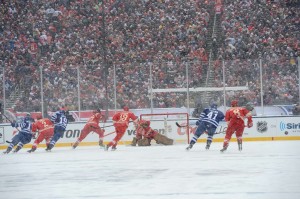 and the game went a full 65 minutes plus a shootout. This was exactly what the NHL wanted, and it was what they needed. It was the most watched Winter Classic yet, watched by over 4,000,000 people in the United States alone, and NBC Sports broke streaming records on their mobile platforms. This was the Winter Classic.
But then things started to get a little bit dull. You can't forget, the NHL decided to schedule 5 other outdoor games after the Winter Classic in 2014, and that's where it started to lose its luster. Why was there a need to add in those games? I don't see a problem with giving Canada the Heritage Classic, but that's where the line should have been drawn. Sure, playing hockey outdoors in 60 degree weather in Southern California was cool, but after everyone got over that fact, was it really that interesting? Maybe for Ducks and Kings fans it was, but as a neutral fan watching the game, I realized halfway through that it was just another hockey game. That's the effect the Stadium Series had on the novelty of outdoor games.
Bad Decision Making.
Every year since its inception in 2008, I have counted down the days until I saw those players lace up the skates and take the ice infront of thousands more fans then usual. But this year I don't have that excitement. It seems more like "If I miss this game it's not a big deal, I won't have to wait another year to see it again, just a few weeks." HBO's 24/7 series was hyped up almost as much as the game. 2012 produced the notorious interview with Ilya Bryzgalov, 2014 produced the hilarious water bottle exchange between Todd Bertuzzi and David Clarkson. This year? HBO didn't produce a series. Instead, there is a behind the scenes access show, which is still good, but not as good as HBO's outstanding production. Everything surrounding this years classic just seems watered down. The luxury is gone.
Take a look at the graph above, it's from Google Trends which gauges the amount of search traffic towards a certain keyword. December isn't over yet, but that line hasn't spiked up despite the fact that we are only two weeks away from the game being played. Of course, that's only part of the problem. The NHL, at least in my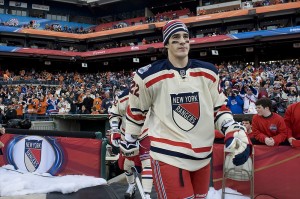 opinion, really did not pick a good matchup for the occasion. The game will showcase stars like Patrick Kane, Alexander Ovechkin, and Jonathan Towes, but what else? These teams have no history. They play each other two times a year, and have no chance at meeting in the playoffs, unless it's the Final. Every other Classic had a story to it. Especially with Detroit/Chicago, Philly/New York, and Toronto/Detoit (The latter of the two which generated huge search interest on the graph above). What happened with this year? It's just not the same for the NHL's marquee mid-season event.
All things aside, this is still the Winter Classic. People will watch. But there is no doubt in my mind that having six outdoor games last year dumbed down the experience. The decision to put two teams who are strangers to each other in the game isn't helping  their case either.
This is the least amount of hype I can remember through the hockey community since the Winter Classic was born in 2008, and it's no coincidence that it's the year after six outdoor games were played. Has the NHL killed the Winter Classic? Not exactly, but they need to make it feel special again, one of a kind. That means sacrificing other outdoor games to give the Winter Classic the sparkle it always had. Will the NHL do it? Who knows, but the Winter Classic will keep losing its appeal if they don't.
Matt is a contributor for the Philadelphia Flyers at The Hockey Writers. He has previously covered the Flyers for GrandstandU. He enjoys playing hockey and making music in his spare time.