After two straight Bronze Medals, Team Russia parted ways with coach Mikhail Varnakov to bring back Valeri Bragin, who led the Mother Land to the 2011 Gold Medal and the 2012 Bronze Medal. Traditionally, the Russians are one of the contenders for the Gold Medal, and this year will make no exception as many good players will skate at  the 2015 WJC in Toronto and Montreal. These are the players who may lead Team Russia to their 5th WJC Gold Medal (14th, if we consider the Soviet Union wins).
Igor Shesterkin, Ilya Sorokin, and Denis Kostin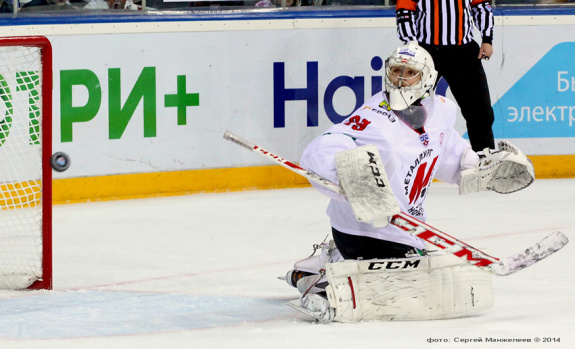 You'll hardly meet a better goalie lineup in this tournament. Those are three very good goaltenders with multi-year pro experience. At the Subway Super Series Kostin was a little bit less consistant than Shesterkin, while Ilya Sorokin played with the Senior National Team. Last year Andrei Vasilevskiy had no real concurrence as a number one goalie, while for the 2015 WJC the Russians will have three solid netminders without a clear number one, even if probably Sorokin will be regarded as the starter at the tournament's kick-off with Shesterkin as backup. Shesterkin and Sorokin were drafted in the 2014 NHL Entry Draft by the Rangers and the Islanders, respectively, while Denis Kostin is undrafted. A strong WJC campaign will certainly raise his stock.
Rushan Rafikov
The Flames draftee showed a strong game at the recent Subway Super Series and will most likely skate in the first defensive pairing with SKA St. Petersburg blue liner Dmitri Yudin. Last year he has been one of the latest cuts for the Malmo tournament, and this season he's ready to showcase his qualities. Rafikov has plenty of experience on the international side, having represented Russia in many tournaments, and will probably serve as team's captain, as he did during the Super Series.
Rinat Valiev
The Maple Leafs prospect is certainly one of the most intriguing players on the rosters and he's already known to the North American audience as he currently plays for the Kootenay Ice of the WHL. He's currently one of the top defensemen in the league with more than a point per game in average. The offensive defenseman is expected to play a big role in the powerplay too. Recently, Valiev declared that Team Russia will fight for the Gold Medal.
Pavel Buchnevich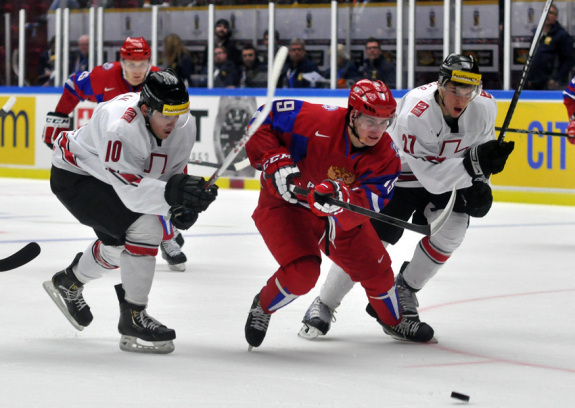 The dazzling winger is having a strong season in the KHL and will certainly be one of the team's top players. Buchnevich has 10 goals and 21 point in 31 games with Severstal Cherepovets so far, and he even had his debut for the senior national team. He will return after a strong 2014 WJC last year and he is expected to be one of the tournament's top scorer.
Nikolai Goldobin
One of the most talented wingers on the team, Goldobin is expected to propel the team both in even strength, and powerplay.
#SJSharks prospect Nikolay Goldobin shows off some of his skills, courtesy of @HIFKHockey. https://t.co/Tvhrcw0JtZ

— San Jose Sharks (@SanJoseSharks) December 16, 2014
The Sharks prospect is having a very good season with HIFK in the Finnish Liiga, with 11 points in 18 games. He's getting some good experience playing against men in Finland and this will certainly reflect on his play in Toronto and Montreal.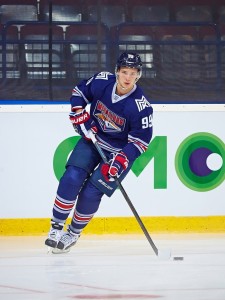 Vladislav Kamenev
In a lineup with plenty of skilled and talented players, Kamenev will be called to play a more conservative role, even if he has the skills and size to be a presence in offense too. The Magnitogorsk, Russia, native refused any comparation with Evgeny Malkin and is developing well under Iron Mike Keenan, who is giving him plenty of ice time, but he still needs to polish up his game before thinking about crossing the Ocean. The upcoming WJC will be a good chance for Predators fans to see him in action.
Other players worth of attention: Ivan Barbashev, Pavel Kraskovsky, Valentin Zykov, Vladislav Gavrikov, Konstantin Okulov, Sergei Tolchinsky.
The bottom line
Team Russia, as usual, has an extremely good forwards corp, very good goaltending, and just average defense. The absence of Nikita Zadorov surely got things tougher for Bragin, but strong goaltending may cover for it. If the Russians will manage to score some goals and stay off the penalty box, it will be hard for other teams to catch up.
A professional hockey writer and translator. Loves Russian culture, language, and hockey. Reachable on twitter @AlexSerenRosso