In this translated interview, originally appearing on the popular Russian portal Sport-Express, Rangers prospect Pavel Buchnevich talked about his prospects with the Rangers and his celebration after the emtpy-netter against Team USA at 2014 WJC.
* For the original interview by Petr Tereshchenko, click here.
– During the latest game before getting to play for the National team you suffered from a minor injury.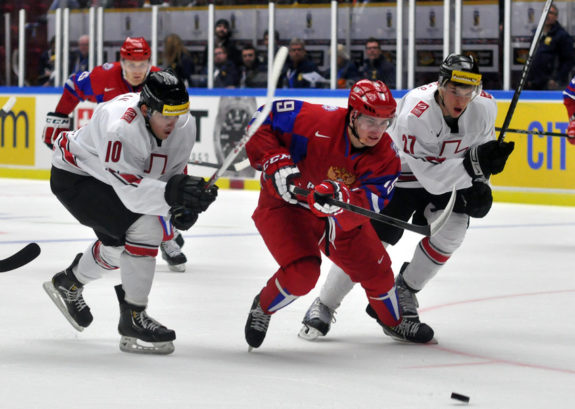 – I fall down after a big hit by Evgeny Artyukhin. I tried and play another shift, but I couldn't even breath. I discussed with the team's doctor and we decided not to risk and stop playing for that game.
– Did getting hit by a 260 lbs player leave any consequences?
– No, I started practicing again the next day already. Of course it hasn't been pleasant, but it's all okay now.
– Did you know other players on the National team?
– I played with Anton Slepyshev and Andrei Mironov on the same line at last year's WJC. I also played two years with Bogdan Kiselevich at Severstal.
– You started the season very well, but once you got the Player of the Week award your production went downhill.
– I think it's simply a combination of different factors. We have some good chances, but we can't finish.
– In August you were scared to lose a spot in the line-up due to the National junior team, yet now you play on the first line.
– Due to an injury to [Former New York Islander David] Ullstrom I was moved up to the first line. So it looks like that after a couple of good games, they decided not to change anything. I have to thank our coach Nikolai Solovyov as he believed in me.
– What did help you to get into the first line of your KHL team, coaches' trust a part? At the Rangers development camp this summer they were very satisfied about you gaining mass.
– I have to thank my conditioning coach. When I have some free time I often go to the gym to practice even more.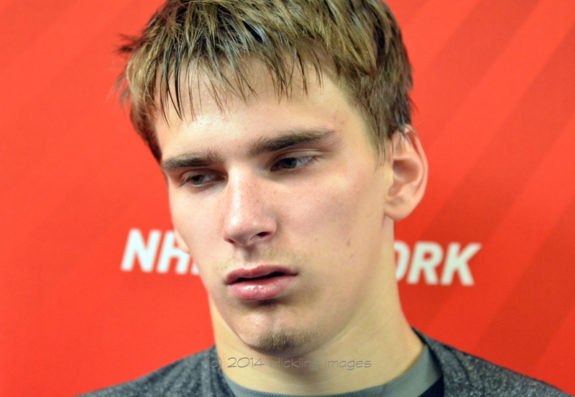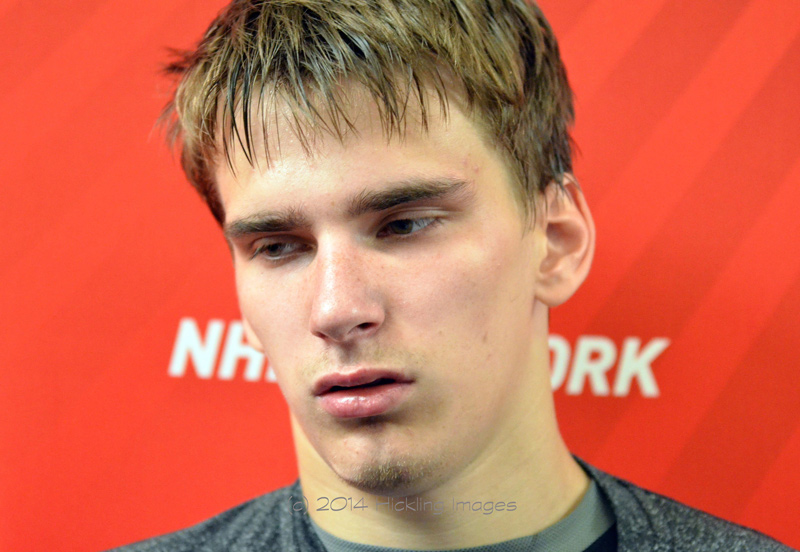 – Is the WJC the most important tournament of the year for you?
– It's the last WJC for me, I want to win the Gold, and not simply a medal. Winning in Canada would be great. I think that the roster will be good and we have a coach who knows how to lead the team to great results.
– Did team Russia head coach Valeri Bragin, who won a WJC Gold and a Silver Medal earlier in his career, already tell you about what kind of conditions you'll have to deal with?
– Well, home teams always get the best condition, we're ready to this. By the way, Canada doesn't win the gold medal for five years already…
– At the end of the season your contract with Severstal will run out. Do you see yourself playing in the NHL soon?
– I haven't taken any decision right now, and I'm yet to get any offer from Severstal, the Rangers or any other team. It's early, the season is still young. When it will be time to take a decision, I'll discuss with my parents and my agent. Right now there is nothing to talk about.
– KHL top teams always try to get the best young players from other teams. Can you imagine yourself playing for another Russian team?
– If I'll stay in Russia, I'd rather keep on playing for Severstal. If I'll move to a top team I'll get less ice time and at my age you need to play and gather experience. Moreover next year it will be the 50th birthday of the Severstal industrial plant. Maybe in Cherepovets they'll put together a team worth of such an event to please the city.
– In Chelyabinsk it wasn't easy for Evgeny Kuznetsov when things weren't go well for his team.
– In Cherepovets the attendance is very demanding too. They always ask why we play poorly. And we have to explain that everyone in our team wants to win.
– At last year's WJC you celebrated the emtpy net goal in front of Team USA's bench. Was it because you were all so focused on that game?
– Yes, we didn't think we would win, yet we did. Scoring that empty-netter was an adrenaline rush. Maybe I exagerated a bit.
– During the summer camp, did anyone bring up that topic?
– There was a guy who played against us, for Team USA. He wanted to discuss that moment, but without any anger. I think that at the end they understood that I didn't want to offend anyone.
– So at the next WJC you won't celebrate that way anymore, right?
– Probably not.
A professional hockey writer and translator. Loves Russian culture, language, and hockey. Reachable on twitter @AlexSerenRosso