This weekend, No. 2 North Dakota hosts the No. 7 Miami RedHawks in an important two-game NCHC series at Ralph Engelstad Arena. This weekend's series is UND's home conference opener.
Series History
All-time, UND is 5-2-1 (.688) against the Miami RedHawks. In Grand Forks, ND, UND is 2-0-1 (.833) against the RedHawks. In Oxford, OH, the series is tied 1-1-0 (.500). At neutral sites, UND is 2-1-0 (.667) against the RedHawks. Under head coach Dave Hakstol, UND has a 4-2-1 (.643) record against the RedHawks. Last five games, UND has a 3-2-0 (.600) record against Miami.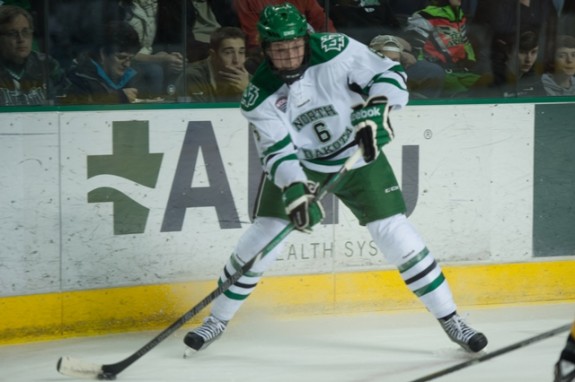 Tale of the tape
#2 North Dakota (7-1-1, 2-0-0 NCHC) vs. #7 Miami RedHawks (7-3-0, 3-1-0 NCHC)
Date: November 14-15, 2014.
Game Time: Friday 7:37, Saturday 7:07 p.m. CT.
Location: Ralph Engelstad Arena, Grand Forks, ND.
Last time out: Miami swept Colorado College (3-0 W, 5-1 W).
Last time out: UND swept Wisconsin (4-3 W, 5-1 W).
TV: Friday – MidcoSN.
TV: Saturday – FOX College Sports Central, DirecTV channel 608-1, DISH Network channel 447
Live Streaming: NCHC.TV.
Miami Media Release
UND Media Release
Key Players to Watch
North Dakota – Forwards: Drake Caggiula (3g-8a—11pts), Michael Parks (3g-8a—11pts), Luke Johnson (3g-3a—6pts), Bryn Chyzyk (2g-2a—4pts). Defense: Troy Stecher (1g-7a—8pts) Jordan Schmaltz (1g-3a—4pts), Tucker Poolman (3g-0a—3pts), Gage Ausmus (1g-1a—2pts). Goalies: Zane McIntyre (7-1-1, 1.94 GAA, .927 SV%), Cam Johnson (0-0-0, 2.68 GAA, .800 SV%).
UND Injuries: Mark MacMillan (5g-2a—7pts), Nick Schmaltz (1g-7a—8pts), Paul LaDue (3g-5a—8pts). MacMillan and Schmaltz are out indefinitely.
Miami University – Forwards: Blake Coleman (6g-5—11pts), Riley Barber (5g-6a—11pts), Sean Kuraly (7g-4a—11pts), Austin Czarnik (0g-10a—10pts). Defense: Matthew Caito (0g-6a—6pts), Louie Belpedio (3g-1a—4pts).  Goalies: Jay Williams (7-1-0, 1.64 GAA, .921 SV%), Ryan McKay (0-2-0, 3.39 GAA, .912 SV%).
Special teams
Miami – The RedHawks penalty kill is ranked 46th in the nation (37/47, 78.7%). The RedHawks power play is ranked 18th in the nation (10/48, 20.8%).
North Dakota – UND's penalty kill is ranked 21st in the nation (41/47, 87.2%). UND's power play is ranked 11th  in the nation (11/48, 22.9%).
Coach Blasi on UND
"They're obviously one of the top teams in the country, and rightly so," Enrico Blasi said. "They're well coached. They've got weapons up and down their lineup. At forwards, at defense, they're as talented as anybody in the country. Their goalie is big-time. This is going to be a good challenge – a big test for us – on the road, in a tough building to play in. We're going to go and hopefully try to execute our game plan and play hard and compete. Hopefully we'll see what happens".
Coach Hakstol on the RedHawks
"They have a ton of good forwards – really good depth – really good players up there," head coach Dave Hakstol said.
Coach Hasktol was asked about the rivalry with the RedHawks and this is what he had to say, "We've had some great games with them. We had some heated battles with them. They nipped us in our league championship tournament.  No question, there's a ton of respect between the two programs."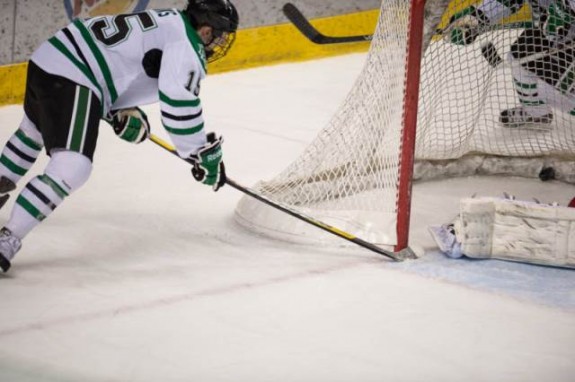 Series prediction
With the injuries to UND's top players, I am going to go with a series split. UND has the edge because the series is at home. Also, UND has the revenge factor playing for them after losing to them in the Frozen Faceoff.
"This is a game that we've all been thinking about," senior forward Michael Parks said. "The last time they were here we beat them 9-2. But then they got back at us at the Target Center in the playoffs. This is a really big weekend for our team."
Eric is a 1996, 1999 graduate of the University of North Dakota. Eric covers the University of North Dakota Hockey and Division I college hockey. Eric is the Contributing Editor for Inside Hockey.