In this translated interview, originally appearing in Russian language on the popular site championat.ru, Maple Leafs prospect Rinat Valiev discussed the Leafs rookie camp, the Subway Super Series, and the 2015 WJC.
– Rinat, is there life after draft?
– Of course, nothing really changed. I'm still playing in Kootenay. Naturally, I'm proud that Toronto drafted me. A legendary team of the best league in the world. Cool! I gathered a lot of experience working at their rookie camp.
Toronto Maple Leafs Rookie Camp
– What did you learn there?
– I discovered a lot there. Without mentioning that they welcome rookies in a very warm way. Each player who skates in a rookie camp would tell you the same, everything has perfect organization. I learned many new things. For example, they put a lot of stress on eating the right diet. I have gathered a lot of advice regarding my play, from skating to puck control.
– You didn't want to leave, right?
– They almost had to use force (laughs). Of course, I would love to play in Toronto. But all I can do is to play well enough to deserve a call-up. Even just to the AHL for a start.
– You just got back from an injury. Do you feel good now?
– Yes, I had a knee inury, had to undergo a surgery. Now all is good, I'm getting into game shape. I don't even remember about it now.
Subway Super Series
– Did playing at the Subway Super Series help you in getting into game shape faster?
– Of course. It's a great event, too bad that I could only play two games. I'm glad that our guys won. I know many of them for a long time and it has been pleasant meeting them again. It was a good win and you simply can't avoid being happy about it.
– What impressions did you get from the Canadian teams?
– I can judge according to the games against the WHL Selects, against whom I played. They played the typical Canadian game: many shots, hits, high speed. They gave us really little space. You get the puck and you already have a man chasing you. But I think that we weren't worse in any aspect. It was a bit bad when I missed my shoot-out chance, I hit the post. But the important is that we won.
– Is there a lot of interest in Canada for these games?
– In the games against the WHL Selects I think there were about 8,000 people. I can't say anything more accurate, I didn't have time to check the stands.
– Were there Russian fans in the attendance?
– Yes, I noticed some Russian flags up there. I saw them, of course!
– How did the attendance welcome the Russians?
– They cheered for their guys, of course, but they didn't boo us, they even applauded us after the games. Canadian people love hockey and appreciate fair play.
– Did you follow the other games of the series?
– Of course I did, and I didn't have any shadow of doubt in the victory of our guys. They lost two games… Well, they were playing against Canada, they always play hard until the end, but we were simply better and more disciplined. The guys helped each other and this was the key factor of the tournament.
– Were the WHL Selects the best team among the Canadian ones?
– Hard to say… I think that they were pretty much on the same level. They all play a similar style. The latest Memorial Cup champions are from the WHL.
– In the two games you played you were on a pair with Ivan Provorov. Do you think you played well?
– Well, that's for the coaching staff to judge, but I think we played well. We tried protecting each other and join the rush, then to play hard back on defense. If we talk about my own game, I think I played well. But of course I could have played better and more reliably.
– How did you like working with Valery Bragin? He is known for being a very demanding coach. Is it true?
– A good hockey coach can't be any different. He always discusses the games, showing us our mistakes and what's wrong in our games. We watched a lot of videos, both of our games and our opponents' games. He always has to say something to each player, naturally. Bragin requires a lot from his players, and he knows his stuff. The players' task is to play the way the coaches say and react in the correct way to their indications.
2015 WJC
– You have been named to the preliminary roster for the 2015 WJC. What kind of chances do you think you have to get there?
ICYMI: Kootenay Ice D Rinat Valiev off to Team Russia selection camp ahead of 2015 WJC: http://t.co/pmv0A5EXsV #WHL pic.twitter.com/OVLqGEcrD2

— Taylor Rocca (@taylorrocca) December 5, 2014
– Getting a spot in the preliminary roster was pleasant, of course, but it doesn't guarantee anything to anyone. It's just a preliminary list of players. If I'll get to the WJC, then I can say that my goal has been reached and it would be an achievement. But for now nothing is clear yet. We should just wait, well, of course we have to play too. But in any case I'm sure that Team Russia will fight for the Gold Medal. The WJC win would be the best New Year present!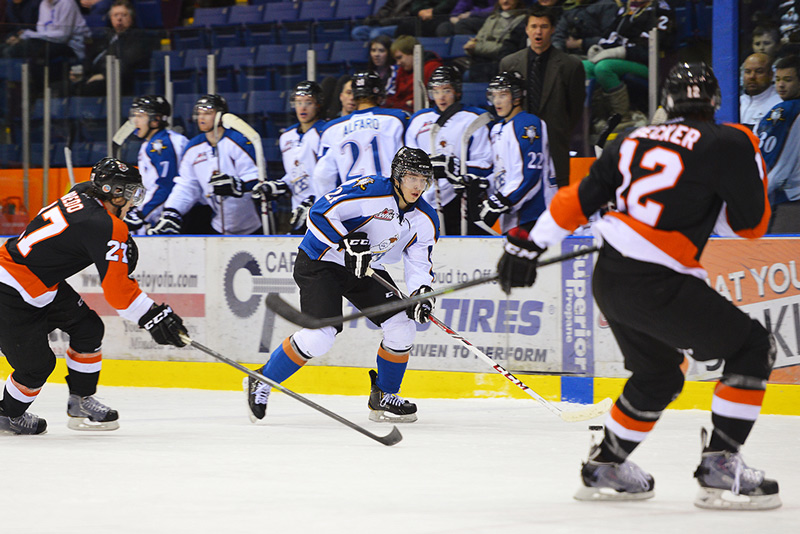 – What Russian defensemen do you like the most?
– In the KHL I like Evgeny Medvedev, in the NHL it's Alexei Emelin.
– What is the most important rule for a hockey defenseman?
– I'm not sure about defensemen, but I know the most important universal rule: you always have to give your best. Both at the practices and at the games. Otherwise you won't achieve a thing. This is the only way to get to something in sports or life.
[Read also: interview with Rinat Valiev]