Toronto Maple Leafs prospect Rinat Valiev has just been signed to an entry-level contract after getting selected during the third round of the 2014 NHL Entry Draft. The native of Nizhnekamsk, Russia spent two seasons in North America already, with the Indiana Ice of the USHL, and with the Kootenay Ice of the WHL. In this translated interview originally appearing on sports.ru, Valiev talked about playing for the Kootenay Ice, reflected on the draft, and said that he really wants to play for the Leafs.
– Rinat, instead of the usual first questions about the start of your career path, can you tell us a hockey story from your childhood that tied you forever with the sport?
– Yes, I have such a story. Once, during the childhood, my mother visited one of my games. And so, before the game she told me: "Son, just don't score in your own net." I remember my coach laughing hard, asking my mother to go to the stands and not scare me. I still remember that crease… And in this there's all the meaning of hockey. (Laughs.)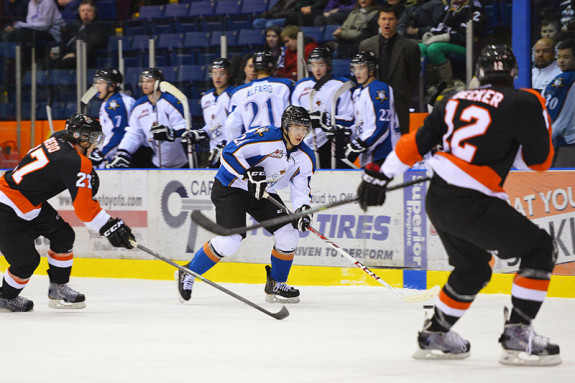 – And now you're playing overseas. And not for the first year. How do you feel now that you're away from your mother country?
– All is great. I don't regret moving here. They wanted me playing in the WHL right after I got here, but I needed to be drafted first, thus I started playing in the USHL with the Indiana Ice. I spent one season there, then during the Import Draft I was picked up by the Kootenay Ice from Cranbook, in Canada. This is how I got to the WHL.
– You're an alumni of the Ak Bars Kazan program, right?
– I got to Kazan when I was 11 years old. I played for [junior teams] Irbis and Bars. And now I'm in Canada.
– Not only are you in Canada, but now you've been signed by the legendary team Toronto Maple Leafs. Congrats!
– Thank you. It was the most important step in my career. I spent a lot of time and effort to reach all this. I consider playing for Toronto like receiving an Award. I'm very satisfied from the draft's results.
– Did you manage to talk with the team's management?
– I met everyone at the rookie camp. I received a lot of advice about practices, eating and much more.
– Did you enjoy the draft ceremony? Nikita Scherbak said that he was so worried that he didn't know what to do once he heard his surname.
– Well, he got picked during the first round. In the third round it's not as shiny as the first, therefore I had nothing to worry about. (Laughs.) By the way, me and Nikita are friends, we congratulated each other after the draft.
– And now you can play against him in very meaningful games. After all, one of the top NHL rivalries is between Montreal and Toronto.
– Yes, it would be great. I would be very glad to "greet" him with a big hit. (Laughs.)
– What number would you like to wear in Toronto?
– I don't know what numbers are free now… I'd like to play with number 61.
– Who is currently the Maple Leafs' biggest star in your opinion?
– I'd say Phil Kessel.
– Doug Gilmour holds the Leafs record for most points and assists. Tie Domi for penalty minutes. And the record for most points by a defenceman dates back to 1977, when Yan Turnbull scored 79 points. Would you like to join them?
– Well, it's a bit early to talk about records. But of course I would love to become part of the history of the team.
– Aren't you worried about the fact that the team reached the post season only twice in the latest ten years?
– No, quite the contrary. Both I and the team have something to reach.
– Did you learn English well enough to understand what they say about you?
– I can't say I speak perfect English, but it's much better now than when I first got here. It's easier to learn a new language while you do it living in another place. But I always try to learn and use new words.
– Are there other defencemen who are an example for you? Both in Russia and in the NHL.
– In the KHL I like Evgeny Medvedev a lot. In the NHL, Erik Karlsson. I hope to play against him as the Leafs play against Ottawa.
– As far as I understand, you'll play another season in Kootenay, correct?
– Most likely, yes. And I don't regret it. Due to my age I can't play in the AHL, therefore I'm going to play in Kootenay. Signing a contract with Toronto will only motivate myself further. It's a huge responsibility and I simply have to play better. I need to fight and never give up!
– So, we talked enough about the future. Now, let's get back to the present.
– The Kootenay Ice are a good team from a small town, Cranbrook. A great environment, excellent team mates, coaches and fans. But the best is that it's so easy to get to the practices! And Toronto is a megalopolis…
– Won't you get distracted by life in a big city?
– I won't get distracted from hockey. Too much to do…
– In Toronto there are a lot of teams from other sports: basketball, soccer, baseball… Will you visit their games?
– I would love to watch the Raptors. Soccer is possible too. I don't care much about baseball.
– What do you like to do when you don't play hockey?
– Usual stuff: music, cinema, video games. I would love to find time to learn to play the guitar.
– Did you make enough money to buy yourself a car yet so that it can be easier to get to practices?

– I'm now driving a very small and cheap one, next year I'll get my driving license. (Smiles.)
– And what if Toronto will trade you away and you won't be able to play for this legendary team?
– The life of a hockey player is a nomad's life. Anything can happen, but the important is to keep playing hockey. But anyway I really want to play for Toronto!
A professional hockey writer and translator. Loves Russian culture, language, and hockey. Reachable on twitter @AlexSerenRosso