Expectations for the St. Louis Blues were probably never higher than in 2013-14. They were a favorite pick among the media and bookies alike to win the Stanley Cup. Even a video game had them coming out on top.
Fans could not help but raise their expectations. Regular season success felt like a preview of postseason greatness to come. The trade-deadline acquisition of Ryan Miller–perceived as an elite goalie for some reason–appeared to address the team's biggest postseason need.
Heading into the Round 1 of the playoffs, the Blues were the odds-on favorites to come out of the Western Conference and face the Boston Bruins in the Cup Final. Then the Blues went up two games to none over the defending champion Blackhawks.
Pop the corks. Map the victory parade. This was the year. It had to be. Finally.
Well, it wasn't. Not even close. It turned out to be another gigantic disappointment; possibly the biggest one yet.
The perception is that this team cannot beat the elite teams when it matters the most.
How do you salvage that wreckage?
Enter GM Doug Armstrong. It was his job to fix the perceived problems on the roster (the main ones being scoring, center depth, and goaltending). So he made some moves.
Chief among them, he brought in Paul Stastny, he let Ryan Miller walk, and he signed Jori Lehtera and Joakim Lindstrom, two veterans from Europe.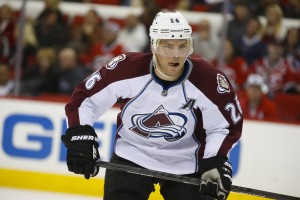 The transactions were well-received (ignoring the Vladimir Sobotka fiasco for now). An already great team got better. Not surprisingly, the betting lines again have the Blues among the Stanley Cup favorites.
For frustrated fans, however, the excitement is hard to sustain. When failure is this prolonged (47 years and counting), it appears permanent, and no amount of roster-tweaking at the margins can undo that stigma. 
So while this offseason brought change, it remains to be seen if it will make a difference. A frustrated Blues fan might believe this is virtually the same team that collapsed last postseason, only adding: an overpaid second-line center over-hyped as This Year's Postseason Failure Fix (and just as likely to fail as those coming before him); a fragile and uncertain goalie tandem; and two guys facing a very difficult transition to the NHL from Europe.
Paul Stastny is Probably Not the Franchise Savior
Stastny is a solid center. He scores at a decent rate (50-70 points), he's good on the powerplay (desperately needed), he's solid defensively, and he did pretty well in the playoffs for Colorado last year. Plus, there's the intangibles: he grew up in St. Louis, his brother and dad were also on the Blues, and he has been terrific for team USA.
But Stastny has never had to handle the pressure and responsibility of being a number one center on a Stanley Cup contender before. He has mostly been a number two center on a fairly dismal team. Neither he nor his team have had to live up to very high expectations. And now–whether rightly or wrongly–he has to carry the hopes and expectations of a long-frustrated fanbase yearning for its first Stanley Cup. That's a heavy burden.
Stastny is also overpaid. ($7MM cap hit.) He just doesn't score enough for that amount of money. If a handful of other good centers had been available in free agency, his salary might realistically have been–and arguably should have been–closer to $5.5MM or $6.0MM.
It will be hard for Stastny to live up to the expectations being placed on him. And if and when this team fails to deliver, he will be an easy target.
He will discover just how quickly this year's postseason fix can become last season's mistake, just like Ryan Miller. Let's hope it goes a little smoother for Stastny.
The Goaltending is Suspect
 Ryan Miller was supposed to be a difference-maker in the playoffs for the Blues.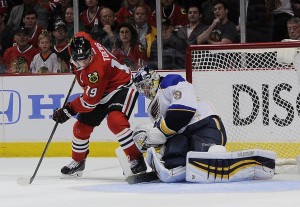 (David Banks-USA TODAY Sports)
Well, he was; just not in a good way. He was badly outplayed by Corey Crawford, of all people, as the Blues lost four straight games to the Blackhawks.
So Armstrong wisely closed the chapter on Miller. In his place is a new but familiar tandem: veteran backup/1B starter Brian Elliott and rookie Jake Allen.
Brian Elliott is criminally underrated. He has been oustanding for the Blues. If you exclude his freakishly bad stretch at the beginning of the 2012-13 season (the first 11 games), his stats for the Blues are:
88 GP, 54 W, 22 L, 6 OTL, 1.67 GAA, .934 SV%, 16 SO.
Wow. Those are absurd, Hasek-like numbers. Heck, better than Hasek. If a number-one goalie played like that all the time, he would be worth $10MM. And Elliott has just a $2.5MM (!) cap hit the next three years. He might be the best bargain in the NHL.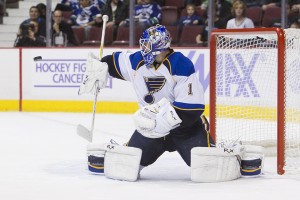 But then there are those 11 games. Elliott was just awful in them. His numbers: three wins, a 3.65 goals-against, and a save percentage of just .851.
That is terrible. He lost the team many games. He became unplayable. So Elliott had to be sent to the minors to work things out. Which, to his credit, he eventually did. Was it a permanent fix, though?
What happens if Elliott breaks bad again this season? It's nice to think Jake Allen will do wonders after his stellar career in the AHL, but he's young and unproven at this level, and there's no telling what could happen if he has to step in and take the reigns. It could just be more of the same.
The goaltending is no less of a question mark now than it has been in prior seasons. That's not an ideal position to be in.
The Odds are Against Lehtera and Lindstrom
Lehtera is a 26 year-old forward who has never played an NHL game and has spent the last four years in the KHL. Lindstrom is a 30-year old forward who's played 97 games in the NHL, but has spent the last few years in Sweden.
Okay, name the last hockey player to transition from Europe to the NHL in the middle of his career to have a lot of success.
Did you think of one? If so, please list him below. Because I honestly can't think of any. Maybe a goalie or two who had brief success (Roman Cechmanek, anyone?), but not any forwards.
The only comparable forward who comes to mind is Peter Cajanek. He was 27 when he jumped from the Czech Republic to the Blues. He played four forgettable seasons before being placed on waivers and disappearing back to Europe.
That's not to say it can't be done. But if Peter Cajanek is your model for success, then you may need a new model.
While the new guys might have some pretty sick moves, our expectations for them should be very, very low. This is a totally different league. Forty points would be amazing out of anyone in their situation. And if they're expected to play big roles before they have even set foot on North American ice as a Blue, then we are just setting them up for dismal failure.
47 Years of False Hope and Failed Expectations
Armstrong's moves were good, but not that good. Even without them, the Blues are still, probably, a very good regular season team. Unfortunately, no one really cares about that.
This team will ultimately be judged on postseason success alone. Anything less than a trip to the Western Conference Finals will likely be seen as another failure.
So Blues fans would be justified in respectfully holding their applause on the offseason moves for now.
Forty-seven years of disappointment can do that to a fanbase.