"Brentwood Bay blast" is an alliteration coined by San Jose Sharks television play-by-play man Randy Hahn for the booming slap shot from Sharks defenseman and Brentwood Bay, British Columbia native Matt Irwin.
http://youtu.be/c6Ilnrd5yBY
Sophomore Struggles
While the second year defenseman played more games, scored more points, and had a better plus/minus last season than during his rookie year, it is safe to say he suffered a sophomore slump in 2013-14. Last season the 26-year-old Irwin played in 60 regular season games mostly alongside Dan Boyle. While Irwin picked up 19 points in the regular season, he only played in two of San Jose's seven playoff games. This coming after he played in all eleven of San Jose's playoff games as a rookie. Irwin only got into the most recent Kings series because of the injury to Marc-Edouard Vlasic.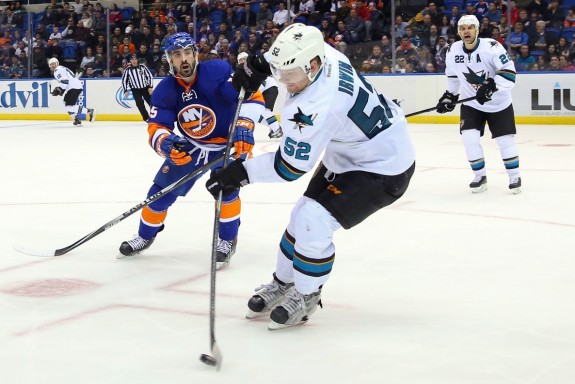 After scoring six goals with a .076 shooting percentage as a rookie in 38 games, Irwin scored just twice as a sophomore, converting at just a .014 mark. Even though his 19 points weren't far off from his rookie pace, Irwin's possession numbers took a significant hit. When paired with Boyle, Irwin had to spend a lot more time defending his own zone than in his rookie year. That extra time defending brought out weak spots in his defensive skill set, often being beat one-on-one or losing coverage when switching up.
Considering the coaching staff saw fit to play Scott Hannan and Brad Stuart over Irwin in the playoffs (could argue this was the wrong call), it is clear that Irwin has much to improve upon. With Boyle and Stuart gone though, Irwin ought to get an opportunity early in the season to play top-4 minutes. Perhaps that's a scary thought to some Sharks fans after his struggles last year but Irwin was steady in a top-4 type role as a rookie. There is reason to be optimistic about Irwin bouncing back. However, who he plays with and how he is utilized will have a lot do with whether this Shark sinks or swims.
Bounce Back?
Common wisdom has the Sharks sliding in Brent Burns with Vlasic to create an overloaded dynamite top pair. However, this would leave Irwin playing bottom pair minutes with either Scott Hannan or a rookie, or second pair with either Justin Braun or Jason Demers. Irwin has plenty of experience playing with Braun at the AHL level so that could be a good fit but both Irwin and Demers can be prone to giveaways and defensive lapses. The latter wouldn't be an ideal pair.
A less talked about third option might be the best way to set up the pairs. Vlasic and Demers were excellent together as the top pair down the stretch of last season. It would make a lot of sense to keep them together playing the toughest minutes, while the defensively stout Justin Braun and rookie Mirco Mueller (known to be a defensive defenseman) garner the next toughest defensive minutes. This would allow Irwin and Burns to be used together in a significantly more offensive role.
On the surface you wouldn't want Burns and Irwin playing together, being two more offensive minded guys, but they can both hold their own defensively, particularly when spending limited time in their own zone. Plus in offensive minutes, these guys are going to have the puck on their sticks more often than not. Not to mention they fit together nicely with Irwin being a left shot and Burns a right handed shooter. If you are a Sharks fan, imagine Tomas Hertl, Joe Thornton, and Tommy Wingels creating space down low before feeding Burns and Irwin for howitzer point shots. Pretty awesome thought, eh? Given his struggles last season, pairing Irwin with Burns in this role, at least to start the season, should do wonders for his confidence and could make the Sharks blue-line look pretty darn good.