In this interview, originally appearing on the popular Russian website championat.ru, Ivan Barbashev talked about the NHL Draft, discussed getting reassigned to the Moncton Wildcats, and shed some light on his private life.
– Ivan, when did you start playing hockey?
– I play hockey since I was three. I started playing for the "North Stars". It was the closest rink and I learned skating there. Then I played for CSKA for a bit and then, when I was seven, I moved to Dynamo Moscow.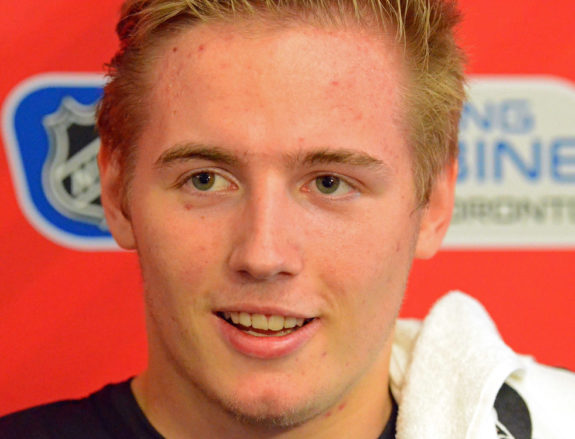 – Why did you leave CSKA, if that's not a secret?
– No secrets at all. It was a family decision. It didn't go well there. It's hard to say what was wrong, all of this happened long time ago. I became a true hockey player while playing for Dynamo.
– I imagine that in your family hockey is the sport number one, correct?
– In our family, we all love sports. My mother was an athlete, my father always loved hockey. He got my older brother Sergei into hockey, then it was my turn. And now our younger brother Maxim followed my same path: "North Stars", CSKA, Dynamo. My father had three sons, and all three are hockey players. (Laughs.) I have a dream: playing all three together on the same line. It won't be soon, Maxim is only 11. But still…
– Your brother Sergei won many medals, is he ahead of you?
– At my parents' home there is a stand with all our medals. The lowest shelf is for Sergei, then there is my own shelf and on top there is Maxim's shelf. Sergei has a lot of medals, I don't even know for what competitions he got them (laughs). Yes, so far he has the most medals, but there is still a lot of time. And maybe Maxim will surpass us both.
– But you also have something to show, right?
– Yes, you can find some interesting things. The Gold Medal of the Russian Championship for 95-born players. The 2014 WJC Bronze Medal. In 2012 we won the Gold Medal at the World U17 Hockey Challenge. We won the final game 7-4 against Canada. I think that the last time Russia won that tournament was in Kovalchuk's year.
– In 2012 you were drafted in the KHL by Dynamo Moscow, but you were also picked in another draft…
– Yes, the CHL Import Draft. And only four days after being drafted by Dynamo. I followed the procedure on the internet. I didn't know if they were going to select me. And then my name was on the very first line, with the team "Moncton Wildcats". I was very happy, and so were all my relatives and friends.
– Did you have any doubt about going overseas?
– No doubts at all! I talked with my parents and my agent and we all agreed that I should go.
– How do you like Moncton? What about the Wildcats?
– All is great. It's a little city, very quite. The team is young and with a huge potential. The guys are ready to fight for the highest places on the standings.
– Is it good for you to play with [fellow countryman] Vladimir Tkachev?
– Of course I'm glad he's on my team. He's doing well, of course he isn't happy about the situation with Edmonton. I suggested him not to think about it and keep on playing at his best. I'm sure he'll get drafted next summer. Maybe even by Edmonton. This season will be a key one for him, as it will for me.
– You and Tkachev play on the same line and you both scored many points. The season has just started.
– We help one another a lot both on and off the ice. We also spend a lot of time together. We go to the cinema, take some walks, play mini-golf together.
– Now let's talk about the most important event of your career: the NHL draft. What were your impressions?
– There aren't words to describe it (smiles). I was expecting to be selected in the first round; before the draft I was in the top-20. I was disappointed, and went back to the hotel very sad. But then I understood that there were no reasons for it. The next day I didn't have to wait much to hear my name. I was very happy! St. Louis is a great team.
– Nikita Scherbak told the press that he was so worried that he could barely remember how the ceremony went.
– I know Nikita very well and I can understand his worries, but I have no memory problems (laughs). Of course, I was a little worried. My heart was beating fast!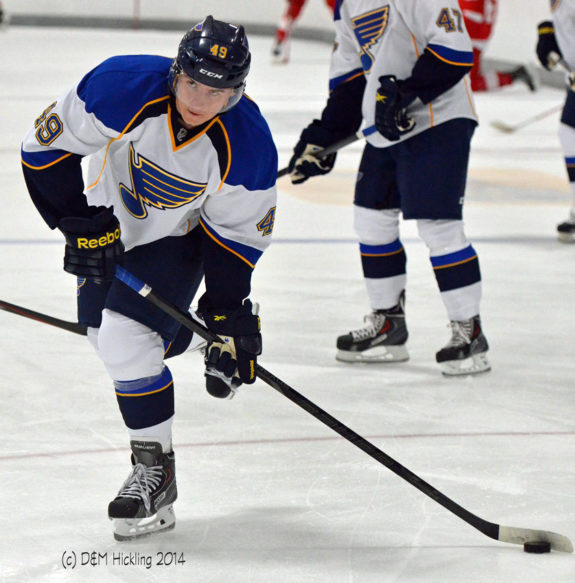 – Then you took part in the Blues' training camp. What were your impressions?
– It was an incredible experience, which I will never forget. I met the team's general manager and head coach. We had a talk. [General Manager Doug] Armstrong told me: "You'll be surprised by the players you'll play with." Then I was approached by [T.J.] Oshie and [David] Backes! They greeted me and we talked for a while. Then it was practice time, I was very worried, but everyone helped me. Everyone had a great attitude toward rookies, even the star players. I could practice with players that so far I had only seen on television. It was incredible!
– Did Vladimir Tarasenko help you?
– Of course! I'm very thankful to him. We talked a lot, he showed every thing I needed and brought me to restaurants. He helped me not only practicing, but also making me become a part of the team. I still remember his words about the fact that there are a lot of players who want to get a spot in the Blues lineup, not only me. Everything in the Blues franchise is at the highest level. I have never seen or experienced anything similar.
– Was it disappointing to get back to Moncton?
– Absolutely not. They told me that I would be getting back to juniors. They told me that they are waiting for me next year, that I need to complete my development. They said that all will be great if I'll have the right attitude. I'm really looking forward the new season. My contract with Moncton will run out and I'll have to fight for a spot in the Blues lineup.
– Aren't you sad away from your family?
– A little bit… But soon my wife will join me. Ksenya is my biggest fan and she watches all my games through the Internet, no matter they are very early in the morning [in Russia]. Once she'll get a visa and settle things with her studies, she'll join me.
– How did you meet your wife?
– Quite randomly. We met through common friends. We looked into each other's eyes and voila! Love at first sight.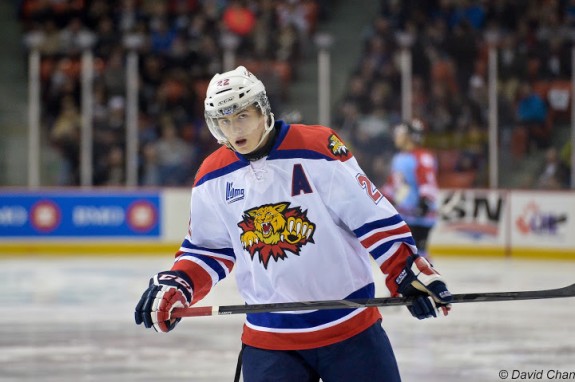 – Do you plan on reaching a minimum amount of points this season?
– Well, it's hard to plan things like that. You need to play at your best and points will come. I want to win the President's Cup with my team. It ain't easy, but you need to aim high.
– Do you have a life motto?
– You don't have to be better than others, you need to be better than what you were yesterday.