There is a reason the St. Louis Blues coaching staff and fans alike are getting more and more excited every time Vladimir Tarasenko touches the ice. It's because he's really coming into his own in just his second year in the NHL, and he is proving to be just the asset the Blues thought he would be when they drafted him 16th overall in 2010.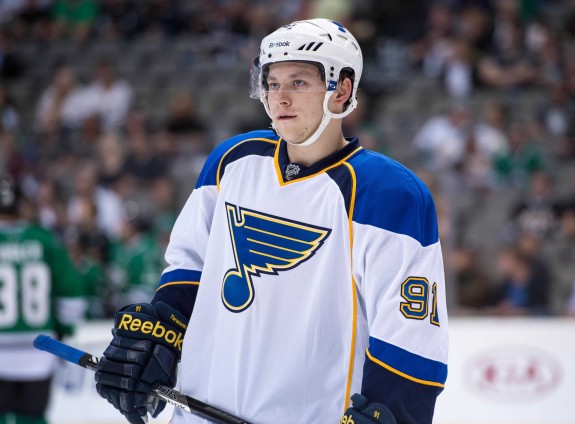 A Young Gun Far From Home
As a young man from a large city in Asian Russia, Vladimir Tarasenko found his calling as a child and never looked back. He began his legacy in 2008 when he became the newest member of the Kontinental Hockey League's (KHL) Novosibirsk Siber, at just the tender age of 17. He quickly impressed his coaches and the fans alike with his amazing vision of the ice, and his knack for scoring in all situations. His first season was filled with opportunities to learn how to play the game on a big stage, something he instantly loved. His next 3 seasons with his hometown club saw growth in all scoring categories, and gave Tarasenko the option to move to the biggest stage in the game, the NHL.
When he was drafted by the St. Louis Blues he vowed to his Russian followers and Note Nation alike, stating his career goal was to become a superstar in the greatest league on Earth. Fans didn't have to wait long to see his start, even though it was delayed by the new Collective Bargaining Agreement (CBA) negotiations. As soon as mid-January of this year hit however, Vladimir Tarasenko instantly found his scoring rhythm and became a fan favorite, by scoring not one, but two goals against long-time division rival the Detroit Red Wings (shown below courtesy of youtube.com).

From this point on the entire organization knew they had a special player, and one that could bring them into Stanley Cup contention in the near future. Now in just his second season, Tarasenko is continuing to develop into the next sniping, playmaking superstar the Blues have needed for so many years.
Quick Feet, Quick Hands, a Hard Shot, and Great Vision: A Lethal Combo
Fans can definitely get excited about the progress Vladimir Tarasenko has made in his short tenure with the team. He has shown that he can play the rough style of hockey that is the NHL, and that he can still excel at this level. His on ice awareness has always given him the edge over competition, which is why you will always find him near the puck, or in a high scoring area behind the opposing defense. Add in his quick feet and you get a player who can drive to the net, or break out of the defending zone with speed opposing teams cannot match. This gives Taro the edge in quick transitional play, which is just the type of situations that win playoffs games and series. When you add in his quick hands and excellent shot, you get a volatile skill set that is sure to move the Blues far into said playoffs.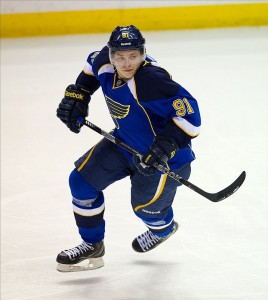 Vladimir's Continued Development
Vladimir Tarasenko's work ethic shows through in his play, and anyone who wants to challenge that can just look at his career plus/minus numbers (he has never been minus on a season in his pro career). This proves that he truly wants to put in the necessary work to become the league's next star, and that he is willing to play a full 200 feet. He may still have some developing to do, but given his rate of growth so far in the league, one can only expect him to reach that goal in the near future.
Tarasenko is also finding scoring areas night in and night out, and he is getting great support from his teammates, specifically Jaden Schwartz, who is another young star for the team. The tandem has been seen on the same line for almost every shift this year and both are great compliments to each other. Schwartz' grinding finesse has even rubbed off on Taro who can now be found in the corners fighting to set up teammates in front of the net. All of these assets give fans the adrenaline boost they are looking for when they watch Blues hockey.
There's Still Work to be Done
While Vladimir Tarasenko's development has been a great source of joy for both the organization and fans, he must continue to strive for that next level to climb the scoring ranks in the league year after year. Once he can fine tune his stickhandling in tight situations and learn the right shooting rhythms, look for him to fill the role of true scorer on a Blues team that has been so desperate for just that over the past two decades.
Ladies, Happy Valentines Day from Frank pic.twitter.com/vWTkGaaE

— Ian Cole (@ICole28) February 14, 2013

It's hard not to love the rising star, especially since he has such a great attitude. As the above tweet shows, he even has a great sense of humor. This means he has all the right resources to become a team leader. Bottom line is Vladimir Tarasenko is going to be a top star in this league in a few years' time (if his health permits obviously), and the Blues should keep him locked up long term so we can reap the benefits.
Like what you've just read? Follow me on Twitter: @pep30
Mike has covered the St. Louis Blues and Tampa Bay Lightning in depth for The Hockey Writers since 2013. He is also a contributing writer for KSDK News Channel 5, the St. Louis area NBC affiliate, and has been a credentialed media member of the Blues since 2014. Follow him on Twitter @pep30.