Whether it's the trading deadline, the NHL Entry Draft, or the beginning of free agency, people are always talking about players that fit the Bruins mold.  Typically, when people refer to the prototypical Bruin, they are talking about someone in the mold of Phil Esposito or Cam Neely.  A power forward that provides a physical presence and can put the puck in back of the net.  There is not an overwhelming supply of players like this, so don't be surprised to see familiar faces up and down this list.
Zach Parise (LW) – Minnesota Wild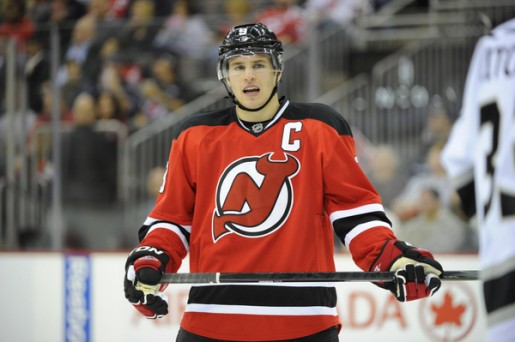 Longtime New Jersey Devil Zach Parise is the one that got away for a lot of Bruins fans.  The Bruins traded out of the 16th overall selection in the 2003 NHL Entry Draft, then sat back and watched as the Devils traded up and took the Minnesota native with the 17th overall pick.  Parise is a force on offense, as seen by his single season career high of 45 goals and 94 points for the Devils in the 2008-2009 season.  In fact, Parise has scored more than 30 goals five times in his career.  He's the not the fighter that comes to mind when you think of Bruins power forwards, but he is not afraid to be physical.  He brings a high level of energy to the ice and plays strong along the boards, making him a perfect fit for the cycling game that Bruins employ.  Unfortunately for the Bruins, Parise signed a whopping 13-year contract with his hometown Minnesota Wild in 2012, making it a virtual certainty that he will never don the Black and Gold.
Evander Kane (LW) – Winnipeg Jets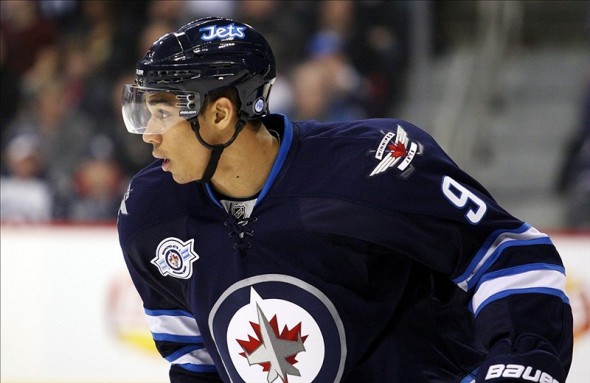 The powerful left winger for the Winnipeg Jets forever endeared himself to the Bruins fan base in April of 2010, as a member of the now-defunct Atlanta Thrashers, when he knocked out known villain, Matt Cooke.  Although you may know him because of this fight, Kane is so much more than a physical presence.  Kane, the #4 overall pick in the 2009 NHL Entry Draft, registered his first 30 goal season in 2011-2012 at the age of 20 years old.  He uses his speed and his physicality to create space for himself, and he knows how to finish, as evidenced by his goal totals.  Making Kane's performance more impressive is the fact that he has not been surrounded by superior talent.  Aside from the first half of his rookie year, Kane has been the most dangerous forward on his team.  Once again, it was not meant to be for the Bruins, as Kane signed a six-year extension with the Jets, keeping him in Winnipeg through 2018.  Kane could be a trade target at some point, meaning there is a chance, but it's still extremely unlikely Kane ends up in Beantown.
Dustin Brown (RW) – Los Angeles Kings
Out of the players on this list, Dustin Brown might be the best fit for the Boston Bruins.  The Kings captain is a tenacious fore-checker, who is more than willing to throw his body around to win the puck.  As captain, Brown led the Kings to their first Stanley Cup Championship in their 44 year (at the time) history.  He is a well-respected leader in the locker room, though he tends to lead by example, which would fit in well with the current group of Bruins.  Brown's offensive ability can be overlooked because of everything else he brings to the team, but make no mistake, he is more than capable of impacting the game on the stat sheet.  He has scored 20 or more goals five times in his career, and was on pace for his second season with more than 30 goals last year, but the lockout had other plans.  At just 29, Brown still has many years of productivity left in the tank, but he signed an eight-year extension with the Kings this summer, likely keeping him in Los Angeles for the remainder of his career.
Gabriel Landeskog (LW) – Colorado Avalanche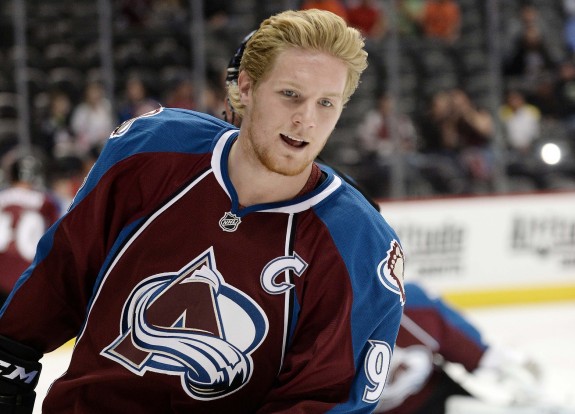 Gabriel Landeskog is only in his third NHL season, but he has already established himself within the Avalanche organization and across the league.  When Colorado selected Landeskog with the #2 pick in the 2011 NHL Entry Draft, they saw a player with an NHL-ready body, that played an NHL style game.  He plays hard on the puck and has no quit in his game.  He's not afraid to throw his weight around, finishing each of his first two seasons near the top of the league in hit totals for forwards.  Landeskog generates a lot of scoring opportunities by driving to the net, utilizing his size and positioning to help create offense.  His high level of play and strong leadership earned him the captaincy in 2012, making him the youngest captain in NHL history at just 19 years old.  He's no slouch with the puck, tallying 22 goals and 52 points in his only full NHL season to date.  Given how important Landeskog is to the Colorado Avalanche, it is highly unlikely that he will be playing elsewhere anytime soon.  If he does, just about every team in the league will be interested.  It is safe to assume he will never be a Boston Bruin, even though he fits the mold perfectly.
Curtis Glencross (LW) – Calgary Flames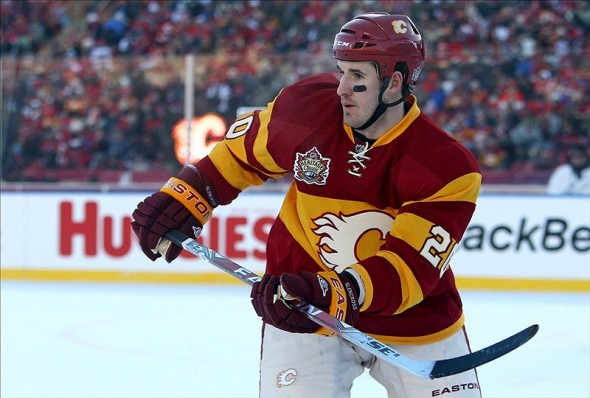 Last season, when it became apparent that Jarome Iginla was not going to be a Bruin, one of the alternative options that many people began to discuss was Curtis Glencross.  Glencross doesn't come with star status or the elite offensive skills that the other players on this list possess, but he is a solid player that would fit in perfectly with the Bruins.  He is a physical player, not necessarily in the fighting sense, but in the sense that he grinds out his shifts and brings a lot of grit to his team.  Since his first full season in the NHL (2007-'08), he has registered at least 13 goals, with a career high of 26 goals in 2011-2012.  Glencross is very consistent, bringing a high compete level to every game, and making his team tougher to play against.  He is exactly what the Bruins have been looking for on their third line for the last few seasons.  He is 31 years old and signed through next season on a team-friendly deal, but with a lot of young options coming up in the near future, it is less likely that the Bruins deal for Glencross now.  If an injury occurs or another move leaves the Bruins short-handed, Glencross will absolutely be a target near the top of the list.
As I've mentioned in their run-downs, it is unlikely that the Bruins will end up with any of these players at any point in the future.  That said, these players would be great fits for the organization and the roster as presently constituted.  Instead of becoming fan favorites in Boston, these will be the players the Bruins fan base will look forward to watching just twice a year.  In the end, the Bruins have achieved a great deal of success in the last few years, and that's a trade-off that Bruins fans will take every time.