Typically, sixth-round draft picks don't tend to have much promise of an NHL career. Even less when it takes until they're nearly 25-years-old before getting their first taste of major league action. So how is it that Brett Bellemore has seemingly beaten the odds, becoming an almost indispensable member of Carolina Hurricanes' blue-line?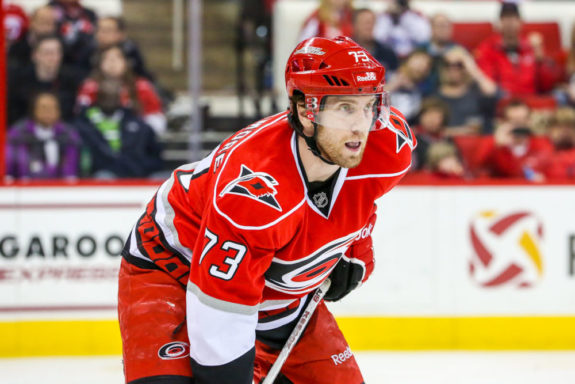 Brett Bellemore Has Cohesion With Hainsey
Breaking into the NHL is tough, especially for defensemen. Forwards can be sheltered more effectively with superior veteran linemates, but on defense, it's you and one other guy that are in charge of preventing goals while you're on the ice. It helps to have a knowledgeable partner that is capable mopping up the messes that are bound to happen.
For the Hurricanes' other rookie, Ryan Murphy, that guy has been Jay Harrison, and it's not the first time he's played that role; Harrison helped pave the way for Justin Faulk when he first entered the NHL.
"I look at a guy like Jay Harrison," said Bellemore. "He also spent a lot of time in the minors before he got his opportunity to play regularly."
"He really helped me when I got called up last year. All the guys really have been good to me and helpful since I got here."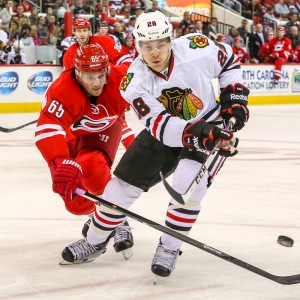 But with Harrison occupied as Murphy's teacher this year, the task has fallen to Ron Hainsey to forge a strong partnership with Bellemore. The two have played together for nearly 90 percent of the time that Bellemore has been on the ice during 5-on-5 action, and have proven a surprisingly capable duo.
Despite getting some of the toughest assignments, and starting in their own zone more often than not, the Bellemore-Hainsey pairing has been effective at limiting opposing chances. Kirk Muller has not been not afraid to throw them out there in end-of-game situations, regardless of Bellemore's rookie status. Earning that kind of trust from a coach like Muller, who preaches defensive responsibility, is no small feat.
Style of Play
At 6'4'' and 225 pounds, Bellemore is one of the biggest members of the Hurricanes' blue-line. But unlike some around the NHL, he actually uses his size to his advantage.
Among rookies, Bellemore is second in hits and tied for sixth in blocked shots. The figures don't even dip that much when considering all defensemen. But what's most impressive is his ability to stay out of the penalty box, despite the style of play. When discounting his two fighting majors, Bellemore's penalty minutes total just 6:00 in his 26 NHL games. Given that he plays 2:24 per game shorthanded, his discipline has been another feather in his cap.
Offensively, his game can leave a little to be desired — especially in the puck-handling department — but it's steadily improving. Lately he's been joining the rush and shooting more, recording his first NHL goal in Detroit on November 21. His growing confidence is almost tangible.
"It's exciting to have a goal in front of your family," he said. "I'll give [the puck] to my parents. I know it means a lot to them as well. I'm sure they'll have some place to put it."
Has He Made Tim Gleason Expendable?
Bellemore is everything the Hurricanes want in a defenseman, and everything they'd hoped Mike Komisarek would be. It's been impossible to take him out of the lineup, and it's given Muller a surplus of blue-liners.
"I think our 'D' right now, as a unit, are playing really well," he said after a recent 3-2 shootout win over the Anaheim Ducks, in which Tim Gleason was a healthy scratch. "It's a mix of old and young. Some finesse, some guys grinding it out. The chemistry they have right now, it looks like they're having a lot of fun together."
Though the 'Canes have a penchant for injuries, they've been relatively healthy on the back end. Eight guys are fighting for playing time with not enough to go around. Up front, however, injuries have taken a toll. Alex Semin, Jeff Skinner, Tuomo Ruutu and Elias Lindholm have all been banged-up, and even when healthy, goals have been at a premium in Carolina.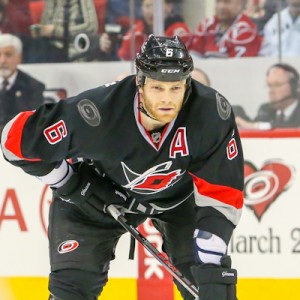 With several pairings that just "work", Gleason has seemingly been the odd man out. In games in which he's dressed, the 'Canes are 0-6 with a -13 goal differential compared to 8-4-4 with a -7 differential when he hasn't played — nearly a goal against per game worse. A small sample size to be sure, but glaring nonetheless.
His no trade clause makes any deal tough, but if he's willing to waive it, his value could bring it some much-needed scoring help. There are plenty of teams that would love to add a player of Gleason's caliber, and his $4 million price tag is not outrageous by any means.
Bellemore has not been flawless; see his lack of vision on a backdoor goal in Cam Ward's first game back from injury. But the mistakes are lessening each day. He's become an integral member of the Hurricanes' blue-line and has jumped several players on the depth chart — unforeseen at the start of camp. And he just might be their best story of the year.
While you can never have too much depth, the 'Canes are severely lacking in it up front. With the emergence of Bellemore as a legitimate defensive threat, it may be worth exploring trade options, even for long-time Hurricane Tim Gleason.
Andrew Luistro graduated from Appalachian State University. An avid sports fan, he began beat writing for the Sunbelt Hockey Journal, part of The Hockey Writers Network, with a focus on the Carolina Hurricanes. Andrew also actively follows the Boston Red Sox and Carolina Panthers, among other teams. Follow him on Twitter @ndrewL7