Like a fine wine, Jaromír Jágr has only improved with age. As a 19-year-old in 1990, Jágr made his NHL debut and finished his rookie season hoisting the Stanley Cup. Moreover, during his sophomore season, his peers took notice of his performance, which included a memorizing display of stickhandling abilities against the Chicago Blackhawks in the Stanley Cup Final. 
Related: The Legendary Career of Jaromir Jagr
It wasn't long before Jágr skated out of his teammate Mario Lemieux's shadow and won his first scoring title and the Hart Trophy as the league's most valuable player. When his former linemate headed into retirement, Jagr dominated the NHL for most of the 1990s. Eventually, he departed the Pittsburgh Penguins and took his talents to the Washington Capitals before bringing his showman's skills to Broadway and the New York Rangers. 
---
---
After 18 seasons, 646 goals, and 1599 points, Jágr opted to play in Russia and joined the Kontinental Hockey League (KHL), spending three seasons terrorizing goalies. However, the hunger to win another Stanley Cup brought him back to the NHL, where he played another six years, adding to his totals and ensuring he gets his own wing in the Hockey Hall of Fame when he retires. 
Although Jagr left the NHL for the second time in 2018, at 45 years old, he returned to Europe to play in his home country of Czechia. As a player and owner of Rytíři Kladno, he still has a lot of gas left in the tank. Furthermore, on top of playing with guys half his age, Jágr has done everything to keep the team competitive and bring fans to the arena. Amazingly, he's still playing and scoring, recently breaking the record for most goals in professional hockey, a mark once held by Wayne Gretzky. 
After scoring his 1,099th goal recently, he became the only player in the game's history who has scored that many. How did Jágr achieve these numbers? Here's a look back at one of the most legendary careers ever recorded. 
Jágr Scored 766 NHL Goals, Which Ranks 4th All-Time
A teenage Jágr broke into the NHL after being the fifth-overall selection in the 1990 Entry Draft. He scored his first NHL goal on Oct. 7, 1990, against Chris Terreri and the New Jersey Devils and finished his rookie campaign with 27 goals, the lowest total of the next 18 seasons. 
---
Latest News & Highlights
---
Although he flirted with 100 points on several occasions, Jágr didn't cross the threshold until 1995-96, when he had his best season in the NHL, with 149 points and a career-high 62 goals. By this time, he was the best player in the world, winning the Art Ross Trophy five times in six seasons. Additionally, he finished his first decade with 439 goals and 1079 points in just 806 games.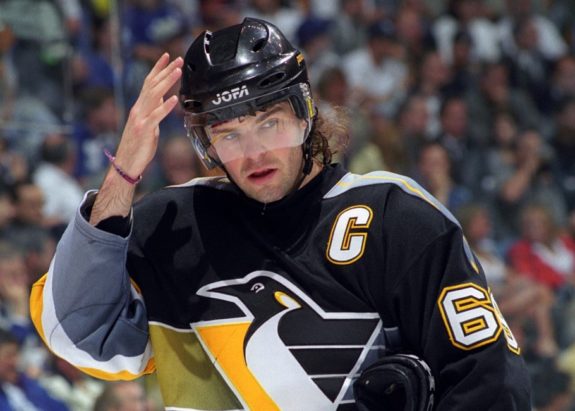 After a brief two-and-half seasons stint with the Capitals, he scored 83 goals and 201 points in 190 games. Eventually, Jágr ended up in New York and, in his first full campaign with the Rangers, set the franchise single-season record with 54 goals, a mark that has remained untouched since 2005-06. Moreover, while serving as captain of an Original Six franchise, he played 277 games, scoring 124 goals and 319 points before he left the NHL for the first time, with 646 goals and 1599 points in 1273 games. 
Jágr played in the KHL for three seasons and made his grand return to the NHL in 2011-12 with the Philadelphia Flyers before embarking on a league tour, suiting up for six franchises in the final six years of his career. In his last 460 games in the NHL, he scored 120 goals and 322 points. Although Jágr was in the twilight of his career, he surpassed the 20-goal plateau two more times with the Devils (24) and Florida Panthers (27). 
Overall, after a legendary career with nine franchises, Jágr's goal totals broke down as follows: Penguins (439), Rangers (124), Capitals (83), Panthers (49), Devils (35), Flyers (19), Dallas Stars (14), Boston Bruins (two), and Calgary Flames (one). 
Jágr Continues His Legacy in KHL with 66 Goals
Shockingly, after his success in the Big Apple, the Rangers opted not to offer Jágr a contract in the 2007-08 season, and one of the game's greatest had no place to go. After weighing his options, he decided to play in the KHL with Omsk Avangard on a one-year deal. 
However, thanks to 47 goals and 95 points in 106 games, he signed a contract extension, agreeing to another season with the club, who named him captain in 2009, an honor he held until the end of his contract, which resulted in a Continental Cup win in 2011. He potted 19 goals in that final season to end his three-year tenure in the KHL with 66 goals. 
Interestingly, his stint in the KHL was not the only time he skated with Omsk Avangard. He played 32 games with them during the 2004-05 NHL Lockout. Although the team was not part of the KHL then, since the league came to be in 2008, he tallied 16 goals, bringing his professional goal total in Russia to 82.
Jágr Plays, Owns, & Stars with His Hometown Kladno Team
Jaromír Jágr Sr. was HC Kladno's president, allowing Jágr to play with his hometown team throughout his career. Consequently, before coming to North America, he suited up for two seasons and collected 25 goals in 71 games as a teenager. 
During the 1994-95 NHL lockout, Jágr returned home to play 11 games with Kladno, adding eight more goals to his total, the last time he'd play in Czechia for ten years. He returned when the NHL suffered another stoppage in 2004-05, suiting up for 17 games and collecting 11 more goals. Almost a decade later, Jágr returned in 2012-13 with a 34-game appearance, tallying another 24 goals to add to his Kladno total.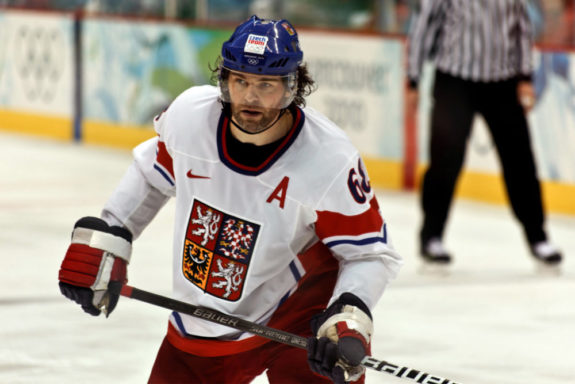 At 45 years old, Jágr left the NHL for the second time in his career, returning to Kladno in 2017-18. Although he played very sporadically in the first two seasons, he scored one goal in nine games from 2017 to 2019 before dressing up as a regular in 2019-20, when Kladno got promoted to the top division in the Czech Extraliga. At 48 years old, he skated in 38 games, scoring 15 goals, his highest goal total in Czechia since 2013. 
Although he didn't play as much in 2020-21, while Kladno was regulated to a lower level in the Czech Extraliga, the team earned another promotion. Consequently, Jágr returned as a full-timer, collecting another eight goals in 43 games. Given his desire to promote hockey in Czechia, one of the game's most endearing athletes continues to skate and has already appeared in 19 games this season, with three goals, including his 1,099th professional goal, on Feb. 5, 2023. 
Related: Jaromir Jagr Returns to Czechoslovakian Roots During Lockout
Internationally, Jágr has represented his home country at many World Championships (ten), Olympic Games (five), and World Cup of Hockey (two) tournaments since 1990, and the record books include his tallies at the senior-level events, which stand at 47 goals and 102 points in 121 games.  
Jágr's Legacy Is One of a Kind
Thanks to a career lasting over 30 years in various leagues across the globe, the HHOF probably already has his plaque and invitations printed. There are already multiple reports that the Penguins are waiting to retire his iconic #68; however, they are waiting for the right moment to honor one of the best. 
Many would argue that if Jágr never went to the KHL or spent some time in Czechia, he would have challenged Gretzky's NHL goal record and could have been the second player to surpass two thousand points. A few players (like Tom Brady) attempted to play professional sports until they were 50 but were unsuccessful. Meanwhile, Jágr will turn 51 on Feb. 15, and whether he plays another nine years or hangs them up after this season, many will remember him for his crazy workout routines, long hair, goal salutes, and longevity. 
It may have taken Gretzky less time to score 1,098 goals; however, one of the enduring qualities of Jágr's character is he plays the game at a different level. Thanks to an unparalleled vision to make plays with or without the puck, it is no surprise that he is defying father time and setting records that will take someone another lifetime to break.