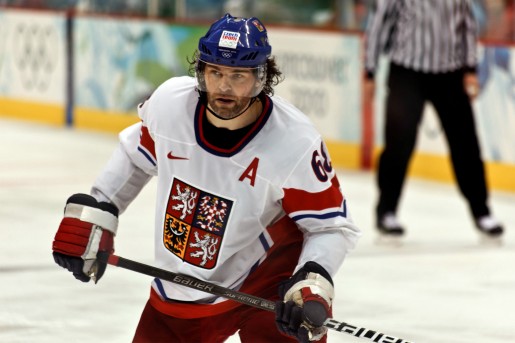 By Andrew Hirsh | Follow him on Twitter
In 1988, a 16-year-old Jaromir Jagr skated in his first professional hockey game as a member of HC Kladno, a team in the Czech Extraliga.
More than two decades later, the talented winger has made a return to his hometown club—not just as a player, but as an owner, too.
Jagr, 40, purchased a majority stake in HC Kladno in 2011, and promptly ushered in some significant changes. In doing so, he's been able to rescue the organization from the depths of mediocrity, and reignite the passion of a withering fan base.
One of these changes is a new training philosophy, which has the players and coaching staff working harder than in previous years. Additionally, the team has been renamed to Rytíři, or in english, the Knights.
"If it wasn't for (Jagr), there would be no hockey in this town," said Tomas Plekanec, who is also playing for the Knights during the lockout.
"He basically saved this franchise."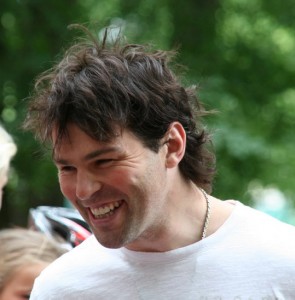 In the season prior to Jagr's purchase, Kladno finished at the bottom of the ELH standings with only 10 wins in 52 games. The following year, under new ownership, the Knights nearly doubled their win total with 19 victories.
This ascension continued into the 2012-13 campaign, as they are currently in fifth place with 15 wins in 30 games with a plus-14 goal differential. Plzen, the top seed at the moment, is only 10 points ahead of the Knights.
"It's special for me," Jagr said of his team's recent success. "It's special for everyone in Kladno."
This revival has not been lost on the locals, whose support has grown leaps and bounds since Jagr re-entered the picture. In fact, there was a game in September that attracted so much interest, it had to be moved to a bigger arena in Prague.
"When (Jagr) took over last year, I'd say a new era began," said Michal Stepanek, a member of the Knights fan club. "I see the future in bright colors, and I think there is no better person in Czech sports who could be the face of a company or team like Jaromir Jagr."
As long as the Knights end the regular season among the top six in the ELH, they will be guaranteed a playoff spot. According to league rules, they can also earn a postseason berth if they finish between seventh and 10th in the standings and win a play-in series.
Kladno has not participated in the playoffs since 2008.
In addition to his contributions in the Knights' front office, Jagr has made a significant impact on the ice. He is leading the Czech Extraliga in points right now with 43 (18 G, 25 A) in just 28 games played.
Pleckanec, who also hails from Kladno, is a close second with 42 points (20 G, 22 A).
*  *  *
Jagr's production in Czechoslovakia is sure to bring frustration to Stars fans, who would be seeing the eight-time All Star play for Dallas this season if the NHL wasn't marred in a lockout.
Jagr signed a one-year, $4.55 million contract with the Stars this summer, a contract that brought a great deal of excitement to a franchise that could really use a pick-me-up.
The Stars barely missed the playoffs last year and have been facing some financial turmoil. Many believe that Jagr—the NHL's active leader in goals (665) goals and points (1653)—could be the piece they need to take the next step.
Instead, he's been filling that role overseas.
If this work stoppage cancels the 2012-13 NHL season, Jagr will re-enter the free agent pool and will be able to sign anywhere. Of course, he may not want to play away from home ever again.
Given that Jagr competed 18 NHL seasons and took a three-year hiatus from the league between 2008 and 2011, his career in North America could be nearing its end—or be over all together.
"I'm very sad that this situation has happened," Jagr said of the ongoing lockout. "I don't have many games left in the NHL, and it's kind of sad for me."
For now, however, No. 68's attention remains focused in Kladno, which hasn't won a championship since 1980. Jagr was just 8 years old at the time.