Goalies are often compared by their win-loss record, goals against average, and number of shutouts and Stanley Cups won. This article is about the lesser-known records. The obscure ones. Facts that are great to know and fun to discuss during water cooler conversation or when enjoying a few cold beverages with friends.
Game Records
Fastest Hat-Trick Ever Surrendered by a Goalie: 21 seconds
In a 1952 game pitting the New York Rangers against the Chicago Black Hawks (the name was three words back then), Billy Mosienko scored three goals in 21 seconds. All three goals got past the Rangers' 20-year-old third-string goalie, Lorne Anderson. It's a minute of his life he'd like to forget.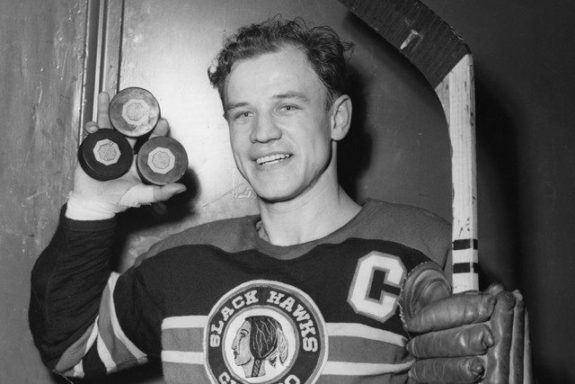 Chicago won the game 7-6. For Anderson, it was the third and final game of his career. After getting shellacked with five goals in the third period, he never returned to pro hockey.
---
---
What's even more unreal is that Mosienko almost had a fourth straight goal on the next shift.
"Bodnar won the draw again, somehow got the puck to 'Mosie' and he took a shot that rang off the post. It could have easily been four goals in 28 seconds," recalled long-time hockey journalist Stan Fischler.
Legend has it, when Mosienko skated to the bench after that shot off the iron, Goodfellow barked at him: "What the heck happened? You in a slump?"
Most Saves by a Goalie in a Regular Season Shutout: 59
On Jan. 29, 2014, Ben Scrivens made a jaw-dropping 59 saves while posting a shutout for the Edmonton Oilers against the San Jose Sharks in Rexall Place. Breaking it down, he made 50 saves at even strength, eight during penalty kills, and one while the Oilers had the man advantage. It's the definition of a goalie 'stealing a game' for a bad team that had a defensive collapse of epic proportions.
Most Saves by a Goalie in a Single Game (Playoffs): 92
Red Wings goalie Normie Smith shares a special number with Wayne Gretzky: 92. While Gretzky lit the lamp 92 times in 1981-82, Smith faced 92 shots by the Montreal Maroons in what would become the longest game in NHL history on March 24, 1936.
In the sixth overtime period, Mud Bruneteau mercilessly ended the game, 1-0, beating Lorne Chabot for the winner. The game lasted 176 minutes and 30 seconds, nearly three full games long.
Most Saves by a Goalie in a Regular Season Game: 83
In a 1941 game against the Boston Bruins, Sam LoPresti of the Chicago Black Hawks was peppered with a whopping 83 shots on net. LoPresti made 80 saves in a 3-2 loss. There's no word what he did after the game, but one can only imagine.
"The Bruins didn't get the winning goal until the end of the game," LoPresti recalled. "We couldn't do anything right from the opening faceoff; just couldn't move the puck out of our zone. They were shooting from every angle and I didn't see half the shots. They were bouncing off my pads, chest protector, my arms, my shoulders. I didn't even know where they were coming from. I lost between eight to 10 pounds that night."
Most Goals Allowed to an Opposing Goalie: 1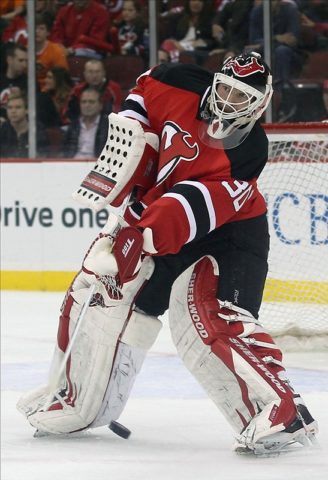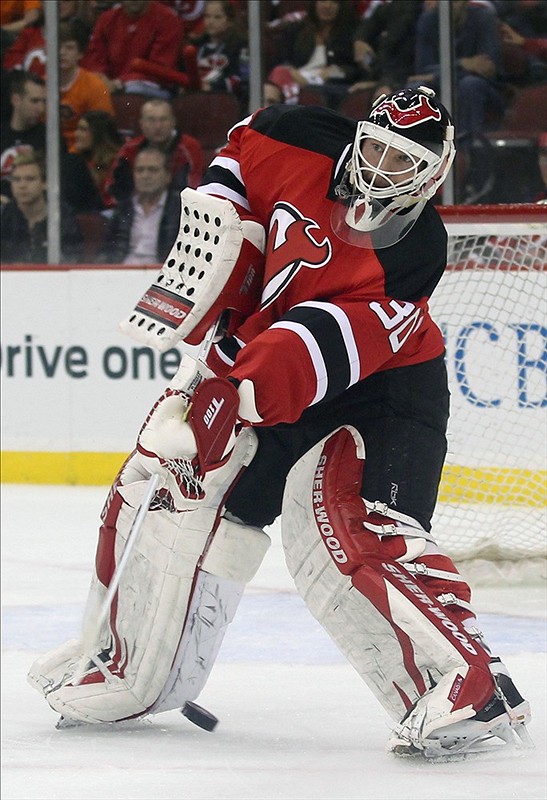 Eleven different goalies have scored a total of 14 goals in the NHL. New Jersey Devils goaltender Marty Brodeur is the only one to have scored on opposing goalie. It happened on March 21, 2013.
During a delayed penalty, Carolina Hurricanes' goalie Dan Ellis started to make his way to the bench for an extra attacker. An ill-advised pass sent the puck into their own net while Ellis was still on the ice. Ellis tried to race back, but was too late. Since the last Devils' player to touch the puck was Brodeur, technically, he scored on Ellis.
Billy Smith of the New York Islanders scored the first in the 1979-80 season against the Colorado Rockies. Smith was the last Islander to touch the puck before Rob Ramage inadvertently put it into his own empty net.
Fewest Goals Allowed in a Loss: 0
First, a bit of bookkeeping: an NHL goalie is credited with a loss when he's the goalie of record when the winning goal is scored against him. Don't tell that to Hurricanes' goalie Mike Murphy. In a 2011 game, the Hurricanes' goalie didn't allow a goal against the Calgary Flames, yet was still credited with a loss, by a score of 7-6.
With the Canes down 6-3, Murphy came off the bench in relief of Cam Ward. After scoring a goal to make the score 6-4, Calgary scored an empty net goal to go ahead 7-4. The Canes made a game of it, potting two quick goals, before eventually losing 7-6. Since Murphy was technically still in net when Calgary scored their game-winning goal, he was tagged with the loss.
Most Goals Allowed by a Goalie in a Game: 16
If you ever have a bad day, just remember, it could be worse. You could be Frank Brophy. On March 3, 1920, the Quebec Bulldog goalie let in a record sixteen goals to the Montreal Canadiens. His 1919-20 season was one of the worst in NHL history. He appeared in 21 games, posting a 3-18 record and a 7.11 goals against average.
Farthest Distance Stickhandled to Deke Out Wayne Gretzky By a Goalie: Approximately 100 feet
Patrick Roy got a little carried away. He also got a penalty for crossing center ice.
Most Points Scored by a Goalie in a Game: 3
Jeff Reese played 174 games in the NHL, with a lackluster 3.66 career goals against average.  However, he holds the NHL record for offensive output by a goaltender.
In February 1993, the Calgary Flames destroyed the San Jose Sharks 13-1. Reese, playing in goal for the Flames earned three assists and set a new NHL record for both assists and points by a goaltender in a single game.
Grant Fuhr holds the record for most points in a season by a goalie (14) in 1983-84 with the Edmonton Oilers. Tom Barrasso owns the record for most regular-season points in a career–48 points (all assists) with the Buffalo Sabres and Pittsburgh Penguins.
Season Records
Most Wins by a Goalie in a Season: 48
This record was originally held by Marty Brodeur, when he recorded 48 regular season games in 2006-07 with the New Jersey Devils. In 2015-16, Braden Holtby of the Washington Capitals also won 48 games. Both the Devils and the Caps lost in the Eastern Conference Semifinals in their respective years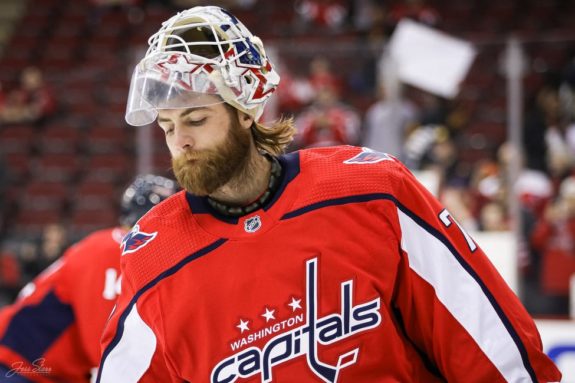 Longest Undefeated Streak by A Goalie in a Season: 32 Games
In 1971-71, Gerry Cheevers of the Boston Bruins went 32 games (32 games (24 wins, 8 ties) without a loss. Even more remarkable is the fact that Cheevers split the crease that season with Eddie Johnston. Had Bruins' coach Tom Johnson given Cheevers more playing time, the record may have been even higher.
Most Losses in One Season by a Goalie: 48
The California Golden Seals suffered through their 1970-71 season with a record of 20-53-5. Gary Smith recorded 48 of the 53 losses, with a 3.86 goals against average. The Seals had a horrible season that year, allowing 353 goals while scoring a league-low 199.
Smith was the victim of having a terrible team in front of him. He finished his career with a record of 173-261-74 and 3.39 GAA.
Most Goalies Used in a Single Season: 8
On March 1, 2019, the Philadelphia Flyers set a new record for the most goalies used in one season, when Cam Talbot — their eighth starting goalie in the 2018-19 season — took to the ice.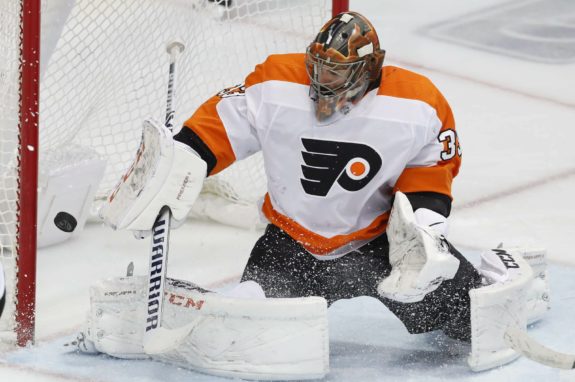 Three teams had shared the previous record of seven: the 2007-08 Los Angeles Kings, the 2002-03 St. Louis Blues, and the 1989-90 Quebec Nordiques. Surprisingly, the St. Louis Blues team actually made the playoffs. The goalies they used included: Brent Johnson (38 games), Fred Brathwaite (30 games), Curtis Sanford (8 games), Chris Osgood (9 games), Reinhard Divis (2 games), Tom Barrasso (6 games) and Cody Rudkowsky (1 game).
The worst team of the three was the Nordiques, who were a whopping 12-61-7 that year. They used Ron Tugnutt, Greg Millen, Scott Gordon, Mario Brunetta, Sergei Mylnikov, Stephane Fiset, and John Tanner.
Most Goalies Used in a Playoff Series: 4
During the 1985-86 playoffs, the Calgary Flames swept the Winnipeg Jets three games to none. The Flames beat the Jets by scores of 5-1, 6-4 and 4-3. The Jets used four different goalies in only three games (a total of 188 minutes)–Dan Bouchard, Brian Hayward, Marc Behrend and Daniel Berthiaume.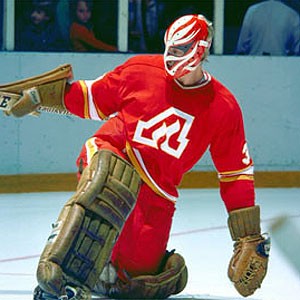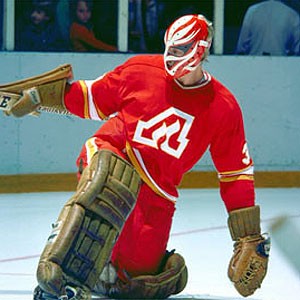 Most Points by a Goalie in a Season: 14
In the 1983-84 season, the high-octane Oilers scored an NHL-best 446 goals. Grant Fuhr, one of the best goalie stickhandlers, had an eye-popping 14 assists for the Edmonton Oilers. Even more impressive is the fact that he did it in only 45 games. That's a higher points-per-game average than most defenseman. All told, the Hall of Famer tallied 46 assists in his career. In case you're wondering, Andy Moog tallied one assist in his 38 games that year.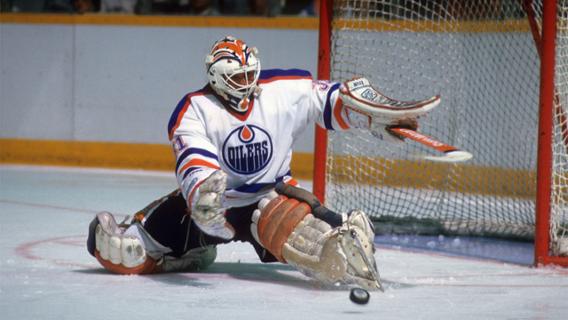 Most Consecutive Complete Games by a Goalie: 502
Glen Hall, also known as "Mr. Goalie," played a staggering 502 consecutive games from 1955-1962. His streak finally came to an end after pulling a muscle in his back while getting preparing for a game. This is one record that will never be broken.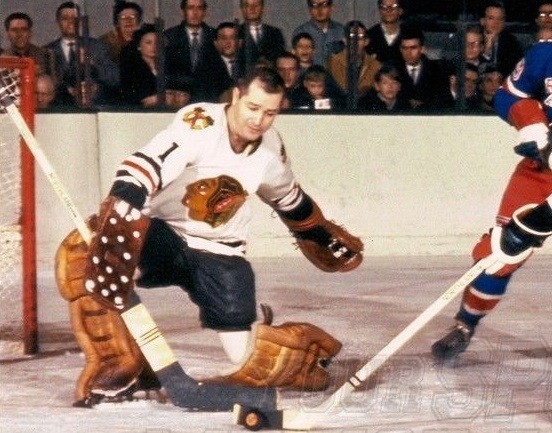 Most Consecutive Shutouts by a Goalie: 5
There's hot. There's white hot. Then there's Brian Boucher in the a five-game stretch from December 31, 2003 through Jan. 9, 2004. During this span, Boucher, who started the season as a third-stringer, was unbeatable for the Phoenix Coyotes. He shut out the Kings, Stars, Hurricanes, Capitals, and Wild like it was routine business. The streak ended at 332 minutes and 1 second on January 11 against the Atlanta Thrashers when Boucher allowed a fluky goal in the first period to Randy Robitaille, their only goal of the game.
Lowest Goals Against Average in a Season by a Goalie: .92
George Hainsworth, one of the greatest goalies in the history of the league in the 1920's and 1930's, played 11 seasons in the NHL with the Montreal Canadiens and the Toronto Maple Leafs. His finest season was in 1928-29 when he allowed only 43 goals in 44 games, for a .92 GAA. His career goals against average was a sparkling 1.93.
Most Shutouts in a Season by a Goalie: 22
George Hainsworth's 1928-29 season with the Montreal Canadiens is statistically the best by a goalie in NHL history. He went 22-7-15 with a 0.92 goals against average and 22 shutouts. The modern record is held by Tony Esposito, who had 15 shutouts for the Chicago Blackhawks in 1969-70.
Most Goals Allowed in a Season by a Goalie: 310
Blame it on World War II, but the New York Rangers' roster for the 1943-44 season was completely thrown off. Without a goalie, they eventually signed Ken McAuley who was playing senior hockey at the time. He played in all 50 games for the Rangers, allowing 310 goals while posting a record of 6-39-5.
Highest Goals Against Average in Playoffs: 4.77
If you ever run into Murray Bannerman, don't bring up the 1984-85 playoffs with the Chicago Blackhawks. Despite his woeful play, Chicago made it to the third round of the playoffs before falling to the high-flying Oilers. Bannerman was a sieve, allowing 72 goals in 15 games, for a playoff record worst 4.77 GAA (using a minimum 10 games).
Most Penalty Minutes in a Season by a Goalie: 113
Ron Hextall owns this record, much like he owns a place among the craziest goalies in the history of the league. In the 1988-89 season, the aggressive, take-no-prisoners Hextall piled up 113 penalty minutes. And it doesn't even include his famous meltdown during the playoffs that year.
Hextall wasn't afraid to join a scrum, drop the gloves, and take matters into his own hands. He was called for 104 penalty minutes in the two seasons prior to his record year. All told, he had six of the top penalty totals in the top 25 in the history of the league. The next closest offender is Tom Barrasso with 70 minutes in 1988-89 with the Buffalo Sabres and the Pittsburgh Penguins.
Highest Goals Against Average in a Season: 7.11
Some goaltenders have a bad game. Frank Brophy had a bad year. As a starting goalie for the Quebec Bulldogs In 1919-20, he won only three of 21 games to go with a jumbo 7.11 goals against average. It's the worst GAA for a goalie appearing in a minimum of 20 games.
Career Records
Most Consecutive Stanley Cup Finals Appearances by a Goalie: 8
Even with only a six-team league, the Canadiens were unstoppable in the 1950s. Led by Jacques Plante, Montreal appeared in eight straight Stanley Cup Finals, from 1953-1960. Plante won six Cups, losing the other two series in Game 7s.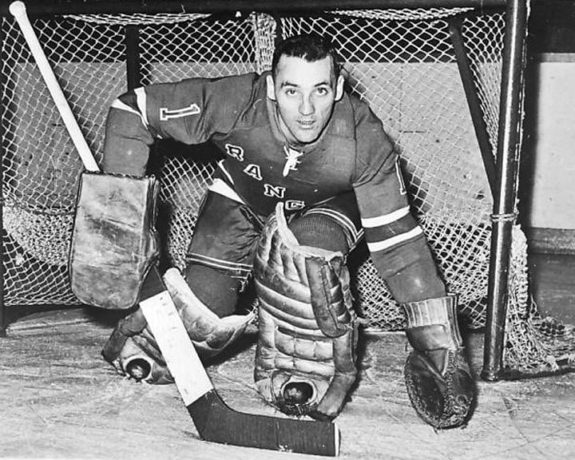 Most Goals Allowed Against Wayne Gretzky: 29
Gretzky tormented goalies, lighting the lamp 894 times during his NHL career. Of the 155 goalies he scored on, The Great One beat Richard Brodeur of the Vancouver Canucks the most–29 times. The next closest was Mike Liut who was beaten 23 times by Gretzky.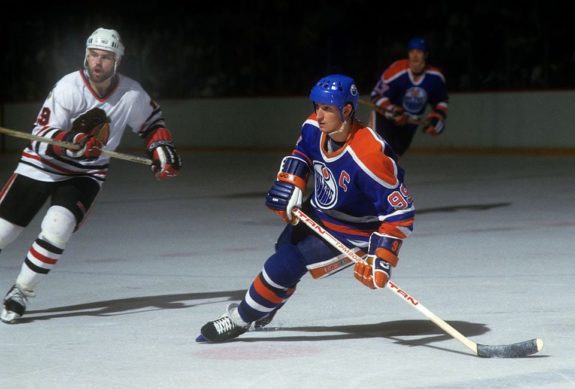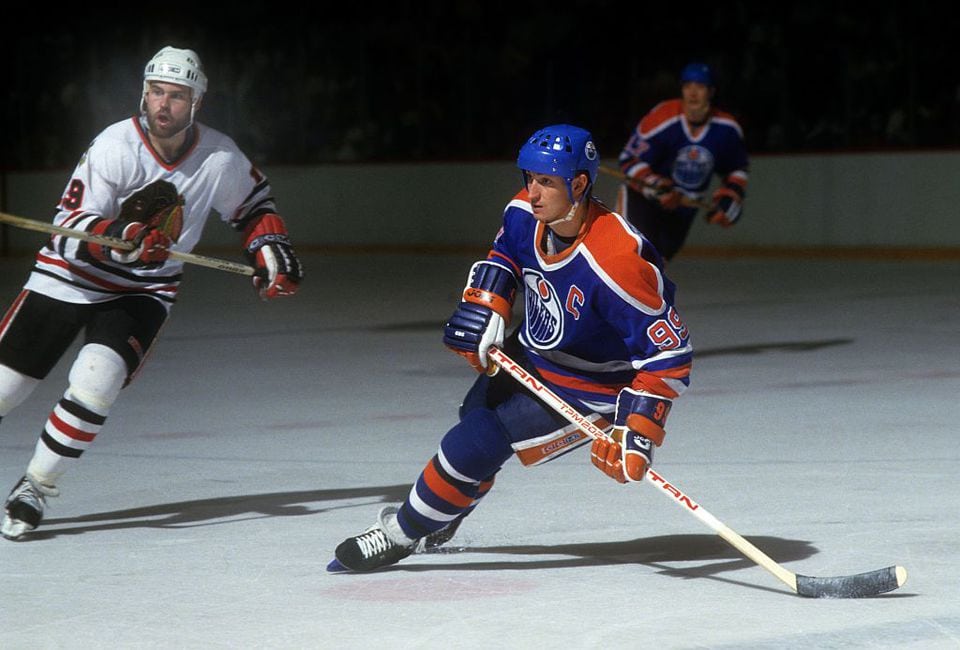 Most Career Goals by a Goalie: 2
Ron Hextall and Marty Brodeur have both lit the lamp twice in their careers. Billy Smith is the first goalie credited with a goal, but Hextall was the first one to actually shoot it into the net from his end of the ice.
Longest Undefeated Streak by a Goalie from Start of Career: 16 games
In 1996-97, with Penguin goalies Tom Barrasso and Ken Wregget sidelined with injuries, Patrick Lalime came in and owned the crease. Lalime went on a tear, going 14-0-2, breathing life into the team. The 22-year-old rookie finished the season with a stellar 21-12-2 record and fifth in rookie of the year voting. He went on to have a decent career, playing 444 games over 12 seasons for Ottawa, St. Louis, Chicago and Buffalo.
Longest Shutout Streak to Start an NHL Career: 102 minutes, 48 seconds
A rookie NHL goalie in his first game is likely more nervous than a pig in a bacon factory. If he can make a few saves and settle in, good things can happen. There are 25 goalies who have made their NHL debuts with a shutout, but none of them have ever drop back-to-back goose eggs.
Matt Hackett, of the Minnesota Wild had an even more unique start to his career. After Josh Harding was injured in the first minute of a game against the San Jose Sharks on December 6, 2011, Hackett was a brick wall, stopping 34 saves for a 2-1 win. Two days later, he started for the Wild against the Los Angeles Kings, holding them scoreless until the 3:59 mark of the third period. His scoreless streak ended at 102:48. Surprisingly he was never actually credited with a shutout. Hackett never posted an NHL shutout.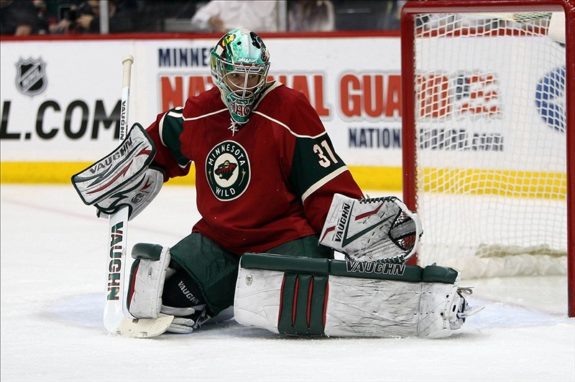 Most Career Games Played Without Recording a Shutout: 132
Though never drafted, Eldon "Pokey" Reddick played a total of six seasons for three teams: the Winnipeg Jets, Edmonton Oilers, and Florida Panthers. He posted 46-58-16 record with a 3.71 goals against average in his 132-game NHL career. Unfortunately, he was never able to post a shutout. In fact, he never came that close to dropping a goose egg on the opposition. Records show he only had three starts in which he played a full sixty minutes while giving up only one goal.
Most Shutouts in a Regular Season Career: 125
In 2009, Martin Brodeur notched his 104th career regular season shutout to break the previous record. He finished his career with 125 in his career. It's a record that will likely never be broken.
Most Career Wins: 691
Winning 691 times requires not just skill, but longevity and a talented team. Year after year, Marty Brodeur did nothing but win. A lot. He led the league in wins nine times and seven of those times he had at least forty wins. The record helps make his case as arguably the great goalie of all-time.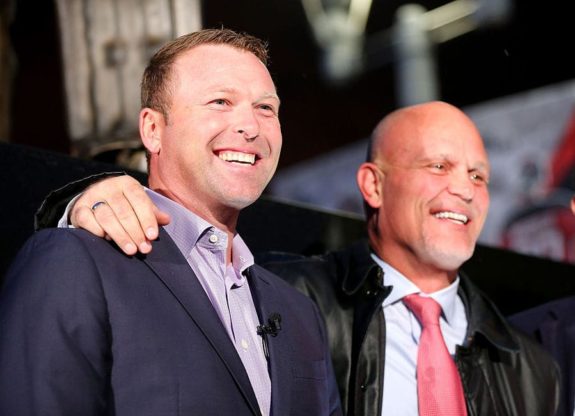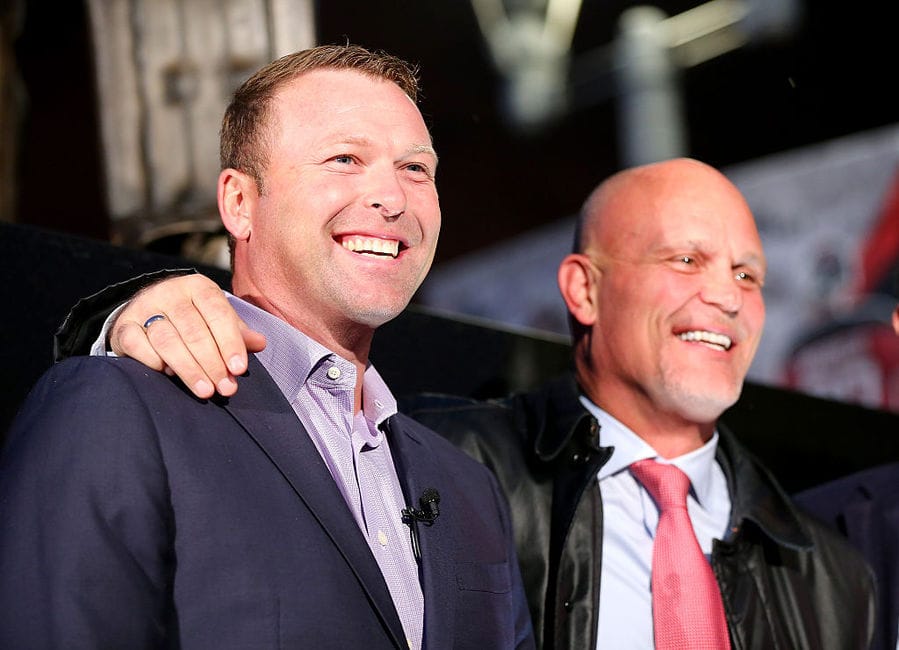 Most Career Regular Season Games: 1,266
Throughout Martin Brodeur's 22 NHL season, he played a record 1,266 career games. He had twelve seasons where he played 70 games or more, including a career-high 78 games during the 2006-07 season. Roberto Luongo is the only goalie anywhere near Brodeur and he's 38 years old. The Florida Panthers goalie is the active leader for games played by a goalie with 966.
Most Career Ties by an NHL Goalie: 172
Remember when a game could end in a tie? There was a time. Just ask Terry Sawchuck who had 172 of them in his legendary career. Given the new rules that include overtime and a shootout to decide a winner, this record is likely to live forever.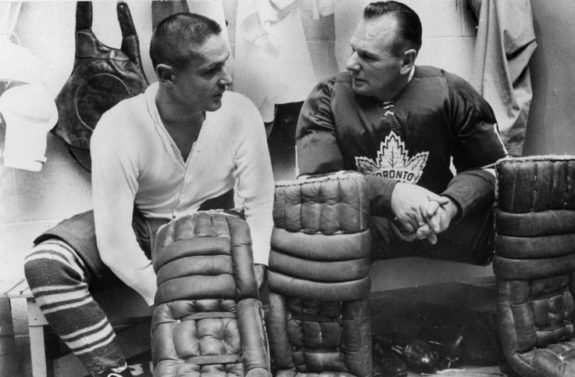 How Many Did You Know?
If you knew more than half of these, consider yourself a goalie geek. If you didn't fare as well, hopefully you'll remember some of these goalie facts to drop on your friends the next time you're waiting for a game to start or between periods.
---
Latest News & Highlights
---
Jeff has been covering the NHL for over a decade for various sites. He's been with The Hockey Writers as a lead Sabres writer three years, while also writing a satire column called "Off the Crossbar."