During the midst of the Reverse Retro jersey release also came the news that former New York Rangers captain, Jaromir Jagr, would begin his 33rd season playing professional hockey. The Czech-born forward is set to join his hometown team, Kladno, which belongs in the Czech's second tiered hockey league. 
His NHL career began when the Pittsburgh Penguins drafted him in the first round of the 1990 Entry Draft as the fifth overall selection. From his first year onward, it was clear Jagr would be nothing short of mystifying. 
After he collected 57 points right away with Pittsburgh, he continued to put up stunning numbers season after season until he exploded in the 1995-96 season at age 23. At this point, he was a little under the halfway mark of his career with the Penguins and had put up 149 points (62 goals, 87 assists) this particular season. 
Though he was spectacular for the Penguins, he wasn't the only star. Since he became a Penguin, he played alongside the great Mario Lemieux, a player he idolized long before. Despite Jagr's hefty production, Lemieux was still topping his numbers. Regardless, the Czech was eventually awarded four consecutive Art Ross Trophies from 1998 to 2001.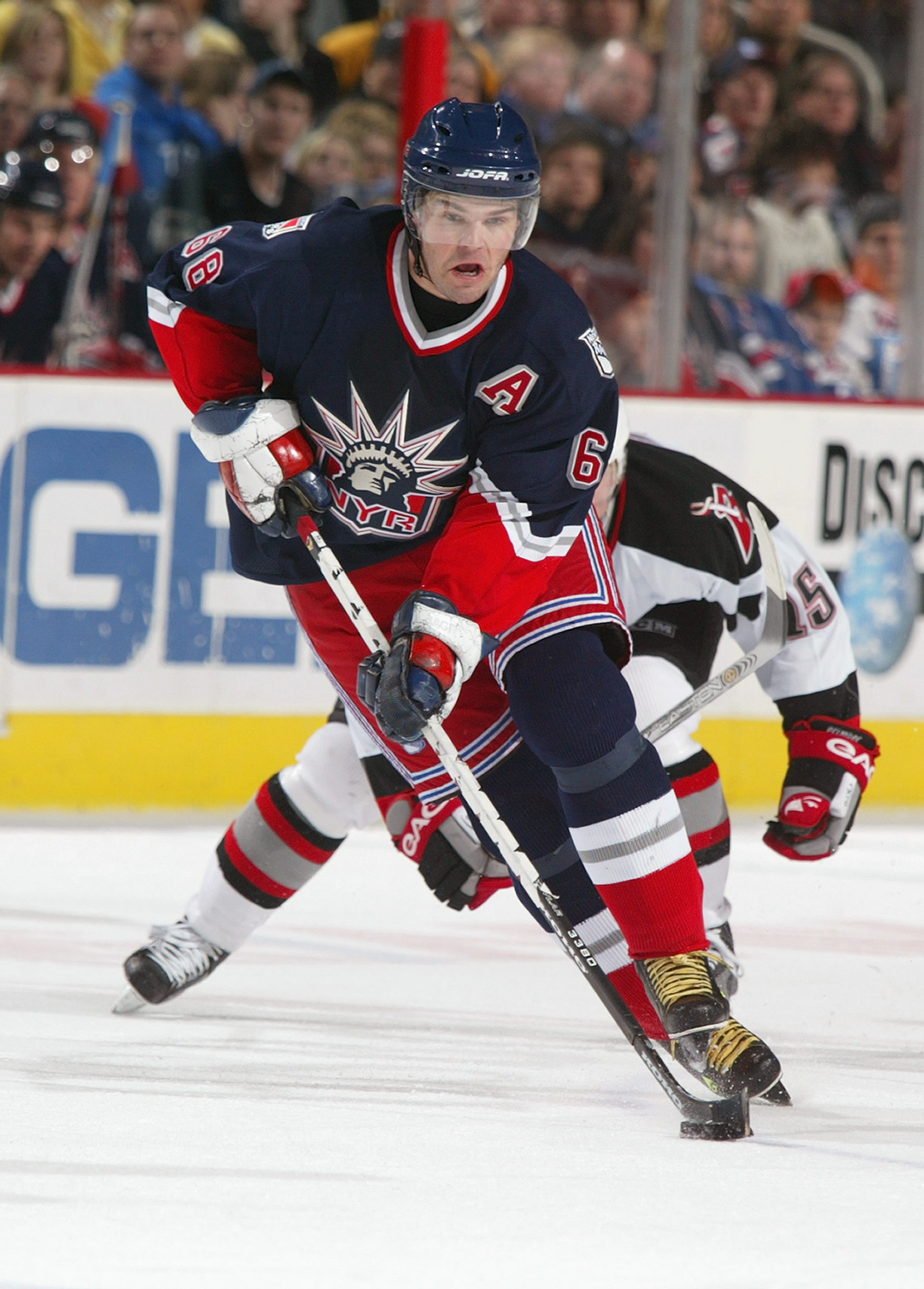 Eventually, struggles became apparent. A multitude of factors led to the reality that Jagr could not remain a Penguin. Ahead of the 2001-02 season, at the age of 29, he was sent to the needy Washington Capitals. 
How Jagr Became a Blueshirt
Unfortunately for the Capitals, his landing from Pittsburgh turned out to be a bust, yet a fortuitous result for the Rangers. After a brief stint with the Capitals, they traded him to the Blueshirts in exchange for forward Anson Carter. Following many off and on rumors between the two organizations, Jagr officially became a Ranger during the 2003-04 season at age 31.
Related: Revisiting the Capitals' Disastrous Jagr Trade
Then-head coach and general manager Glen Sather (currently a senior adviser to the team owner) was particularly thrilled by Jagr's arrival. "He has proven over his career that he is one of the top players in the world and we are looking forward to seeing him bring his elite play to New York" said Sather.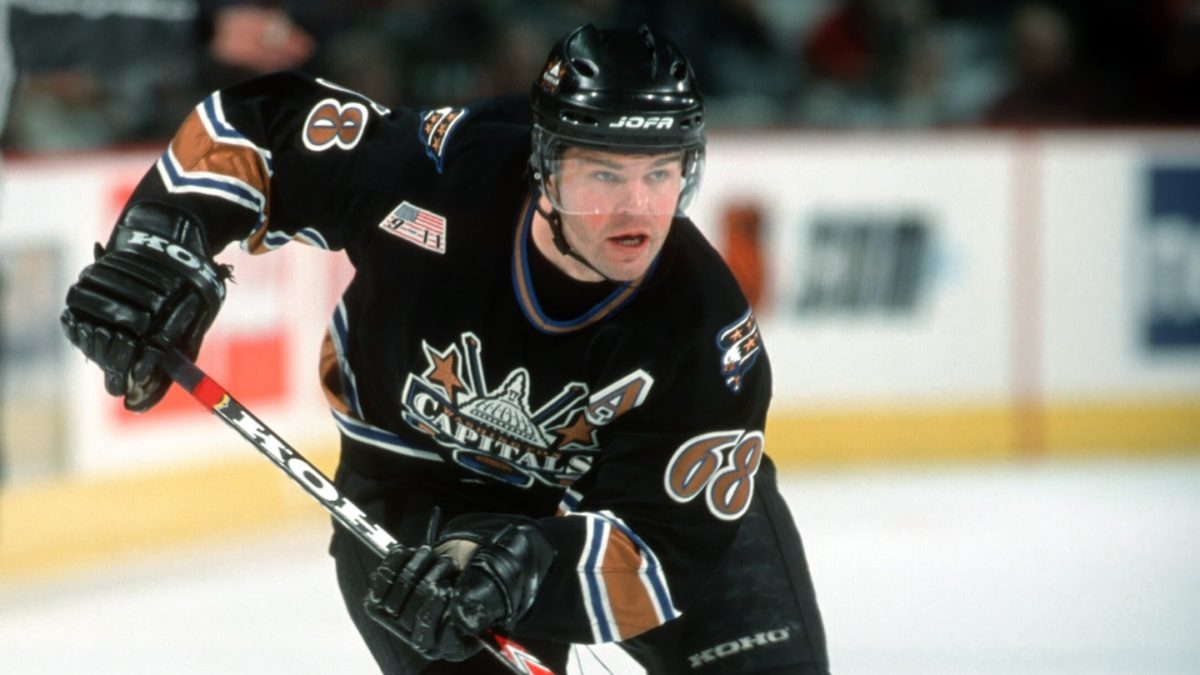 The timing was perfect. Jagr was on the market due to the Capitals'  tight financial situation, and the Rangers believed he could not only help the club reach the playoffs but advance. Though he was in the age group in which most professional hockey players consider retirement, he proved to be just as useful. 
His first campaign on Broadway led to 29 points (15 goals, 14 assists) in 31 games. Though he was only one goal shy of matching what he produced in Washington prior to the trade, his short but promising finish to the season was only a modest precursor to his next campaign.
Jagr's Best Rangers' Season
Following the 2004-05 lockout, his own 2005-06 performance was a real driving force as to how the Rangers were able to see a real Stanley Cup run since 1996-97. Though their grim postseason run equated to four straight losses, Jagr helped the team accomplish largely what they hoped for. 
His astonishing 82-game regular-season run concluded in 123 points (54 goals, 69 assists), which also resulted in him breaking several team records. Those records were held by Adam Graves, Jean Ratelle, and Vic Hadfield. However, this came as no shock to anyone. Give Jagr a stage as big as New York City, and he'll thrive. 
Related: Countdown to Puck Drop – Day 68 – Jaromir Jagr's Time as a Ranger
Hitting 123 points was only his third-highest collection for points in a season. His other 100-plus-point campaigns came with Pittsburgh, and at a significantly younger age. It was before the start of this season that the Rangers offered him the captaincy of the historical franchise. If he did not seem eligible for it prior, he certainly was then, despite turning the role down at the time. 
Though he fell painfully short of securing the Art Ross and Maurice Richard Award that season, the league recognized his accomplishments in an alternative manner. He was given his third Lester B. Pearson Award, which distinguishes the Most Valuable Player as viewed upon by fellow peers in the league. 
The entirety of Jagr's career seems somewhat of a figment by a look at the numbers. His impact on the league's history will forever be sempiternal, just as his ability to lace up his skates once again. 
Records Are Meant to Be Broken
Indeed Jagr holds the Rangers' record for most goals in a season, with 54, and most points in a season with 123. Both records are immortalized from his illustrious season with New York. Though his numbers beat several legendary players before him, no other Ranger from the 2000s has joined the top 10 on these season leader lists since.  
But now there is a player with a real possibility of breaking those records eventually in New York. He will start with the Rangers just as Jagr progressed into a homegrown, first-round star with Pittsburgh. His name, of course, is Alexis Lafreniere.
Just as Jagr came into his rookie season with others already aware of his copious talent, Lafreniere has arrived in quite a similar fashion. Though in terms of personality, the two probably could not differ more, the parallel is quite real. Selected as the Rangers' 2020 Entry Draft first overall pick, Lafreniere joins a group of starry Rangers as is. 
---
---