Before getting drafted by the Montreal Canadiens, Nikita Scherbak had a great debut season in the WHL with the Saskatoon Blades. In this pre-draft interview by Roman Soloviev, Scherbak talks about crossing the Ocean, shares his views about the NHL draft and reveals his nicknames in Saskatoon.
* Original article ©  rsport.ru, Roman Soloviev
– You had a very good debut season in the WHL. Did you think to have such a season?
– Well, it's still yet to say that it was easy and successful. I prepared myself very accurately and tried not to get out of shape when the games started. I tried giving my best and improve in each game.
– Were the summer practices one of the reasons for such a successful season?
– I think yes. It has been a long and hard preparation at the gym with my father, he's my trainer, and it helped me having these results on ice.
– European players in the CHL live with families, what can you tell about your hosts?
– I've been lucky, or better, we were lucky to have such a family. We, because I lived with the other foreigner of the team, the Czech David Nemecek. He helped me with English language too. We had a very good billet family, we were their first Europeans, and we were even two!
– How much time did you need to learn English? And what did you know of that language before crossing the Ocean?
– I didn't know much, but I manage to learn English pretty fast.
Scherbinator in Saskatoon
– 78 points in 65 games, enough to be the team's top scorer and also the top rookie scorer. Were the guys on the team surprised?
– I don't think they were surprised. They know they get good players, otherwise they wouldn't waste draft picks.
– Do you prefer the North American game?
– Yes, I like it much more! There is less space, less time, the level is very high.
– What do you think, what part of your game you think you should work on?
– I think I need to work on playing better defense, in the own zone.
– Some years ago the goalkeeper or your team was Andrei Makarov, who was nicknamed "Borscht". Do you have any nickname?
– They talked about Makarov at the start of the season. They said that another Russian would be arriving, we [Russians] did leave some good feelings! My nickname was "Scherby" or "Scherbinator".
Changing leagues…
– In Russia people is a bit puzzled to see a player who scored 14 points in the MHL, go to North America and score 78.
– I think that any CHL team can beat a MHL team. The first ten minutes may be difficult, but then the level of the teams would become visible.
– Is this big difference due to the different role within the team?
– Yes, in Saskatoon I was one of the leaders of the team, I played much more, than back home in Russia.
– Due to visa problem, you couldn't take part to the Draft Combine. Are you worried about this?
– Time will tell. There's no way to get back and change it, and anyway it's all in the past, just like the rest of the season.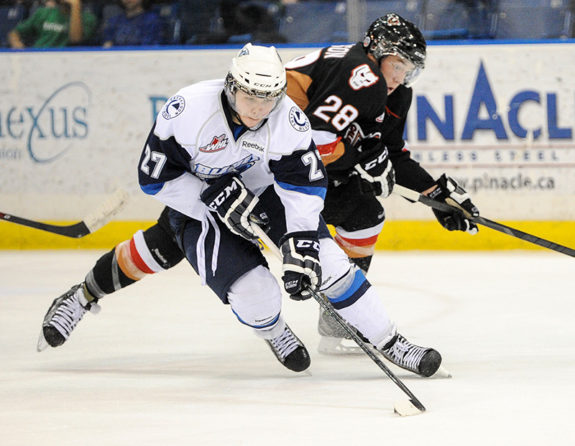 NHL Draft
– Before going to Canada, did you think about the NHL?
– Of course, playing in the NHL is my dream and my goal.
– And did you think about getting drafted in the top-50 or even the top-30?
– I can't think thus far, I just work hard.
– So, first round or any other down the road?
– A man always wants the best (smiles).