The St. Louis Blues have been among the busiest teams in the NHL this summer, but what they locked up between the pipes may be the biggest story of the year. Brian Elliott and Jake Allen will be the vulcanized rubber deflecting masked men of the Stanley Cup hopeful team over the next few seasons, something that comes with mixed emotions in St. Louis.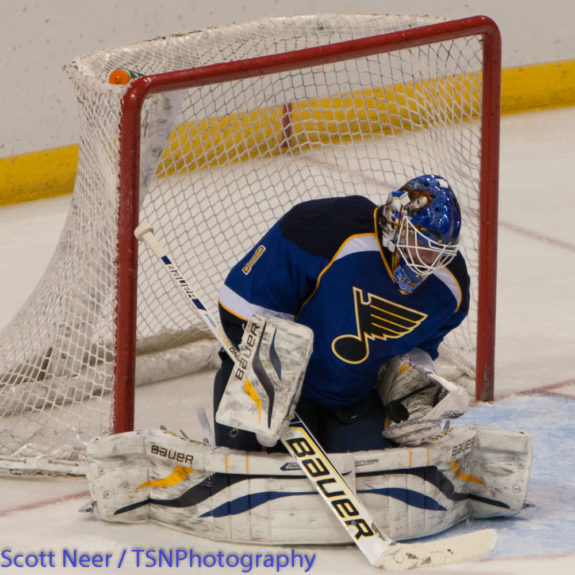 Elliott & Allen: A Brief History
Though the two Blues netminders have varying pasts, they have both been a part of the St. Louis organization for several years now, and get the club's style of play which is very important from a goaltender's point of view. While Elliott has been in the spotlight sporadically over the past few seasons, Allen has flown relatively under the radar, backstopping the Blues' AHL affiliate the Chicago Wolves to multiple playoff appearances.
For #TBT, we turn the clocks back to 2006 and @KidElls1 celebrating an NCAA title for @BadgerMHockey pic.twitter.com/0duLre65nx

— NCAA Ice Hockey (@NCAAIceHockey) July 24, 2014
Brian Elliott has been the #1A goalie for the St. Louis Blues since being acquired as a free agent after being released by the Colorado Avalanche in the summer of 2011. This move eventually sealed the fate of 3rd string Blues goalie and St. Louis native Ben Bishop who was then traded to Elliott's first NHL club, the Ottawa Senators. Over his time here Elliott has tied Glenn Hall for 2nd on the all-time shutouts list (16), has shared a Jennings Trophy (least goals allowed by a goaltender/tandem), and has been an all-star (2012) all as a "back-up" all of which is incredibly impressive.  
Mini Jennings trophy finally got delivered after the awards… #NHL pic.twitter.com/kd3zpWsn — Brian Elliott (@KidElls1) July 27, 2012
Jake Allen is no Slouch
While Brian Elliott's history and stats speak for themselves, he isn't the only capable goaltender currently on the team's roster. Jake Allen has proven himself in the AHL over the past few seasons, and has bid his time well as an intermittent back-up for the NHL club during that time.
Most St. Louis fans remember Allen best for his heroics in 2012-13 while playing in 15 games during injury stints that left former Blues goaltender Jaroslav Halak out of the lineup (he posted a 2.46 GAA, a 90.5 SV%, and 1 SO over that time). Allen was even runner-up for TSN's play of the Year in 2013, though he did end up losing to two separate Pavel Datsyuk highlights.
What many may not know about Allen's skill set is that he is a gritty, grinding goalie that maintains superior focus during play, and who battles through every scenario to fight for position and make the save. That sounds exactly like Blues hockey which is a great sign of things to come. He was also instrumental in Chicago's (AHL Wolves) success over the past few seasons, and even earned the Bastien Award for the league's top goaltender last year (2.03 GAA, 92.8 SV%, 7 SO, 33-16-3 record).
Blues' top prospect Jake Allen named AHL Goalie of the Year http://t.co/5K07uY6OQA #STLBlues #NHL #LGB

— Bleedin' Blue (@BleedinBlueFS) April 17, 2014
Blues Goaltending Hopes for Next Season
It's no secret that the St. Louis Blues will have one of the best tandems in the league next season, even if they don't get there the way many fans hope. The organization may go through a lot of swapping from #1 to #1A over the year, but it shouldn't come at the expense of wins.  
With Elliott starting off at the #1 slot the Blues gain a consistent goalie who has repeatedly proven himself against the best in the league, and who has shown flashes of brilliance over his time on this Notes team. However, Elliott has also proven himself to be a bit flaky when forced into a true #1 role on multiple teams, which would be a cause for concern if it weren't for Jake Allen's presence.  
Allen IS Consistent
Jake Allen will be that consistent force for the team this season and beyond, as he has proven over his career so far. His numbers fluctuate some from year to year, but overall he is a consistent goalie who puts up solid numbers year after year, which takes the guessing out of who you will see in net, and which also gives the team tremendous amounts of confidence in him.  
The best part of this is that may not even be Allen's best quality. Where he and Elliott differ is the manner in which they make key saves. While Elliott relies on his superb reflexes and goal-line positioning to make said saves and control rebounds, Allen focuses on excellent angle and depth positioning to force the opposition to make perfect shots/plays to beat him. With the team's excellent defensive core that sounds like a daunting task for any opposition.  
While both methods have proved to be successful for different teams and goalies across the league, Allen and Elliott will bring a Halak/Elliott-esque backbone to a stacked Blues roster which is an exciting return to see.  
The Final (Line of) Defense
While Allen has not played a full NHL season before, he is very mature for his age (he'll be 24 when the season starts), and with Brian Elliott's mentoring he should adjust fairly quickly, and may even take over that #1 spot by season's end.  This means only good things for the team as they will have solid netminding every game, which will give them the ability to focus on their fast-paced transitional play to generate plenty of goals throughout the year.  
The @StLouisBlues have announced today that they have signed @Barbashev2295 to a entry-level contract! Booooyeahhh Ivan! @monctonwildcats

— QMJHL (@QMJHL) July 21, 2014
This season will undoubtedly be one of the most electric in Blues history for a variety of reasons, and should finally get them far into the playoffs, barring massive injuries and implosions. Even through the unavoidable bumps in the road the Blues last line of defense should be solid, and filled with plenty of highlight reel saves between both Elliott and Allen. This news is certainly enough to make any fan jump for joy and count down the days to October 9th.
Like what you've just read? Follow me on Twitter: @pep30