The numbers aren't pretty for the goaltender dubbed, the "Flyers' most important player" at the onset of the 2014-15 season. But is there more to Steve Mason's 0-3-1 record through five starts? Or has his flashes of brilliance through a season and some change with the Flyers been merely a mirage? Regardless of the answer, Philadelphia's early season woes leave Mason in familiar territory.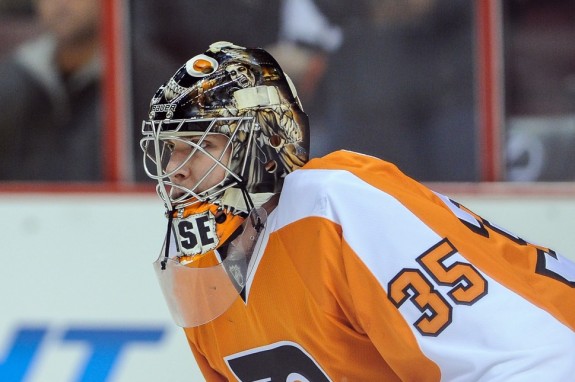 Are Numbers Misleading?
Statistically, Steve Mason has been every bit as bad as the Flyers team skating in front of him so far this year. In five starts, the former Calder Trophy winner has given up four or more goals three times, and was yanked from the crease after giving up four goals on 18 shots against the Stars on Oct. 18th – the Flyers' first and only win of the season through Oct. 21st.
In 282:18 of action, Mason's line reads: 18 goals against on 147 shots for an .878 save percentage.
Among goalies who have played in at least five games, Mason's 3.83 goals against average is the highest in the league. Ondrej Pavelec, Jhonas Enroth, and Ben Scrivens have all given up a lesser amount of goals, while playing on losing teams themselves.
Clearly, the problem is Mason, right? Not exactly.
While Mason has given up a few bad goals here and there, he's unquestionably been victimized by a bevy of deflections and screens, which have been permeated by a poor defensive effort in front of him. In Philadelphia's 4-0 loss to the Blackhawks in Chicago, Mason was tattered with 43 shots, stopping 39 of them. The 26-year-old netminder was ambushed in the first period, giving up three goals, while the Flyers were outshot by a 19-9 margin.
"Sometimes you have to find ways to make saves you're not supposed to make," said Mason after dropping his fourth game of the season.
The term, "Hung out to dry," may be the popular theme for the Flyers' number one goalie in the early going, but the accuracy of the phrase is what's causing it to be a repetitive saying. After all, Mason's 31-save performance against Boston on opening night was one that was wasted on a late period garbage goal scored by Chris Kelly.
On the other hand, however, another sluggish start to a season leaves Mason in familiar waters. In months that he's played in at least 30 games throughout his career, the opening month of October has consistently been his worst. Only 14 of his career total of 133 wins have come in October, a month that also displays a career showing of 28 total losses and an .896 save percentage.
https://twitter.com/BlueSeatBlogs/status/481145959360249856
Last season was no different for the 33-game winner. Through his first six starts, Mason turned in a disappointing 1-5-0 record, although he did give up only 14 goals on 183 shots. He would go onto finish the opening month with a 3-6-0 mark.
Three of Mason's first five starts this season have come against Western Conference teams, a conference that is not only superior to the East, but one that Mason has traditionally struggled against. Going into Oct. 22nd's action, Mason is 53-29-11 all-time against the Eastern Conference in regular season play. Against the West, Mason is 80-93-24.
But even with the results continuing to reflect the trend, Mason has been especially vulnerable since taking his game to a higher level against the New York Rangers in last season's quarterfinal round.
Randy Miller of nj.com compared the Steve Mason from last season, to the one who's showed up so far this season:
When the Flyers played poorly in front of their goalie last season, Mason often made a bunch of a great saves to give them a chance to win. Thus far this season, he's been hung out to dry way too much, yet hasn't made enough spectacular saves to bail his team out. The result on Tuesday was Mason letting in four goals on 43 shots, including three of 19 in the first period. For the season, Mason's 3.83 goals-against average is the second highest among goalies who have played at least three games. His .878 save percentage is third lowest.
Mason and the Flyers bounced back last season, but can the same outcome be expected again this go-round? Or is the Steve Mason that Columbus Blue Jackets fans turned on rearing his head in Philadelphia?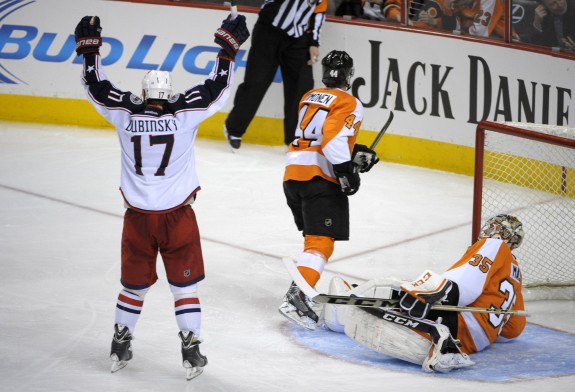 A Tale of Two Bad Teams
Tending goal for a bad team is nothing new to the third-year Flyer. After leading Columbus to their first franchise playoff appearance in his rookie year of 2009-09, Mason toiled into futility for a Blue Jackets team that finished as low as 15th in the Western Conference, and no higher than 13th throughout the rest of his tenure there.
Even with offensive talent and promise around him, Mason was given virtually no scoring support. In Mason's last three seasons in Columbus, the Blue Jackets finished 21st, 24th, and 26th among the league in goals per game. It wasn't until after Mason was traded to Philadelphia that the Blue Jackets began their surge in scoring, as the chart from Sporting Charts shows.
This doesn't relieve Mason of accountability for his average to mundane showing through five games. Even he knows he has to play better. The Flyers did outscore the Blue Jackets last season by a 236-231 margin, and again through the teams' first five games this season by a 17-15 tally.
But Mason now finds himself behind one of the worst, if not thee worst, defensive units in the league right now. The Flyers have also been without their most utilized defenseman in Braydon Coburn after the team's first game of the season. The catch, though, is that it's not likely to get better anytime soon – even with Coburn set to return soon.
Michael DeNicola of the Orange & Black Pack explains why:
We are going to have to tough this out. The Flyers are experiencing average goaltending, defensemen who don't protect their goaltender, and forwards who don't protect their defensemen. It's the everlasting recipe of a disastrous breakdown, and it has been cyclical thus far this season. I don't see an answer to this riddle within the existing makeup of our roster… other than possibly the aid of a softer schedule. But even that, in my mind, offers minimum leniency.
Translation: Mason must weather this storm. But based on his past body of work, is it fair to ask if he really can?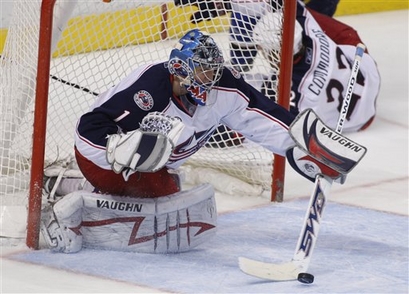 The Psychological Factor
As reported last year, Steve Mason was on the verge of quitting hockey all together. His fall from grace in Columbus, lumped with habitual losing, made the game seem like an enemy instead of representing a love affair that places professional athletes in their occupation. Losing can have that sort of effect on players. It's a disease that no team or player wants to come down with. But despite rebounding from his collapse in Columbus, is Mason's psychological toughness in question yet again?
"My mind was so beat up that I truly did not enjoy playing hockey anymore," said Mason on his time in Columbus back in April. "It had definitely crossed my mind to consider other options. I was just so beat up mentally that hockey was becoming more of a chore than a passion and something that was fun. … I hadn't thought about what I'd do, but it definitely crossed my mind to hang the pads up and focus on other aspects of life because hockey was something that was making life not enjoyable."
Former Flyers forward, and current NBC analyst, Jeremy Roenick, seems to be one who questions Mason's makeup. Back in July, the colorful commentator voiced his opinion on the Flyers and their chances of becoming legitimate contenders with Steve Mason as their number one netminder.
"I like Steve Mason, but I don't think Steve Mason is the answer to winning a Stanley Cup," said Roenick.
"I think you need an upper-echelon defenseman. I think you need an upper-echelon goaltender. The Flyers do not have [either]. I think that's something that you're going to have to look at in terms of improving your team."
While the Flyers unequivocally lack that top tier defenseman, is it fair to lump Mason in with the holes infecting the team's defensive unit? After all, Mason was sensational in the playoffs, going 2-2 with 123 saves on 131 shots. But despite a positive long-term approach from a new GM in Ron Hextall, the Flyers appear to have regressed, as mentioned above.
Gone is Scott Hartnell, and the 52 points he brought to the table last season. In return, the Flyers now have R.J. Umberger, who has only four shots and an assist in six games. The trade that was supposed to bring the team improved skating and defense now has a minus-six rating to show for through Oct. 22nd's games.
That only explains just a fraction of the "how" when looking at where Mason and the Flyers are right now. The long season ahead, though, will ultimately determine if Mason can plow through the storm, or succumb to it once again.