The Anaheim Ducks are off to an excellent start this season, having won five of their first six games while winning in convincing fashion against the Cup-contender St. Louis Blues. The final stat line had the Ducks under the fifty percent possession mark, but that was mainly due to a late third period flurry by the Blues, as Anaheim drove the play for 40 minutes.
At the heart of the Ducks' strong start has been general manager Bob Murray's prize summer acquisition: Ryan Kesler. With the Vancouver Canucks mired in mediocrity last season, Kesler quietly escaped the radar of the collective hockey world, pinned with blame for the team's struggles by local media. Yet through all the criticism, he sneakily potted 25 goals and put up some very good possession numbers on a struggling team.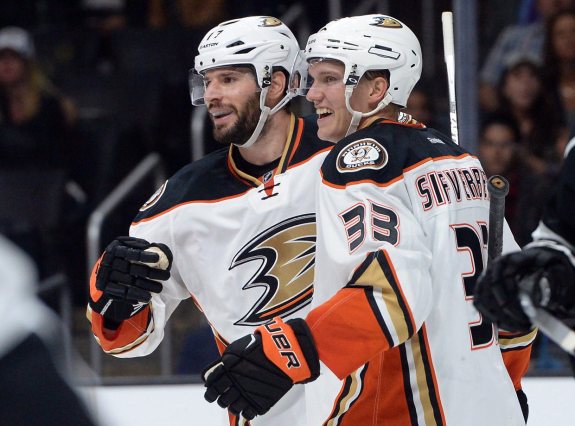 As a Duck, Kesler has already made a considerable mark having scored five points and adding an edge that's already almost gotten him into a little trouble with the league. He's carried a second line flanked by Jakob Silfverberg and Andrew Cogliano/Devante Smith-Pelly, preventing the opposition from honing in all their best checkers onto the Getzlaf line. Although he's started the majority of his shifts in the offensive zone, he's made good on it by dominating play under the goal line and initiating a strong cycle game that is complemented by Silfverberg's skill and Cogliano's quickness.
Does Kesler Make Anaheim A Cup Favorite?
Ultimately, the Duck's strong start should bring cautious optimism, as it has come mostly against weaker Eastern Conference competition, where they've even had to come back from multiple goal deficits on more than one occasion. The wins against Minnesota and St. Louis were impressive, which is certainly encouraging, but the issue remains that the Ducks don't have any true elite minute-munching defensemen that teams like Chicago and Los Angeles possess.
Yet just as stellar defense is imperative in the West, so is depth at the center ice position, and the Ducks boast one of the best one-two punches in the entire National Hockey League. Ryan Getzlaf is a wizard with the puck on his stick while Kesler can dominate the game physically, an intriguing combination that will keep other team's defenses constantly adapting to the two Olympians' contrasting styles of play. So the final answer to the guiding question  here is that no, on his own merit, Kesler does not put the Ducks over the proverbial championship hump, but his presence in the lineup and the dominant hockey he's played so far makes them astronomically closer to being a true contender .