There is no denying that this year's rendition of the Washington Capitals are one of the best regular season teams of all-time. With 15 games to go, Barry Trotz's men are on pace to finish with 124 points with 14 games to go. Not only is that good enough to surpass their previous team record of 121 points from the 2009-10 season, but only the 1995-96 Detroit Red Wings have been able to get to that level.
With all that said, there are some concerns as Washington gets closer to the playoffs. Their five-on-five puck possession has plummeted towards league average ever since mid-November, the third line of Marcus Johansson, Jason Chimera and Tom Wilson has turned from an unsung spark plug into a running gimmick and Braden Holtby has looked a shell of himself, based on even-strength save percentage, ever since the All-Star Break.
However, there is one area on the Capitals that has not only stayed strong, but has gotten much better as the season has reached the dog days of winter. Since George McPhee's era as general manager from 1997 to 2014, Washington's penalty kill was considered an afterthought by fans and analysts alike. If anything it was considered an eyesore and a complete opposite to the team's constructed under the previous general manager, Dave Poile.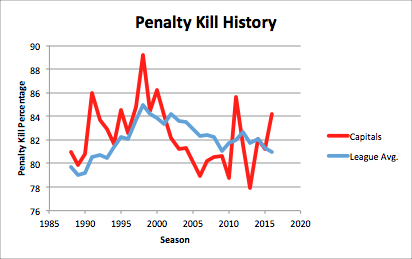 Under head coach Barry Trotz and general manager Brian McClellan, that script is being turned on its head. This season, the Capitals are fourth in the NHL in penalty killing efficiency at 84.2-percent. If the season were to end, it would be their best season in that department since the 2010-11 season, when Washington finished only behind the Pittsburgh Penguins in penalty killing at 85.6-percent. As has always been the case throughout the Alexander Ovechkin era, each head coach has brought in a change in what brand of hockey to play and sometimes, it is not always for the good. None of that can be a more perfect example than the last four head coaches in Washington Capitals history. Each of their times on the bench fortunately occurred during the time advanced data like shot attempts has been accumulated.
Details about the District's Data
While penalty killing efficiency is the first indicator for how well a unit performs, it is sometimes important to take a look at how teams are able to kill off such situations. Lots of actions need to go according to plan in order for a team to be successful shorthanded. First, they need to limit opposition shots and make sure none of them are of dangerous quality. The second factor is to make sure goaltending is spot-on and ready to make all crucial saves necessary.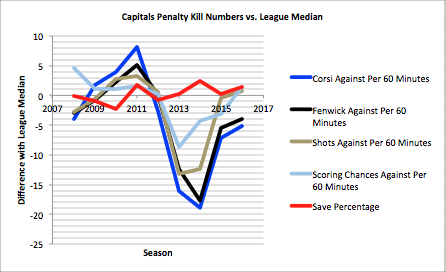 As seen above, Bruce Boudreau's tenure (November 2007 to November 2011) actually saw his teams perform well in the shot suppression department while shorthanded, but the goaltending at the time was not sufficient enough to allow the unit to reach its full potential. 2011 was clearly his best season when everything came together while the season after that was his downfall as every metric reached their lowest marks while he was in charge.
As for the Dale Hunter and Adam Oates eras (November 2011 to April 2014), the franchise became so conservative with their tactics that it led them to reach historic lows in giving up shots. If it wasn't for the work of Braden Holtby and Co., who knows how Washington could prevent goals from even 70-percent of their penalty kills, let alone 80-percent. Even if the team's shot quality was not as bad based on the scoring chance numbers, it was still shockingly below the league median.
Since Trotz has come in, the numbers have been improving but they still remain below league median. With Holtby being the team's full-time starter since the beginning of his tenure, Trotz has been able to rely on his talent in pressured situations. While the skaters in front of him are genuinely doing a better job at improving the amount of pucks going towards the net and in dangerous situations, they still haven't stopped the opposition from peppering shot attempts at high rates for a full season.
Times Are A Changin'
It takes plenty more than just head coaching and systems changes for a penalty kill to be completely different. Sometimes the collection of players used can alter the team's production too.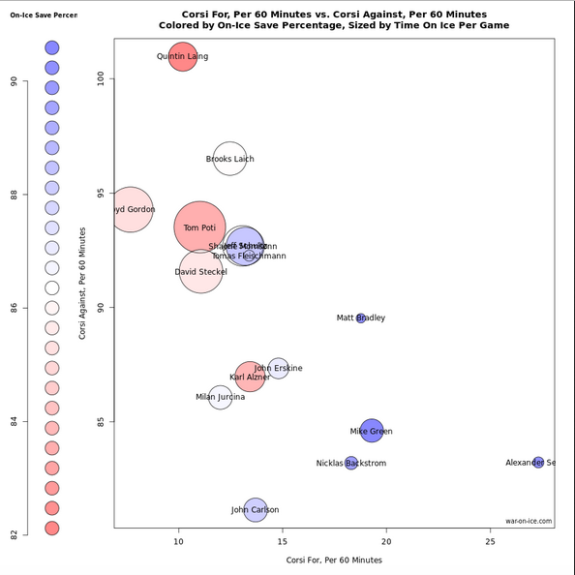 During the days when the Capitals were as carefree as their head coach's deployments, Boudreau was not afraid to put on his best players under any situation. Perfect examples of that included Mike Green, Nicklas Backstrom and Alexander Semin cherry-picking the opposition and springing into the attack whenever they had the chance. That all being said, the bedrocks of the team's penalty kill at the time were forwards David Steckel, Brooks Laich and Boyd Gordon while Tom Poti, Shaone Morrison and Jeff Schultz (Morrison's and Schultz's circles are overlapping each other with Tomas Fleischmenn's circle inside) were the team leaders on the back end.
As the playoff upsets began to mount for the Capitals, loads of personnel began to change as only Laich, Backstrom, John Erskine, John Carlson and Karl Alzner remained as mainstays on the penalty kill from those precocious years.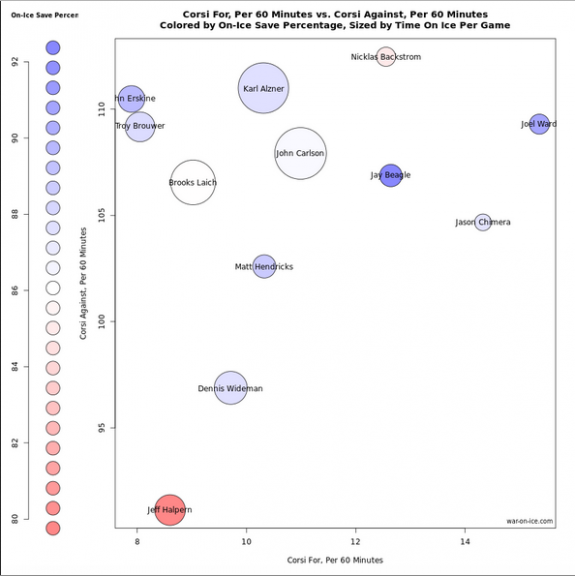 If ever there was a graph that exemplifies how terrible the systems were under Oates and Hunter, this usage chart should be it. Jeff Halpern only stayed with Washington during the 2011-12 season but he was easily Washington's best penalty killer during that era despite not alleviating his team by creating any offense or having good goaltending on his side. Meanwhile, Dennis Wideman is not really known as a great penalty killer and was still worse than the league median in shot suppression while shorthanded. As for everyone else, it's honestly hard to explain in great detail other than repeating how unbearably awful Adam Oates and Dale Hunter were as head coaches at the NHL level.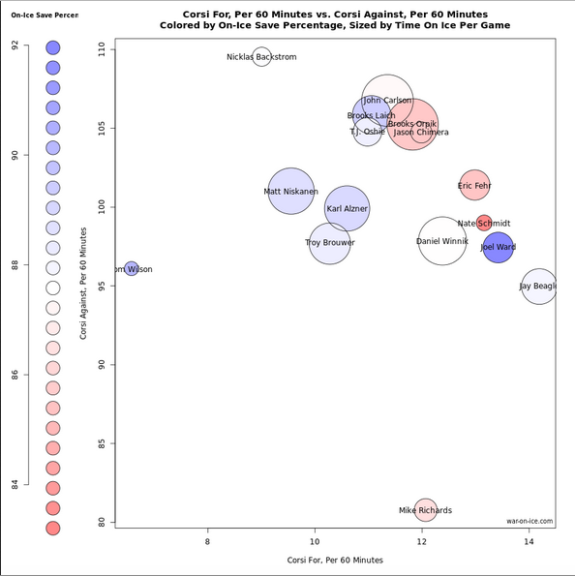 Under Trotz, a handful of players have shown marked improvements. While it seems like John Carlson seems to have been struggling to get over the scarred lessons from previous coaching regimes, Trotz has at least been able to share the wealth of penalty killing duties to more players than other coaches did previously.
Under Oates and Hunter, only Carlson and Alzner played over two shorthanded minutes per game on the backend, let alone three minutes per game. Under Trotz, they are accompanied by Brooks Orpik and Matt Niskanen in this category. Up front, only Laich and Troy Brouwer played over 100 games and played over a minute-and-a-half of penalty kill time per game under Oates and Hunter. Last season Jay Beagle and Joel Ward were added to that category.
Now you may wonder why I am celebrating the team becoming a world class penalty killing outfit even if the advanced numbers indicate that this might be a bit of a mirage. That is because since last summer, the entire personnel within that unit has changed before our very eyes. Out went Ward and Brouwer this offseason and in came T.J. Oshie and the added responsibilities given to Tom Wilson. With these alterations, Wilson has immediately become one of Washington's most dependable penalty killers while usually paired with the more offensive Beagle.
Most importantly, the mid-season acquisitions of Mike Richards and Daniel Winnik have provided such depth to the Capitals that the likes of Backstrom, Oshie and even Jason Chimera no longer are needed for their services while shorthanded. It should come as no coincidence that as soon as Richards consistently led the Capitals in shorthanded ice time, the team has gotten significantly better while shorthanded.
Now the penalty kill shouldn't be the end result of why Washington wins a Stanley Cup in 2016. However, postseason hockey games are always tight and nervy affairs that are often decided by a single goal. Even resolving a small portion of their game could make a big difference for the Capitals when the games start to count.