The rest of the NHL was afraid this day would come. Milan Lucic, warrior of ice and equal opportunity punisher, has firmly hit his stride with the Los Angeles Kings. After a rocky start to his first season in L.A., the bruising forward has found his place among an elite lineup. THIS IS NOT A DRILL!
To say that the decision to acquire Lucic was risky is the understatement of all understatements. Giving up your most valuable trade asset (goaltender Martin Jones) for a unique forward with one year remaining on an expensive deal ($3.25 million)? I think even Pete Rose would consider that a gamble. Lucic has a reputation, for better or for worse, as a physical power forward with a topflight skill-set in certain areas. Those areas include forechecking, fighting for position in the offensive zone, and shooting. Those areas do not include skating, defensive zone coverage, and skating (oh, we said that already). The Kings were in desperate need of an additional scoring punch, and their desire to contend immediately made Lucic their target of choice. But the front office and coaching staff alike knew it would be tough sledding out of the gate.
Setting the Tone Early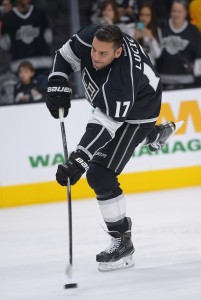 As soon as Lucic arrived in camp, the Kings knew the type of player they were getting. With line combinations still up in the air, his teammates marveled at Lucic's work ethic and imposing force. And in case he hadn't made enough new friends in the L.A. locker room, he decided to thrust himself into the cross-town rivalry with Anaheim via his fists. As Lisa Dillman of the Los Angeles Times pointed out, his decision  to throw down with Ducks defenseman Josh Manson won Lucic the respect of his comrades, and reinforced his commitment to a new environment.
The early season struggles brought out the worst in a lot of Kings players, Lucic included. He was struggling to keep up with Anze Kopitar's pace on their forward line, and the team's miscues were a direct reason why he forced and compromised several elements of his game. Lucic has never been the most technically sound hockey player in the world, but it was evident early that he was trying to be something that he wasn't. His effort never wavered though, which is as clear an indication as any in sports that a player just needs a spark to get moving in the right direction. Kings coach Darryl Sutter understands this as well as any ice general, and he started feverishly searching for adjustments.
And thus the Toffoli, Carter and Lucic line was born. You could make a case that this is among the best forward lines in the NHL, and certainly one of the most productive. Jeff Carter is a proven goal-scorer with a knack for big plays, Tyler Toffoli is elevating faster than Maverick through the Navy Pilot ranks, and Milan Lucic has fit in perfectly. The line plays at a more methodical pace (though still with speed), and has three extremely versatile players. Each can snipe from a distance, each attacks opposing defensemen with force, and each will do the dirty work that is needed to generate offense when games grow stagnant. As far as mind-blowing stats go, try this one on for size. The Kings have not won a game this year when one of the three forwards hasn't scored. Not a single game. And they're first in the Pacific. Wow.
Accurate Shooting
I can't say I'm stunned that Lucic has found success with the Kings, but this soon? We're not even at Thanksgiving and he's carving up the stat sheet almost every single night. Lucic has ten points (5 goals 5 assists) in 17 games, and goals in three of his last four. The most startling number however is 21.7%, which is his shooting percentage. Now I know this statistic has a way of evening out over the course of a year, but Lucic has never scored on higher than 17.5% of his shots in a season. Watching him play for the Kings, it's apparent that he is being more selective with his attempts. Part of this can be attributed to this talented linemates, and part is based on the Kings style of play favoring puck possession over a "Rough Ryders Anthem" approach. But either way, this proves one thing; Lucic is buying in. He's following the mantra of his team, deferring to his teammates when necessary, and playing for the greater good of the organization instead of his own statistical desires. Milan Lucic is sacrificing, and that in turn is paying dividends on an individual level.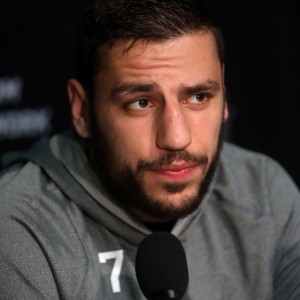 Nowhere on the ice is this more evident than in the defensive zone. Lucic is known for having a propensity to be, dare I say, a little reckless at times with his decision to dish out punishment. His hits definitely serve a purpose, but often in Boston the forward would take himself well out of the play to deliver a bone-rattling (sometimes questionably legal) hit. Lucic's desire for payback often took precedence over his team's positional strategy, and in L.A. that simply isn't the case. Hustling on backchecks, tying up defensemen on the point, even taking a hit to make a play (and not diabolically snapping on the person that hit him) are just a few of the things he has done to help the Kings out. Anytime a player can help his team outside of scoring goals, as Lucic is doing, it is an enormous benefit.
Heavy Hitting For Life
Through all of the different ways that Milan Lucic is strengthening this Kings attack, it still comes back to his finest trait. Hitting. No player in the Western Conference has notched more than Lucic's 60 hits in his team's 17 games, an astonishing total that demonstrates consistent aggression. Throwing a body check requires both physical strength and energy, and it is not typically a category that dominant goal scorers excel at. Most snipers enter the zone thinking: "where can I put myself to get the best shooting opportunity." Lucic enters zone thinking "who on this other team can I put through the boards, drag back out onto the ice, and then put through the boards again." Only after he has made his mark on the poor shoulders of the opposition, does Lucic worry about finding the scoring lanes. That's why he was a cult hero in Boston, and that's why the fans in Los Angeles are beginning to idolize him just the same.
Data never tells the whole story of a hockey player, and likewise Lucic's physical presence goes way beyond any statistical measure. Those 60 hits are impressive, but they don't take into account the times opponents have abandoned the puck a little early on his watch. As my father used to say about the great Oakland Raiders and Ohio State football legend Jack Tatum, players fear Milan Lucic when he's out there. This goes back to why Carter and Toffoli are reaping the rewards of playing alongside him. Who wouldn't love to get more uncontested shooting opportunities, space in the corners, and stickhandling time? Last season the Kings were knocked around at times, another small factor that led to the collapse of their playoff push. In adding a bonafide bully like Lucic to offer both scoring and phsyical support, the Kings have become the ones who knock (or as my buddy Walter used to say, the danger).
Here to Stay
The future is always unpredictable in the NHL, and Milan Lucic's great start does not guarantee an entire year's worth of glory. But at this point, I wouldn't bet against him. Lucic has found a line he can prosper on and a system he seems to enjoy playing in. He can have good games without scoring goals, which only magnifies his value on lengthy point streaks such as this current adventure. And it's crazy how quickly a narrative can change, with Lucic's one year deal going from a potential deadline trade to a race for a contract extension. Unless something drastic happens along the lines of "taking off his skate and trying to stab someone," there's no way he leaves L.A. in the distant future. Lucic is too valuable to this team, and at just 27 years old he has a lot of good hockey in front of him. He's no longer an outsider trying to fit in, but rather an important straw that stirs the drink for the Kings.
It's hard to believe we've only witnessed one month of Milan Lucic in a Kings uniform. The highs were high, the lows were fun, and the best is yet to come. Every NHL player is different, but no player masters the art of being unconventionally effective like Milan Lucic. It will be fun to watch him wreak havoc on his opponents as this season ramps up and the spotlight brightens. Unless of course you are one of those opponents. Then I just feel sorry for you.
Just a hockey loving American. I grew up in Cleveland, Ohio, and attended Saint Louis University where I skated for the Billikens. From 2013-14 I covered the St. Louis Blues for ESPN Radio St. Louis. I currently work in sports video production in Los Angeles, and will always show solidarity for stay-at-home defenseman.