This past weekend, the University of North Dakota hockey team swept the Miami RedHawks in an important two-game National Collegiate Hockey Conference series. This was UND's first series against a nationally ranked opponent.
After four conference games, UND and St. Cloud State are tied at the top of the NCHC standings. The two teams will face off in St. Cloud, Minnesota this weekend. A sweep either way would give that team some breathing room a top the NCHC standings.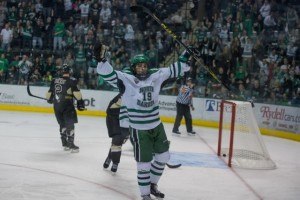 Quit Not in UND's Vocabulary
After two periods of play on Saturday, UND trailed the RedHawks 2-1, but out played them badly. We learned that the word quit isn't in UND's vocabulary. They kept pushing to get the game-tying goal, twice.
"We had the momentum that whole third period," UND junior defenseman Gage Ausmus said. "We knew we still had it on our side. We were looking up at the scoreboard and they only had 14 or 15 shots or something and we had 30. So, we were bound to get another one. Stick with the game plan and it would work itself out."
CBS Line Leads the Way
On October 17, 2015, the UND coaches put together the forward line of Drake Caggiula (4g-9a—13pts), Brock Boeser (7g-5a—12pts), and Nick Schmaltz (2g-11a—13pts). This forward line has played together for eight of 12 games.
This line, nicknamed the CBS line by the UND hockey fans has given the opposition fits. Most teams haven't been able to shut them down completely.
This past weekend, the CBS line was the best line on the ice for either team. Combined the CBS line scored (5g-8a—13pts). For Comparison sake, the RedHawks top line of Alex Gacek, Sean Kuraly, and Jack Roslovic scored (2g-4a—6pts). What's more impressive, UND limited the senior forward Kuraly to (1g-1a—2pts) on the weekend.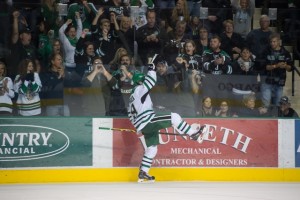 Special Teams a Concern for UND
Breaking down UND's sweep of Miami; the play of the special teams should be a concern for the UND coaching staff. UND is traveling to St. Cloud State this weekend to take on the St. Cloud State Huskies two-game conference series.
To beat the Huskies, UND has to play a flawless, disciplined game. Especially, in the Herb Brooks National Hockey Center.
Statistically, UND is solid on offense (ranked 13th nationally) and defense (ranked 7th nationally). UND is scoring goals when they're playing five on five hockey, but they're not cashing in on the power play. This past weekend, UND went 1-7 (14.2%) against the RedHawks on the man-advantage. That needs to improve. (Stats from College Hockey Stats)
I imagine that the UND coaching staffed is concerned with their power play and penalty kill numbers. UND can't afford to get into penalty trouble against the talented, offensive minded Huskies. The Huskies power play is clicking at 21.4 percent. UND has killed 34/43 (79.1) of their opponents power plays. On the power play, UND is clicking along at a rate of 7/49 (14.3).
If UND wants to be successful this season, they need to improve their penalty kill  numbers. UND has many new players playing on special teams and their special teams numbers should improve as the season progresses and those players again experience and get more comfortable.
Eric is a 1996, 1999 graduate of the University of North Dakota. Eric covers the University of North Dakota Hockey and Division I college hockey. Eric is the Contributing Editor for Inside Hockey.