In 2014, my then three-year-old son was diagnosed with Severe Aplastic Anemia, a life-threatening condition in which the bone marrow does not function properly. As a result, the body's blood cells are unable to do their job, namely to keep one safe and ward off infection. He would spend the majority of the year in and out of the hospital receiving transfusion after transfusion and undergoing procedure after procedure. Simply put, he had good days and bad days.
His outlook was always bright, much more at times than the adults around him. Through the toughest times, he had a smile on his face and a glow about him that said "I got this". While my son is doing much better now, those were obviously very troubling times and the worry remains a constant today. Through it all, my son and I bonded and became closer than we had ever been. We used one of the true, mutual joys in our lives to brighten the darkest of days – hockey.
That's right, my son and I fought the evils of his terrible disease with a game. We talked about it, we watched it and we would play it (safely in his room) when able. We saw the Flyers lose Game 7 to the New York Rangers in the first round of the 2013-14 playoffs in his hospital room after he came-to from a multi-hour brain scan. For us, it's more than just a game. It's the 'sunshine on a cloudy day' that gives us hope and reminds us to never give up. It's a way of life.
My son's story is the inspiration behind Hockey Cares, a weekly column that will bring to light all of the good that hockey can do, both on and off the ice. Stories will range from the National Hockey League level all the way down to recreation leagues in local municipalities. For the inaugural edition, I will look at an organization that is near and dear to me – the Flyers Youth Special Hockey Club.
Program of Inclusion For Those Too Often Excluded
This past spring, I was lucky enough to come in contact with a group from the Flyers Youth Hockey Club, one of the most well-known youth hockey organizations in the tri-state area. They are made up of teams ranging from Mites to Midgets and take pride in "fielding competitive teams, while having a family knit atmosphere throughout the organization". Over the last decade, they have developed budding hockey players who have been successful from the local to national level. The purpose our meeting was to discuss a new program that would be starting, the Flyers Youth Special Hockey Club. This program targets children fives years of age and older with mental and physical disabilities who want to enjoy the game of hockey in a non-competitive environment. All too often these children are left behind and excluded from these types of activities under a false notion that they cannot play with non-disabled children of the same age group.
The Flyers Youth Special Hockey Club has joined the American Special Hockey Association, an organization created in 2000 for hockey players with developmental disabilities. Per their website, the ASHA has over 50 programs in more than 30 cities throughout the United States. While there are sled hockey teams in the area, the special hockey club is the first of its kind in Southern New Jersey and the group is based out of the Flyers practice facility in Voorhees.
My involvement with the club is that of a coach, from which I draw from my own life experiences of growing up with a disabled sister and now also raising a disabled daughter. For me personally, this adventure ties together two of the most important things in my life – hockey and equal opportunities for disabled individuals. We were able to reach out to parents and children through open skating sessions and by networking in the community via a myriad of special needs programs.
All-in-all, our initial outreach was a success as we managed to sign up 17 children for the very first session. Through generous donations and sponsorship, we were able to procure weekly ice time and equipment for those in attendance. For a program still on baby food, the sky is the limit.
Opening Day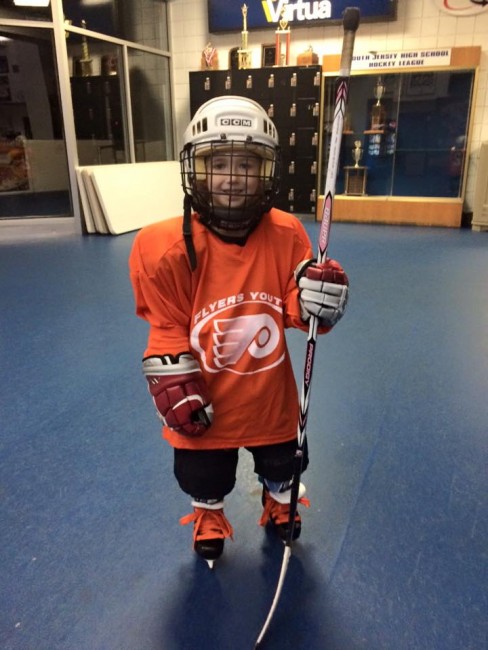 This past Saturday, September 19th, was opening day for the Flyers Youth Special Hockey Club. Parents and players entered the rink bright and early for a crisp, 7 AM skate. For most, this was their first glimpse of the hockey life that so many of us have taken for granted. With anticipation and smiles, the children took to the ice with the assistance of the coaches and the dozen or so 'buddies' that volunteered their time to help make this an enjoyable experience for the skaters.
In my experience, children are usually standoffish when getting onto the ice for the first time. In this case, each child took a leap of faith with their 'buddy' and never looked back. The ice was split into two halves with one side focusing more on learning to skate while the other side took more of a learn to play hockey approach. While it was an eye-opening experience for the coaches and volunteers, it was the same for the kids as well. They looked up and saw the Philadelphia Flyers banners hanging on the wall. They saw the logos on the ice. They got to hear sticks slapping pucks and skates cutting through the playing surface. In that moment, the one-hour that felt like 15 minutes, these kids felt like hockey players. The game they had watched and admired on television was becoming a reality. Having usually been relegated to the stands to watch, they were now the ones being watched.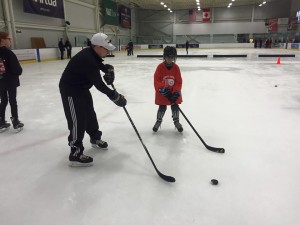 Tomorrow
For those of us who have grown up playing the game uninhibited, we engross ourselves in the moment and then move on to the next item on our agenda. For these kids, they get to experience something in life that was new for them. They get to experience the can-do in a world of can't do's. For them, this is more than just a moment in time; they will go home and think about this and wonder when they can do it again. They will anxiously wait for the following Saturday so that they can build on the skills they have been taught and continue to play the game that at one point in time, they thought wouldn't be an option to play. For them, hockey is more than just a game; it's a chance to be normal in a world that continuously tries to label them as not normal.
Disabled children sometimes go through life feeling as though they can't do certain things because nobody cares enough to show them that they can. In this case, people care. Hockey cares.
Check back next week for another edition and be sure to follow me on twitter @healedbyhockey to continue the discussion. For more information on the Flyers Youth Special Hockey Club, check them out on Facebook.
Zach Hopkins is a life-long hockey fan from the suburbs of Philadelphia. Aside from studying, watching and playing the game, he can be found teaching it to his four-year-old son who can now name all 30 teams and their best players and can differentiate between all 30 goal horns. At The Hockey Writers, Zach is a Philadelphia Flyers contributor.