Miami University–nestled a hard slap shot away from the Indiana border in Oxford, Ohio — is justifiably proud of its traditions — an academic pillar as  one of the original eight "Public Ivy League" schools ; known as the "Cradle of Coaches" in football for producing Woody Hayes, Paul Brown, Weeb Ewbank, Sid Gilman, Ara Parseghian and Bo Shembechler, among others ;  and having just concluded its year-long celebration of the university's bicentennial.    If you should profess any confusion with the University of Miami in Florida, you will be quickly, and harshly, reminded that Miami was a university 36 years before Florida became a state.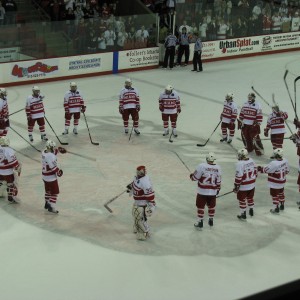 Make the trek into Cady Arena at the Goggin Ice Center, and you will be treated to a relatively new tradition at Miami — ice hockey excellence, and the off-ice environment to support it.  The Redhawks have easily clinched their second CCHA title for this season, have appeared in the NCAA tournament in five of the last six years, and came within a whisker of the national championship last year before falling to Boston University in an anguishing overtime loss.
The Ohio State Buckeyes made the 130 mile trek to the southwest on Friday night, and experienced firsthand the electric environment that makes Cady an exceedingly difficult place to play for unsuspecting opponents.  More on that in a moment, but let's look at the on-ice product first.
The two teams played a uneventful first period, with Ohio State suprisingly outshooting the Redhawks 14-11.  Ohio State undoubtedly went into the locker room feeling very good about their effort — little did they know what lay ahead.
The second period had the feel of a re-enactment of the USA/Finland semi-final game played earlier Friday, with Ohio State unwittingly electing to play the role of Finland.  Miele started the scoring frenzy by walking the puck to the crease, and roofing  the puck over Carlson's shoulder.  Somma maintained the illusion of a contest by tying the game, which only served to delay the inevitable.  The Redhawks scored the  next five goals, by five different players.  Two nasty re-directions, a beautiful back door pass, a rebound slam and a shot from the point put the nail firmly in the Buckeye's coffin.  A nice wraparound goal by OSU's John Albert ended the mayhem, and made the final score more palatable for the Buckeye faithful.  Miami outshot Ohio State 15-7 in the second.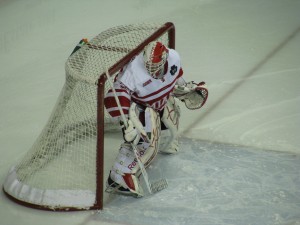 The third period was an exercise in control for the Redhawks.  Although they surrendered 14 shots in the third, there was never any sense of threat to Miami's lead.   Sophomore sensation Cody Reichard was solid in net, and insured that any hope of a comeback was quickly snuffed out .
Keep in mind that Miami has surrendered only 39 goals in CCHA play this season, and the goaltending has been a huge part of that stinginess.  Reichard boasts a 1.23 GAA and a .950 save percentage, to lead the league. His "backup",   Connor Knapp, sports a 1.60 GAA and a .937 save percentage, good for second in the league.  Oh, yeah — – Knapp is also a sophomore.   (As this article goes to press, OSU and Miami fought to a scoreless tie after 65 minutes, with Knapp in goal for Miami.)
Watching Miami play, several things are immediately apparent.  First, the team is remarkably well coached.  Players  are seemingly always in position, with sticks on the ice, heads up, ready to make a play.  They are always in position, and if caught off guard, they recover quickly.    Secondly, this is an incredibly deep team.  Watching the flow of the game, there is no disruption or seeming dropoff in talent from line to line.   Finally, there is an unmistakable confidence and unflappable nature that permeates the entire team.  There is none of the hesitation or tentative play that often plagues teams at this level.  Miami enters the offensive zone with speed, and makes sharp confident passes.  If they don't click — no worries — the puck is deep in the opponent's zone, and there is plenty of opportunity to try again.
It is a testament to the ability of the coaching staff, and to the character of these young men, that they can play such a confident, sure-handed brand of hockey.  The bizarre ending to the national championship game last season was a devastating blow, and would haunt many other squads for a long time to come.  The recent tragic death of the team manager, Brendan Burke, son of Toronto and US Olympic GM Brian Burke, dealt another emotional blow to what is, at its core, a very young team.   That they have been able to overcome this adversity and hold either the #1 or #2 national ranking for the entire season is no small accomplishment.  That caliber of mental toughness will serve an important role heading into the CCHA and NCAA tournaments.
No discussion of the Miami University hockey success would be complete without giving due credit to the dynamic atmosphere in which hockey thrives in Oxford.  First, the Goggin Ice Center is a magnificent facility in which to play, and see, a hockey game.  The Cady Arena holds approximately 4,000  for hockey games, and the companion practice facility hosts broom ball, intramural hockey and other activities on what seems to be a non-stop basis.  The arena is bright and airy, with broad, glass-walled galleries surrounding the arena that permit game views by those not fortunate enough to garner seats.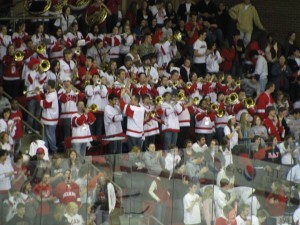 Getting seats at a Miami University hockey game is no small feat.  While crowds at football games are late arriving, early to depart, and largely apathetic as the game progresses, such is not the case with hockey.  Students begin congregating in line hours before game time, and camping overnight to claim seats for big games is common.
Once inside, they become an integral part of a dynamic mass of red and white clad humanity, constantly in motion, and led in a variety of cheers and songs by the Miami Hockey Band (actually a rotating group of three bands, so much in demand is the opportunity to play at hockey games), which drives the atmosphere and fan support.  The students and band members stand throughout the game, and by turns encourage their own team and chastise the opponents for transgressions, real or imagined.  There is nothing mean spirited about it, and it provides a highly charged, dynamic atmosphere that proves intimidating to any opponent traveling to Oxford.   It is a level of passion not seen elsewhere, and other programs could do far worse than emulating the Miami experience.
The Redhawks will have a first round bye in the CCHA tournament, and will host the next round in Oxford.  If they can hold their emotions in check, while pulling energy from the intoxicating atmosphere that envelops their home venue, they are poised to make another deep run into the post-season.  With the Frozen Four in Detroit — a manageable drive up I-75 from Oxford — an appearance by the band and a large contingent of fans is virtually guaranteed.
Fan of hockey at all levels, with focus on the Blue Jackets, Miami RedHawks and the business side of the game. I try to bring a rational, even-handed analysis to my writing, wtih just a touch of snark. I use my legal background to bring some more insight on the business side. Love family, travel, hockey, golf and curling.