Here are the stories catching our eye for Thursday, Nov. 5:
The Blues overcame a three-goal deficit to defeat the Blackhawks 6-5 in overtime. [CBS Sports] The first seven minutes of this game was quite the roller coaster. [Pro Hockey Talk] An unfortunate typo on the Blues' Twitter feed became a rallying cry for fans. [St. Louis Game Time]
Hit Your Head, Greedy: Blues 6, Blackhawks 5 (OT) – https://t.co/LXbV0uwJjj via @andrewcieslak

— (The Artists Formerly Known As) Real Fan's Program (@RealFansProgram) November 5, 2015
Goaltender Brian Elliott was hurt in the game after a collision in the crease. [Puck Daddy]
Despite a loss to the Jets, the Maple Leafs are making huge strides. [Sportsnet]
The NHL chose not to suspend Dustin Byfuglien for a dangerous hit. [Winnipeg Sun]
Sidney Crosby had his first big game last night. [Hockey Buzz]
Patrick Burke believes the NHL is ready for gay players. [ESPN]
The "Paid Patriotism" scandal includes six NHL teams. [Sports Illustrated]
NHL Fan Fair, set to take place in Nashville during All-Star weekend, will see tickets go on sale this coming Tuesday. [The Tennessean]
The NHL's expansion vote for Las Vegas will likely not be in December. [Las Vegas Review-Journal]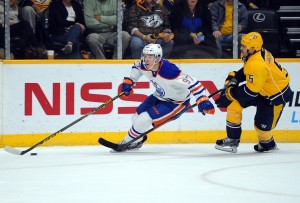 The rookie race is still exciting even without Connor McDavid. [SB Nation]
Best-case scenario for McDavid's return is 7-8 weeks. [The Score]
The NHL-sanctioned Try Hockey For Free Day is this weekend. [TryHockeyForFree.com]
The Avalanche and Coyotes should have an interesting battle tonight. [Mile High Hockey]
The NHL and former players are fighting over the concussion issue. [Pension Plan Puppets]
Darren Helm discusses his speed in an exclusive Q&A. [MLive]
Henrik Zetterberg's hot start can be sustainable. [Today's Slapshot]
Revisiting the Brandon Saad trade. [Hockey Feed]
I am a former NHL media member and reporter for the St. Louis Blues, working for various media outlets. Currently, I am an NHL News Writer and Editor for The Hockey Writers. I live in St. Louis and work as a freelance copywriter in numerous industries.