Much like the Colorado Avalanche and Dallas Stars last year, the Calgary Flames have arrived, seemingly ahead of schedule. The Flames were not a popular pick to even be in contention for the playoffs when the season began. But all year long, the Flames kept defying the odds, and driving the fancy stats people crazy with their improbable comebacks. Surely they couldn't keep up the pace, right? When their captain and Norris Trophy caliber defenceman Mark Giordano went down with injury, we were certain that was the end. But, like the Senators over in the East, Calgary feels like a team of destiny, as a huge win over the defending Stanley Cup champions punched their ticket to the postseason.
The Flames have gotten contributions from many places, including rookie Johnny Gaudreau, who will certainly get plenty of votes for the Calder Trophy. Jiri Hudler has quietly become one of the most underrated scorers in the league, and Sean Monahan continues to develop into a heck of a player. Their goaltending has held them in, their defence is solid and their coaching is unflappable. They might be facing a first round match-up with the Vancouver Canucks, which should be an absolute dandy. Do they have a shot at advancing? They absolutely do. And you can't help but cheer them on.
More on the Flames and their playoff-sealing victory: [Calgary Herald] and [Global News]
We will have a brand new Stanley Cup champion in 2015. [Bleacher Report]
Playoff hockey in Winnipeg is going to be amazing. [CBC]
Now that the Wild have clinched a playoff spot, Devan Dubnyk got a night off. [Fox Sports]
The Leafs have recalled Colton Orr. [Sportsnet]. Would Orr have a place in the NHL next season? [Detroit Jock City]
The Ottawa Senators have earned their way into a playoff spot. Will they keep it? [Yahoo]
Carey Price set a Habs record with 43 regular season wins. [Montreal Gazette]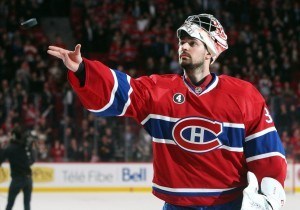 Who is Laurent Brossoit? [Edmonton Journal]
Tough loss for the Bruins, but full credit to the Panthers, and Jaromir Jagr. [Litterbox Cats]
If Boston misses the playoffs, who's at fault? [Causeway Crowd]
The race for McDavid is still to be decided. [Buffalo News]
Who is really to blame for the Penguins nosedive? [Pens Initiative]
And finally, Pittsburgh controls their destiny, but it's hard to feel confident. [Pensburgh]
Marcy, a former hockey player, is a hockey correspondent on CTV News and TSN radio. She began her career as a Sports Journalist in 2009 and has been part of The Hockey Writers since 2010, where she is currently a senior writer and editor.