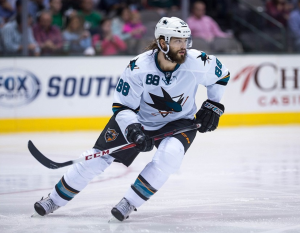 The San Jose Sharks will miss the playoffs for the first time in 12 years this season and there has been plenty of drama surrounding the end of a 10 season playoff streak. San Jose had a historically tough road start to the season but were never able to bounce back at home. Typically a tough place for opponents to play, the Sharks actually lost more games at the SAP Center this season than they won. Off ice turmoil and poor on ice personnel decisions resulted in the disappointing season. This past week The Hockey Writers have posted some terrific content chronicling what went wrong as well as what went right. Not hard to imagine why three of us four writers wrote negative stuff while Kenneth Laws took a positive angle on Joe Pavelski's performance this season.
Zeke demonstrates perfectly what most Sharks writers (not just on this site) have been saying all season, Brent Burns is a bad defenseman away from the puck. Zeke breaks down a key goal and a terrible mistake in coverage by Burns, just an all around dumb play to leave his man wide open and get mesmerized by the puck carrier.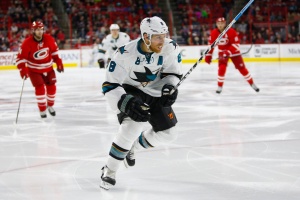 As mentioned above, Kenneth took a look at the ridiculous numbers that Pavelski was able to put up this season despite the team's lack of success. As strong as Joe Thornton was passing him the puck again this season, Pavelski was far and away the team's best forward when it came to plus/minus and goal differential.
Going all the way back to losing last year's series in epic fashion, Drew Weber takes a look at the timeline of the Sharks demise. From the Marc-Edouard Vlasic injury, to the brutal month of February this season, Drew highlights all the key moments.
And finally yours truly couldn't help but let nostalgia get to him. With the decade long playoff streak having come to an end, here is a look back at some of the biggest moments of the past 10 years.
Andrew has been credentialed to cover the Sharks since 2010 and the 49ers since 2012. He graduated with his BA in Broadcast Electronic Communication Arts in 2013 from San Francisco State University.