There's a reason teams are rarely able to come back from a 3-0 series deficit, and that's because it's a difficult hill to climb. It's more than just going on a four-game winning streak. There's no margin for error. You make crucial mistakes, and your season is over. But, we've seen it happen twice recently, and therefore it gives us a little bit of hope when a team on the brink wins game four. Habs fans are excited they get to see their team play at least one more game. They're thrilled with the way Canadiens responded last night, putting up six goals on a team they hadn't been able to beat all season. I would caution the fans not to get too excited, but I'm not ready to declare this series over.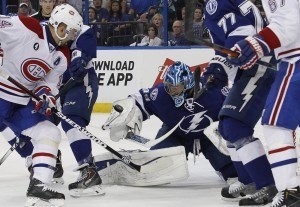 I'm not convinced about the Tampa Bay Lightning. No matter how many games they win, they simply haven't looked dominant in this postseason. Ben Bishop has looked great at times, and vulnerable at other times. They got by Detroit in round one, but you couldn't say they played like the better team. And save for one game in their series against the Montreal Canadiens, the Lightning haven't been superior. In fact, the Canadiens probably deserved a better fate than being down three games to none. But, it's all about finishing on your chances, something Tampa has done well, and something the Habs had not. Until last night.
One thing the Lightning have had going for them in this series is the fact that since the sweep last year, the Canadiens hadn't been able to beat them. The Lightning were in their heads. Maybe Tampa went into game four a little too loose and a little too confident. And for a team that was kind of lucky to be up 3-0, maybe that confidence wasn't quite warranted. But, as I said, it's all about execution and taking advantage of the chances you get, and Tampa had been more successful. The Habs have a style, and a system, and for most of the year, it's worked. Against the Lightning, however, it wasn't working. So they changed it.
Montreal is the sort of team that just needs one goal, then they sit back on the lead and let Carey Price do the rest. But tonight, they attacked. They pressed. They weren't happy with a one goal lead, or even a three goal lead for that matter. They pushed the play. They were hungry for the net. Montreal's identity is not to be an offensive juggernaut. But, they had to be to stay alive in this series. Now the question is, how will they come out in game five?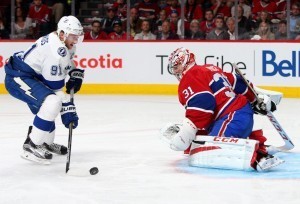 We all know the odds of coming back to win a series when down 3-0 are slim to none. But this isn't the Blackhawks and Wild, or even the Ducks and Jets. The Lightning are beatable. Steve Stamkos has been irrelevant. The one thing they had going for them has been blown out of the water. The Habs believe now. Can Montreal do this three more times in a row? Can Price shut the door? We know he can. Tampa may have let their guard down but if they bring their A-game on Saturday, then all of this will be moot. But the Habs now have belief, and that could go a long way. It doesn't happen often, but it's no longer impossible.
For more on the Habs/Lightning series, click here: [Montreal Gazette], [Globe and Mail] and [Eyes on the Prize]
In other news…
The Blackhawks led by Patrick Kane made quick work of the Minnesota Wild. [Chicago Tribune] and [CSN]
If you have a weak stomach, I wouldn't watch this video of Michal Rozival's injury. [Deadspin]
Was Devan Dubnyk just tired? [Puck Daddy] and [Twin Cities]
Will the President's Trophy winners be eliminated tonight? [National Post]
Could an NFL rule help eliminate controversial goal calls? [HockeyBuzz]
Todd Nelson will have a chance at the Oilers head coaching job. [Pro Hockey Talk]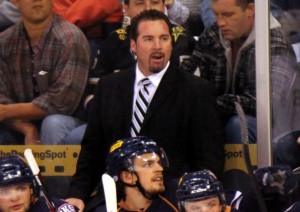 The World Championships aren't all bad. Give them a try. [Grantland]
Expansion to Seattle? It could happen. [Today's Slap Shot]
What's next for the Flyers? [CSN Philly]
Goal-scoring has been down this postseason. Why is that? [TSN]
There was a really long game in the AHL last night. [Yahoo Sports]
And finally, this is a good thing Rob Zamuner is doing. [Money Sense]
Marcy, a former hockey player, is a hockey correspondent on CTV News and TSN radio. She began her career as a Sports Journalist in 2009 and has been part of The Hockey Writers since 2010, where she is currently a senior writer and editor.