Tonight's game between the Penguins and Senators has become a crucial one for both teams, something that a few months ago seemed highly unlikely. Ottawa is playing their best hockey while Pittsburgh is on a terrible slide that could actually see them missing the playoffs. Everyone is offering their thoughts on why the Penguins are collapsing, and I'll throw mine into the hat.
1. The easy answer is injuries. The Penguins are missing three of their top four defenceman and only just got Evgeni Malkin back on Sunday. But here's the problem with that excuse. Every season, like clockwork, the Pens' most important players get hurt, sometimes for long stretches. They have always been able to keep on trucking, but this year for some reason, they haven't been able to recover. Is it the coaching? Is it the lack of depth? Could be both of those things. Yes the injuries hurt, but even when healthy, the Penguins haven't been the juggernaut we're used to seeing. Not being able to admit that is simply denial.
2. The Pens have not won a game all season when trailing after two periods. That is a remarkable stat. And while we can put the blame on other things, their inability to dig deep and find a way to come back is troubling, and suggests to me that even if they do squeak into the playoffs, there is no magical Los Angeles Kings run in them. For whatever reason, this team just doesn't seem to have the fight in them that's necessary to find sustained success. Is it a lack of leadership, or heart, or character? It's easy to spout those words but much more difficult to really prove it. In any case, something big is missing from this group. They aren't going to figure it out this season, even if they get healthy.
3. And the biggest problem in my mind is the lack of awareness of the Pens management team. The mess of their salary cap aside, the team made moves as if they were a couple of pieces away from contending, which is as laughable as it is baffling. Isn't a GM supposed to know his team? The Pens have given away draft picks at an alarming rate. They have little-to-no good forward prospects in the system and no way of re-stocking the cupboard. The trades they made haven't improved the team, not even a little bit. Did Jim Rutherford truly believe his team was good enough, and therefore those trades were warranted? If so, he really shouldn't be an NHL GM. The Pens are in trouble, not just this season but beyond. As Crosby and Malkin gets older, and the window continues to close, there is no one there to step up and take over. We saw the best of the Penguins in 2008 and 2009 and for this core, that's as good as it's gonna get.
More on the Penguins from our own Mike Colligan: [Hockey Writers]
And now onto the rest of the NHL…
Tyler Myers has been the right fit for Winnipeg. [Jets Nation]
Jonathan Benier would like to stay with the Maple Leafs. No idea why, but nevertheless. [The Score]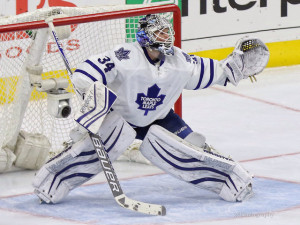 Who are the most annoying players in the NHL? [Full Tilt Hockey]
The Sharks have wasted a lot of high-end talent. [Today's Slap Shot]
If coaches chose the winners for the annual awards: [TSN]
Drafting and developing is so much more than simply winning a lottery. [Along the Boards]
Oliver Ekman-Larsson deserves a shot at the Norris Trophy. [Hockey Buzz]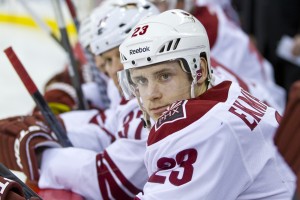 A little Sedin magic. [Canucks Army]
The sad tale of former NHLer Dan LaCouture. [Post Gazette]
Good thing Marc Methot's shot didn't go in, because the Sens still wouldn't have got the win. [Sportsnet]
And finally, great piece about religion and hockey. [Boston Globe]
Marcy, a former hockey player, is a hockey correspondent on CTV News and TSN radio. She began her career as a Sports Journalist in 2009 and has been part of The Hockey Writers since 2010, where she is currently a senior writer and editor.