There was some solid NHL action going on around the League Wednesday evening. Here's what you may have missed:
Scott Darling and Brad Richards came up big for their squad against Rangers. [Chicago Tribune]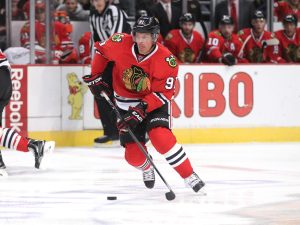 Just like old times, Richards scored a big goal in Madison Square Garden. [New York Times]
You'll want to check out a summary of the Kings and Ducks game — it was a doozy. [Anaheim Calling]
Dustin Brown delivered a clean open-ice hit on Corey Perry last night. [The Score]
Alexander Wennberg lifted the Blue Jackets to a 4-3 shootout win over the Oilers last night. [Global News]
Mike Milbury suggested that the Sharks send Joe Thornton to the AHL. [Fear The Fin]
The Panthers' find-a-goalie campaign was a rousing success. [Today's Slapshot]
Who deserves the Jack Adams? [CBS Sports]
A look at how 3-on-3 would cut down on shootouts in the NHL. [Deadspin]
Ever wonder which goalie has the most penalty minutes in a season? That and more are revealed in these strange goaltending records. [Grantland]
It's time to dissect the Leafs' issues. [Globe & Mail]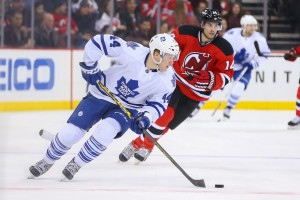 Andrew Hammond could be cause for more creative ways of celebration by Senators fans. [Ottawa Sun]
Expect the Blues coaching staff to start resting players, despite their push for the President's Trophy. [Frozen Notes]
An angry Jonathan Quick can make for quite the Vine video. [Puck Daddy]
I am a former NHL media member and reporter for the St. Louis Blues, working for various media outlets. Currently, I am an NHL News Writer and Editor for The Hockey Writers. I live in St. Louis and work as a freelance copywriter in numerous industries.