NHL Goalies Occupy One of the Most Challenging Positions in Sports
There is not another position in professional sports that is as disadvantageous as an NHL goalie. A hockey puck is a six-ounce vulcanized rubber disk traveling with gyroscopic projectile motions at high speeds from various distances.
Given the league's distinct measurements dictated by the NHL on how large goalie pads can be (no more than forty five percent of the distance between the center of a goalie's knee to his pelvis), there is a lot of net exposed for the world's most accurate and strongest shooters. NHL goaltenders exhibit innate abilities to react to shots, as quickly as one-tenth of a second. Once a shot is released, a goalie has less than half of a second to react to it and then utilize strength, athleticism, and reflexes to make a save.
There should always be a debate surrounding any discrepancy, no matter how little the margin, between the NHL's elite goaltenders. A handful of goalies can be put in the top five and many people have his/her own set of criteria that NHL goaltenders must fulfill to be considered in one's top five.
A small group of names show up consistently on most fans' and analysts' radar as top, elite NHL goaltenders. New York Rangers' and Vezina trophy winner, Henrik Lundqvist; Montreal's, Carey Price; Nashville's, Pekka Rinne are usually mentioned in the conversation. There are goalies that slip into contention every so often such as: Tuukka Rask, Cory Schneider, Corey Crawford, and Jimmy Howard. However, none of the the mentioned are usually in the elusive top five ranked goalies (in the best professional hockey league in the world). And then there is Los Angeles Kings goalie, Jonathan Quick.
Two Decades of Mediocre Goaltending
As stated before, the job of an NHL goalie is an extremely difficult position and the Los Angeles Kings have had a fair share of candidates in the last twenty years to step up to the plate (crease) and try. Kelly Hrudey had set the standard for Kings' goalies, as he was able to lead them to the team's first Stanley Cup Final appearance in 1992-1993. A Stanley Cup Final series that would eventually reward the Montreal Canadiens with the organization's twenty-fourth cup after the Canadiens beat Los Angeles in five games. The highlight of Montreal Canadiens' defender, Eric Desjardins, going five-hole on Kelly Hrudey in overtime of game two left a traumatic scar in the collective conscious of the Kings and the Kings' fans. After Hrudey's reign in the crease, the abysmal carrousel of NHL goaltending set up shop in Los Angeles for awhile.
Jamie Storr was supposed to be the Los Angeles Kings' goaltender of the future in the mid-nineties and prime to take over for Hrudey. Stephane Fiset and Byron Dafoe were brought in to pad the cushion of relief. Hrudey left to end his career playing for up-state rivals, the San Jose Sharks. Dafoe left after two seasons to play for Boston and Fiset bounced around the Kings roster and ended his career in Montreal. Sadly, Jamie Storr never lived up to the hype surrounding the seventh overall draft pick in 1994. Storr played in just two hundred and nineteen NHL games and lost more decisions than he had won.
Between the 1996-1997 NHL season (featuring Storr, Fiset, and Dafoe as the rotating starters) and the 2006-2007 NHL season, the Los Angeles Kings had used thirteen different goalies to try and find their number one stud. Prior to Dave Taylor being released of his duties as General Manager by the Los Angeles Kings in 2006, he made a draft choice that would change this long history of goaltending depravity. In the 2005 NHL entry draft, with their third round, seventy-second overall selection, the Los Angeles Kings drafted Milford, Connecticut native goalie, Jonathan Quick.
The Rise of Jonathan Quick
Jonathan Quick's transition into becoming the Los Angeles Kings' number one goalie was not a quick one, however, it did creep up out of nowhere. The Kings had no history of drafting and developing quality NHL goaltenders and Quick was not expected to be the goalie he is now. In fact, under Dean Lombardi and his 'build from the back out' philosophy, Kings felt they found their goalie of the future the following year when management drafted goalie, Jonathan Bernier.
Having been the first goalie to be drafted in the first round by the Kings since Jamie Storr, the Kings (and the entire fan base) were impatient and ready to throw Bernier into the fire. I vividly remember watching Jonathan Bernier playing in a game against the Boston Bruins as a teenager and on the brink of being sent down to juniors. Bernier looked frustrated that game and the Kings would eventually lose. The team had yet to cultivate a winning identity that could rear such rapid development. Bernier played four games to start the season and was shortly sent back to juniors for development.
The move to send Bernier back to juniors left a bittersweet after taste. The manifestation of a future number one goalie in Bernier had to wait, however, it was a sign that Dean Lombardi was willing to take the time to develop players properly.While Jonathan Bernier was dominating the story lines by not making the NHL, Jonathan Quick was playing in the AHL for the Manchester Monarchs and the ECHL Ontario Reign and slowly moving up the depth charts.
Jonathan Quick began his scouted playing career in high school playing for Avon Old Farms Winged Beavers in Avon, Connecticut. Quick lead his high school team to their second consecutive New England Division I National Championship in 2004-2005 and set two school records: one for shutouts and one for goals against average. From there, he played in the NCAA for the University of Massachusetts before being drafted by the Los Angeles Kings in 2005 and signing an entry-level contract in 2007.
Splitting time between the ECHL and the AHL, Quick began putting himself in the position to succeed. The Los Angeles Kings found themselves in a position they had never been in before. Not only did they have a goalie for the future in Jonathan Bernier, but also, an aggressive goalie with a high compete level and incredible athleticism in Jonathan Quick. Both were ready to take the next steps towards developing into an NHL starting goaltender.
The roles of Bernier and Quick slowly reversed as Bernier spent over two seasons in the AHL and two seasons playing the backup role behind Jonathan Quick. In six full NHL seasons (a full season being thirty-five games played), Jonathan Quick has been a Vezina trophy finalist, a Jennings award winner (lowest GAA), a Conn Smythe winner, and has helped the Kings win the first two Stanley Cup Championships in franchise history.
What is miraculous about the product that is Jonathan Quick is that despite his development, hard work, awards, and success, some still think he is simply an above average goaltender. Some go as far as saying that his level of success did not warrant his current contract and that Bernier could have achieved the same level of success had he not been traded to the Toronto Maple Leafs.
The arguments are moot as events such as his contract and/or the trade of Bernier have already happened. Bernier is a thing of the past, a brief afterthought in a series of successful memories (like two Stanley Cups). Another argument made is that the Kings' success the season of their first Stanley Cup Championship would not have happened had it not been for the stellar backup play of Jonathan Bernier. Once again, the argument is moot as Jonathan Quick played the majority of the games and the role of a serviceable backup is one that can be called upon fifteen to twenty times a season and play adequately. Any employable backup should be able to replicate the numbers Bernier did that season.
Another argument made is that the Los Angeles Kings' defense and defensive structure has been so strong the last three to four years that any above average goaltender in Quick's place would be able to achieve those same accomplishments. This is true, however, it pulls away from the individual play and performance of an elite goalie. Think Roberto Luongo in Florida or Cory Schneider in New Jersey.
In six NHL seasons (excluding 2014-2015) as the Los Angeles Kings' starter, Jonathan Quick has put up admirable numbers in the regular season. Quick saves over ninety-one percent of the shots he faces, has a mean regular season goals against average of 2.29 GAA, and a winning percentage above fifty percent at 52.29. But how do these regular season numbers compare to the likes of other elite goalies featured in today's game?
Comparing Quick to Other Elite NHL Goalies
In addition to Jonathan Quick, the names mentioned amongst the NHL's top goalies include Carey Price, Henrik Lundqvist, and Pekka Rinne. To draw comparisons, each goalie will be looked at as elite given his regular season mean save percentage, mean goals against average, and mean winning percentage (games won/games played). These four goalies have played five or more seasons playing thirty-five games or more. Thus excluding other goalies that can be thought of as elite like Corey Crawford, Cory Schneider, and Tuukka Rask.
The Montreal Canadiens must have known for certain what they were getting with their fifth overall draft pick in 2005 in goalie, Carey Price. Since the 2007-2008 season, Price has been a cornerstone for the Montreal Canadiens' Stanley Cup contention status.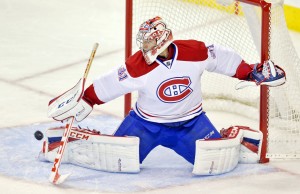 While his playoff success cannot be measured in playoff hardware (trophies), Price has played well for the Canadiens in playoff seasons that have included dramatic series' with the Boston Bruins and a trip to the Eastern Conference Finals before suffering a postseason ending injury last year. Price's regular season stats are impressive and can be suggestive evidence as to why he is considered an elite NHL goalie.
Over the course of seven NHL seasons, having played in thirty-five games or more, Carey Price has a mean save percentage of 0.915 during the regular season. His mean regular season goals against average is 2.55 GAA, and has a winning percentage below fifty percent at 48.39.
Nashville Predator's Pekka Rinne stands tall and alone in the top of the NHL's goaltending class in stature alone at six feet five inches tall. His size comes second though to his extreme athleticism. Suffering a major injury last season limited him to just twenty-four games, but this has not seemed to diminish his level of play. In five full NHL regular seasons, Rinne has had a mean save percentage of 0.918, a mean goals against average of 2.37 and a winning percentage above fifty percent at 51.26.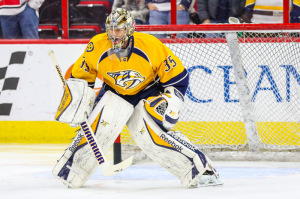 Rinne has less than thirty games of playoff experience with the Predators. Along with Shea Weber, Rinne has helped put the Nashville Predators into contention and currently sit second behind the St. Louis Blues. The Predators will be looking to make a big splash come playoff time after missing last season.
Henrik Lundqvist has been the backstop for the New York Rangers for close to a decade. A seventh round draft pick in 2000, Lundqvist began playing his career in Sweden and established himself as the New York Rangers number one goalie in 2005-2006. The Vezina trophy winner has yet to win a Stanley Cup, however, with the trade of Keith Yandle this season and a Stanley Cup Final appearance last year, Lundqvist and the Rangers feel they are ready to change that.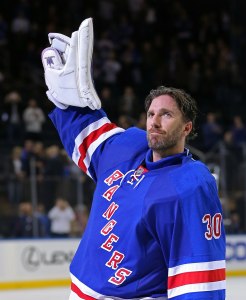 Henrik Lundqvist has a mean regular season save percentage of 0.921 over the course of nine NHL seasons. Lundqvist's goals against average ranges from 1.97 GAA to 2.38 GAA in the years 2005-2006 to 2013-2014. Lundqvist's mean regular season goals against average is 2.25 GAA.
To compare these four elite goalies' numbers (save percentage, goals against average, and winning percentage over five seasons or more having played thirty-five games or more) shows some differences.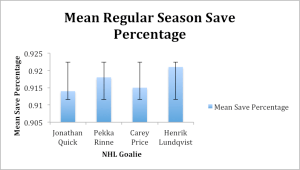 (Pekka Rinne, Jonathan Quick, Carey Price, and Henrik Lundqvist have all played five or more full NHL seasons. Lundqvist has the highest career mean save percentage of 0.921. A standard deviation of 1.71 applied due to different number of seasons played).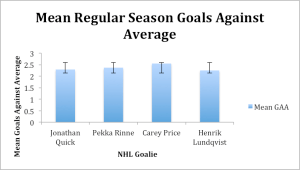 (Henrik Lundqvist has the lowest career mean goals against average with 2.25 GAA between these four elite NHL goales. Jonathon Quick has a career mean goals against average of 2.29 GAA. Pekka Rinne has a career mean goals against average of 2.37 GAA and Carey Price has a career goals against average of 2.55 GAA. A standard deviation of 1.71 is applied due to differing numbers in seasons played).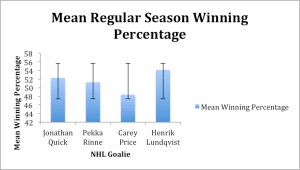 (Henrik Lundqvist has played eight full NHL seasons and has a mean regular season winning percentage of 54.12%, the highest among these four elite NHL goalies. Carey Price has the lowest mean regular season winning percentage of 48.39% over the course of seven full NHL seasons).
Given these statistics between these four NHL goaltenders, Henrik Lundqvist has the highest mean save percentage,  lowest mean goals against average, and the highest winning percentage. There is a variance of 2.92 given the different amount of seasons played by each individual goalie. Jonathon Quick comes second in these categories. This season was not included because there are still games remaining and there are still events that can happen.
Jonathan Quick deserves to be in the conversation when one tries to surmise a list ranking the top NHL goalies. The regular season numbers are comparable to the likes of Henrik Lundqvist, Carey Price, and Pekka Rinne, but what really has separated Jonathan Quick as an elite goaltender in the NHL is his play in high-pressure situations. Down the stretch and come playoff time, no NHL goalie has performs better than Jonathan Quick and with his two Stanley Cup rings and Conn Smythe trophy, it is hard to argue that. Jonathan Quick has solidified his presence as an elite NHL goalie.
Cole R. Querry resides in Southern California. Having played hockey through college and a background in science and math, he promises to bring an objective analysis to the team and sport he loves.