The 2014-2015 regular season has been tumultuous, to say the least, for the defending Stanley Cup Champions.
Injuries, unforeseeable suspensions, and the salary cap have all had an impact as to how this season has turn out so far. And with (less than) twenty-five games remaining in the season there are still things to be determined.
The most glaring issue for the Los Angeles Kings (despite having the recent seven-game winning streak) is team defense. Team defense has been the Kings identity under General Manager Dean Lombardi and has attributed to the organization's recent success. Currently the Kings sit tied for third in the Pacific Division, holding a playoff spot, and returning to championship form. Full team analysis and advanced statistics can be here. Possession numbers are up, team save percentage is up, and there is a groove to the team's rollercoaster season in the King's defensive depth and the success and maturity is starting to show.
During the last two Stanley Cup Championship runs, the Los Angeles Kings had a wealth of defense. Winning their first Stanley Cup with a defensive roster that included Rob Scuderi, Willie Mitchell, (a younger and more stable) Matt Greene, and, of course, Drew Doughty shows that there was a lot of talent and experience on the blue-line. Due to salary cap restrictions, the departure of players like Scuderi and Mitchell were inevitable, thus thwarting players like Alec Martinez, Jake Muzzin, and Slava Voynov to assert them into the lineup slowly and cautiously. All three have come into their own has roster fixtures all having signed multi-year deals with the Kings. In a more rapid pace, fans have seen what this team's defense is collectively capable of. And given unfortunate circumstances (injury and suspension), Dean Lombardi has still put together a solid defense for the present and the future.
With every transaction, Dean Lombardi is looking at the present and the future.
On March 5th, 2014, Dean Lombardi sent defenseman/forward Nicolas Deslauries and forward Hudson Fasching to the Buffalo Sabres for defenseman Brayden McNabb and two-second round draft picks.At the time, McNabb had played only thirty-seven games in the NHL and spent most of his professional career playing for Buffalo's minor-hockey affiliate, the Rochester Americans. McNabb's scouting report reads as a big defenseman plays a physical game and can play in all situations. McNabb's biggest knock at the time was his skating ability. Lombardi was making a move for the future and knew McNabb was on the cusp of cracking an already deep Buffalo Sabres defensive lineup and they had the luxury of trading young defenseman.
Having spent the rest of the 2013-2014 season in Manchester with the King's AHL affiliate, Manchester Monarchs, McNabb had time to acclimate to the King's system before watching the big club win its second Stanley Cup last season. During training camp and prior to the season, the Kings had three choices on what could be done with McNabb: play him opening night, let him watch from the press box, or attempt to send him to the AHL without anyone claiming him off waivers. There was no chance the ladder was happening and a season-opening injury to Jake Muzzin forced head coach, Darrly Sutter, to play McNabb. McNabb saw minutes on the first pairing with Drew Doughty opening night.
In the example given above, Muzzin's injury gave Brayden McNabb the opportunity to assert himself into the King's top six. Along with the indefinity suspension to Slave Voynov, and the recent injury to Alec Martinez (out with concussion-like syndromes) has forced the Kings to dig even deeper for defensive help. In November of 2014, the Kings presented with salary cap issues, presented a professional try out to Jamie McBain and he shortly signed a contract with them for the league minimum. McBain had been on a professional tryout with Arizona to start the year and was cut. While McNabb and McBain may not be replacements for the suspended Voynov, the injured Martinez, and/or the departed Willie Mitchell, their individual numbers are not horrible. Former Washington Capitals defenseman Jeff Schultz who played during the 2013-2014 Western Conference SemiFinals against the Anaheim Ducks, has also been asked upon this season having filled in for ten games.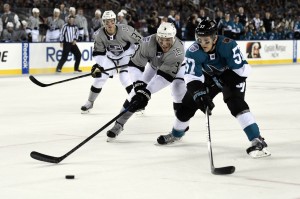 What does the future have in store for the Kings in terms of team defense and is a trade needed come deadline day?
Given what happens with the trial of Slava Voynov, the Kings still boast a very serviceable crop of young and talented defensive prospects. Currently, Derek Forbort is developing right on schedule as he had recently been called up with the Kings available roster spot and Alec Martinez on LTIR. Kings prospect, Colin Miller is making waves having thirty-six points in the AHL this season. The Manchester Monarchs currently sit third in their division. This last draft, Kings traded center, Linden Vey, to Vancouver in exchange for Vancouver's second round pick which was used to draft OHL defenseman and Kingston Frontenacs captain Roland McKeown. Not to mention a prospect pool that includes; Nick Ebert (AHL) and Zachary Leslie and Alex Litnuniemi currently playing in the CHL.
Currently, the Kings have Drew Doughty, Jake Muzzin, Slava Voynov, and Alec Martinez, and Matt Greene signed together through the next four years (barring Voynov's legal outcome). But is there enough left in the tank of every player to make another deep Stanley Cup playoff run? Young players like Brayden McNabb and Jamie McBain are playing sufficiently with McNabb still growing and having a lot of upside. In the AHL, players like Forbort (currently called up to Los Angeles) and Miller are having great years and look poised to take the next step in development. But all are too young to be exposed to the grind of the NHL, especially playoffs. Collectively the defense has done okay, but some are being asked to play big minutes. As of right now, I think the Kings should make a move for defensive help as an insurance policy and as a time-cruncher before or at the trade deadline. It never hurts to strike while the iron is hot.
Cole R. Querry resides in Southern California. Having played hockey through college and a background in science and math, he promises to bring an objective analysis to the team and sport he loves.