For the third time in the past six years, the Chicago Blackhawks are the last team standing, crowned Stanley Cup champions. Duncan Keith deservedly won the Conn Smythe trophy as playoff MVP, [Blackhawk Up], and I'm sure there wasn't a dry eye watching 40-year old Kimmo Timonen lift the Cup for the first time in his career. [Broad Street Hockey]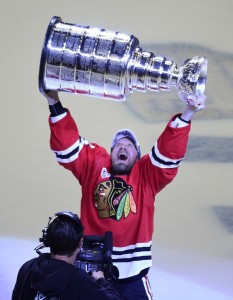 I picked the Blackhawks to win it all at the beginning of the season. I stuck with that prediction when the playoffs started and I accurately predicted they would win in six games over the Tampa Bay Lightning. Why? Because there is something about the core of this Chicago team, their will to win, and their understanding of the moment.
I don't know how the team will fit all their players under the cap. There's a chance we may see a different roster come next season. These guys knew that. They looked around the room and saw a group that wouldn't be together forever, because that's the nature of this salary cap era. They saw a group that was experienced and battle-tested. They knew how to win. Some thought they might not be able to overcome the lack of defensive depth, but the players who needed to step up did so, and the Hawks exerted their will in this series when it looked like Tampa was the better team.
No one knows what the make-up of this team will look like going forward. All we do know is that they have proven themselves as champions time and time again. Call it a dynasty, or as close as we'll get to one; call it whatever you like. The Chicago Blackhawks have shown they are the best. The players might not stick around, but their names will live forever on the Stanley Cup.
In other news…
It was revealed that Ben Bishop was playing with a torn groin. [Yahoo]. Tyler Johnson had a broken wrist. [Tampa Bay]
Kimmo Timonen is going out on a high note. [CBC]
Steven Stamkos had a chance to make a mark on the Stanley Cup final. But he came up short. [Fox Sports]
Have you ever wondered how the Stanley Cup winners get their championship gear so quickly? [Sportsnet]
Sounds like the Rangers will have options for Cam Talbot. [Pro Hockey Talk], [Blueshirt Banter]
Are the Bruins exploring the possibility of trading Milan Lucic? [Hockey Buzz]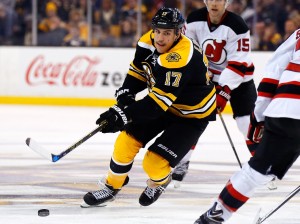 Details about Jamie Benn and the offer sheet. [Canucks Army]
Do the Penguins need to sign penalty killers? [Times Online]
All about Jim Rutherford. [The Pensblog]
Here are the eight teams that Phil Kessel would accept a trade to: [Pension Plan Puppets]. The Pens can't afford him. [Pensburgh]
The tragic story of Stan Mikita. [Chicago Tribune]
Is Adam Larsson a more reasonable target for the Oilers? [Edmonton Journal]. And some other things that the Oilers should do this summer. [Beer League Heroes]
And finally, Rick Nash to the Sabres? [Today's Slap Shot]