Even before it was formalized, the honor getting into the Triple Gold Club was a rare achievement. Winning Olympic Gold, World Championship Gold and the Stanley Cup is a feat only 26 players have ever accomplished.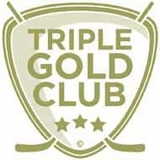 It wasn't until 1994 that it was first accomplished. Sweden won the gold medal and the propelled Tomas Jonsson, Mats Naslund and Hakan Loob to found the club simultaneously. Since then, 26 players have accomplished the feat. It gained notoriety when the IIHF formalized the club into an official IIHF honor in May 2007. At that point 18 players had captured the trifecta, and Chris Pronger was a month from the Stanley Cup win that put him in as well.
The Triple Gold Club isn't the gold standard for being recognized as one of the greatest ever, as it does favor players who choose to play in North American professional hockey for longer periods of time, and is only accessible by players from countries that are powerhouses on the international stage. Few smaller hockey nations — Denmark, Slovakia, Slovenia, Norway, Austria, Switzerland, Latvia, to name a few — have been able to compete internationally at a level that could great their players entry to the Triple Gold Club.
Yet, it remains a high bar that's generally only accomplished by Hall of Fame talent.
With the Stanley Cup playoffs starting Wednesday and the 2016 World Championships less than a month away, it's the time of year where that exclusive club could find another member.
Here's a complete list of players who have checked two of the three boxes to join the Club and their odds of being the next member of the IIHF's Triple Gold Club.
One World Championship Away
A large number of the 26 Triple Gold Club members got their World Championship win while they were young. Only four of the 26 won a World Championship as the last piece of the puzzle.
However, those four show that it's not unprecedented for a veteran to head to Worlds to finish off a Triple Gold in a season where their NHL club misses the postseason or takes an early exit.
In fact, that was the case for the most recent Triple Gold Club inductee, Sidney Crosby, who won World Championship gold with Team Canada in 2015.
https://twitter.com/eyetotelescope/status/709085174303232000
The Canadians
Dan Boyle, Jeff Carter, Drew Doughty, Ryan Getzlaf, Marc-Andre Fleury, Duncan Keith, Chris Kunitz, Corey Perry, Mike Richards, Brent Seabrook, Patrick Sharp
Yes. Every single player who is just one World Championship from Triple Gold is a Canadian.
A large number of these players have played on teams that aren't taking early exits from the postseason often. Eight of these 11 have spent the vast majority, if not all, of recent years playing for the Anaheim Ducks, Los Angeles Kings or Chicago Blackhawks. Of the other three, two have been with the Pittsburgh Penguins and Dan Boyle has been with the New York Rangers and San Jose Sharks, who have been playoff staples.
So, their odds of being the next member of the Triple Gold Club? It's mixed. Every one of these players is in the playoffs again this year. That makes it tough to project their odds of entering the Triple Gold Club. Canada always has a good chance to win Worlds and with any one of these players joining the team — maybe less one or two on this list on the back end of their career — the team is significantly improved.
That's not to say that it's a sure thing that Canada wins if some of these guys are there. In fact, all of them except for Fleury have played in a World Championship previously and not taken home gold. Perry, Getzlaf, Keith and Sharp have all made two appearances at Worlds.
Verdict: It's a matter of timing more than anything. Boyle and Richards may be the only two who are probably not going to have the opportunity.
One Stanley Cup Away
Arizona Coyotes: Mike Smith
It won't be this year.
However, Arizona is a team on the rise. They're still a couple years from having a real shot at being a contender, but they're on their way. The big question is whether Smith will still be a part of the team when it happens. His contract does extend until 2082, but with a new GM coming to town and his numbers on the decline, it's hard to see how he's on the team when they break through.
Verdict: Not happening.
Colorado Avalanche: Matt Duchene and Jarome Iginla
At 25, Duchene is the second youngest player on this list. He's a leader on a team whose methods are constantly in question, but has a lot of great young players nonetheless. Duchene's age plays a big role in saying that he's going to do it. He's got a decade plus of hockey ahead of him to touch the Stanley Cup and enter the Triple Gold. Constant rumors that he could be traded may also help him get there.
As for Iginla, that's tougher. The Avalanche aren't likely to a Cup while he's on this contract. Does he chase a Cup after this deal?
Verdict: Duchene will eventually. Iginla, probably not (but basically everyone hopes he does).
---
RELATED: The 8 Players Who Most Deserve Their First Stanley Cup
---
Florida Panthers: Roberto Luongo
The Cats are finally going to be joining the postseason party and Luongo has looked pretty good this season. He's in a similar situation to Smith. The Panthers are young and on the rise. When their time arrives to be atop the league, it might be too late for Luongo.
Verdict: I wish Strombone was going to, but it may be too late for him.
Nashville Predators: Shea Weber
Nashville has been a strong team for a number of years and the chances that Weber will spend his the vast majority of his career are high. He's 30 and on contract through the 2025-26 season. The Predators are a good team. They're regularly in the mix and don't look poise to drop out of playoff contention in the next couple years.
Verdict: There's a chance it happens. Not many players of his stature go the distance without a Cup, one way or another.
New York Rangers: Rick Nash
Nash spent his best years — nine of them — on a team that made the postseason once and has still never won a playoff series. With the Rangers, he's had his chances. Even with problems on the blue line in New York, a team with Henrik Lundqvist in net almost always has a chance.
Verdict: About the same as Weber. Rangers could win a Cup, but with their blue line, the window may be closing.
San Jose Sharks: Patrick Marleau
Marleau's numbers have been tumbling. He's contributing less and less to the Sharks, and though there's been much talk of their demise, they're looking very good right now. He has one more year with the Sharks and has a no move clause, but would he waive it next year to chase a Cup if he doesn't think the Sharks can win it? Or can the Sharks do it this year under Pete DeBoer?
Verdict: At this point, it might be about chasing a Cup in his final seasons.
St. Louis Blues: Jay Boumeester
The Blues have been solid for years, despite their inability to get over the hump in the postseason. That might be more about their past than their future. They have a lot of young offensive weapons and with the development of guys like Vladimir Tarasenko and Robby Fabbri, their window doesn't look like it's closing any time soon.
Verdict: Boumeester will get it at some point.
Vancouver Canucks: Dan Hamhuis, Daniel Sedin, & Henrik Sedin
How could the Sedins go their entire career without a Cup? It seems unfair. Players that good should get out of their career with a ring on their finger. They've given quotes that seem to indicate they know they'll be asked to waive their no trade at some point. Might they chase a Cup? They should.
As for Hamhuis, the Canucks aren't winning it any time soon with their focus on the organization's youth. If he re-signs there, as he's indicated he'd like to, Triple Gold is probably off the table.
Verdict: Sedins will get it. They have to at some point. Hamhuis, if he re-signs, won't.
One Olympic Gold Away
Canada's dominance in recent Olympics has made life tough for players of other nationalities looking to enter the Triple Gold Club. Russia hasn't won gold since 1990, and they've won just one silver and one bronze in the five Olympics since NHL players began participating.
The lack of golds for the U.S. and Finland has added up to them being the two major hockey countries with no Triple Gold members at all. The U.S. has come close and Finland has more medals in the NHL-era than any other country, but no golds.
For each of these below entries, the assumption we're operating under is that NHL players will participate in the 2018 Winter Olympics.
Pavel Datsyuk/Evngeni Malkin
They're both very likely to be on the Russian team at the next Olympics. So there's a chance. Russia has disappointed numerous times on the international stage in recent years. But they're nonetheless a powerhouse of best-on-best play. They're never taken lightly and they always have a chance to finish on top.
Verdict: Their chances are as good as Russia's. It's possible. The next Olympics could be Datsyuk's last gasp. That means Malkin's chances are a little better, since he'll have a few more in him.
Johan Franzen/Willie Mitchell
These two are grouped together because not only are they unlikely to make a national team again for an Olympics due to age, but both have had concussions that may prevent them from even being available for a surprise selection.
Verdict: Not happening.
Jake Muzzin/Tyler Toffoli
Two rising stars whose biggest obstacle to Triple Gold is being Canadian.
Do they continue to improve to the point where they're in the discussion for the annually stacked Canadian roster? It's easy to see Muzzin getting there in a few years. He's under-appreciated and his connection with Drew Doughty could make them an easy plug-and-play defensive pair on the international stage, where chemistry can be tough to come by.
Toffoli is very good (and probably under-valued by most), but remains questionable for an Olympic roster. The wings on the third and fourth line of any given Team Canada in recent years has been a who's who of the leagues best wingers. That's not to say that Toffoli couldn't make an appearance. Hockey Canada brass no doubt understands his value. It's just hard to crack that roster.
Verdict: They've got an outside chance of joining the club.
.@tytoff16 is 1st @LAKings player to hit the 30-goal mark in a season since Anze Kopitar (34) in 2009-10. #LAKvsVAN pic.twitter.com/2ZEBZs1Jak

— NHL Public Relations (@PR_NHL) April 5, 2016
Michal Rozsival/Radim Vrbata
Both are aging and, should they make the team (I bet they do), are a part of a Team Czech Republic that isn't going to be a favorite to win gold. The Czechs have surprised before, but that was a different era.
Verdict: Not happening.
Tyler Seguin
Seguin is the youngest player with two of the three awards necessary for inclusion in the Triple Gold Club. He's basically a lock for Team Canada at the Olympics. He might be a lock for the next couple Team Canada rosters. With the strength of the Team Canada every four years, their ability to win and the strong likelihood he's on the team, he's going to have a few cracks at getting a gold medal for his trophy case.
Verdict: He'll almost certainly be a member of the Triple Gold Club before he retires.
Jordan Staal/Cam Ward
While their situations are very different, they're in the same spot (not talking about Raleigh, though that's also true). It's impressive and difficult to get two awards and enter this conversation. However, neither are likely to find themselves on a Canadian Olympic roster.
Verdict: It's unlikely.
Justin Williams
Mr. Game 7 is 34. He'll be 36 at the next Olympic Games. He didn't make the team in 2014 and it's hard to see how, aged another two years, he's a part of the team in 2018.
Verdict: No. Then again, he's Mr. Game 7 and everyone seems to believe he'll just find a way to win no matter what, so maybe I'm underestimating his grit.
What About the Americans and Finns?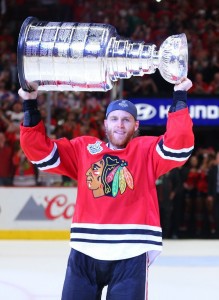 The players here are heavily skewed toward Canadians, Swedes and Russians. That's how the Triple Gold Club has played out so far. Of the 26 Club members and one coach (Mike Babcock) who have achieved the honor, only players from Canada (9), Sweden (9), Russia (6) and the Czech Republic (2) are represented.
That leaves out a lot of players from hockey-playing nations, most notably the United States and Finland. The chances of their absence being rectified doesn't look good. There are currently no Finns and no Americans with two of the three necessary honors to gain admission.
Who should we be betting on to be the first among those nations? It's hard to project who is in line to win two more of the honors, but Patrick Kane (Stanley Cup), Mikael Granlund (World Championship), Teuvo Teravainen (Stanley Cup), Brandon Saad (Stanley Cup) and Jonathan Quick (Stanley Cup) are all players who have one of the three in their pocket, are reasonably young and represent their country on the international stage.
Players enter the club so rarely that it may be a long while before we see an American or a Finn enter this exclusive group.
Dustin Nelson writes about news and the Minnesota Wild for The Hockey Writers.