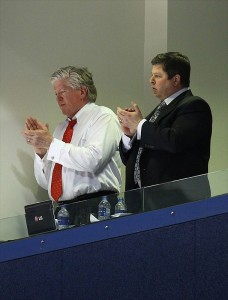 The Fan
As a long suffering Leafs' fan, there have been moments over the years when I have wanted to call it quits and turn in my colours. Being a Leafs' fan is tough work- the seasons are short and the jokes are relentless. You cannot go a week without being asked, "When was the last time your boys won the Stanley Cup"? However, after a disastrous season in which many of the Leafs' "top" players underachieved, today's recall of Colton Orr for the final game of the regular season, shows this fan that the Leafs' still have some class.
A Career
Colton Orr signed with the Maple Leafs in the summer of 2009, after spending three and a half seasons with the New York Rangers. The undrafted winger would go on to play in 231 regular season games with the Leafs, producing 13 points and racking up 637 penalty minutes. He was given the task of protecting and making room for more skilled players such as Phil Kessel, Nazem Kadri and James Van Riesmdyk. Orr would go toe-toe with heavyweights such as Donald Brashear, George Parros and the late Derek Boogaard, before being demoted to the Toronto Marlies of the AHL in the fall of 2014.
When it comes to the recall of Orr, questions begin to arise surrounding the reason or nature behind his call-up, some valid while others being completely ridiculous. Is it a publicity stunt? Is he retiring? Are the Leafs trying to blow the last game of the year? Is it a conspiracy to get him in the line-up so he can possibly hurt someone on Montreal? Let me be perfectly clear, the Toronto Maple Leafs are dressing Colton Orr to honour him for his 231 games in the blue and white.
As the patterns and philosophies of the new NHL begin to come more and more to the forefront, players like Orr are either being outright released or demoted to their respective minor league affiliates. Many of these players hearing the classic line of, "We would love to keep you but . . ." or "Go take some time to work on other aspects of your game"- both leading to a full time minor league assignment with no offer to resign or final farewell. Brian Mcgrattan, Tom Sestito and Trevor Gillies are all former NHL tough guys who have been assigned to full time minor league duty with no sign of a recall in sight.
The Right Move
When it comes to the conspiracy theories and negative comments behind the call-up, I can't help but roll my eyes and maintain calm breathing. My apologies to Mr. Ken Campbell of The Hockey News. Colton Orr has dressed in 476 regular season games to go along with 19 playoff contests. He has laced the skates up for hockey minds such as Tom Renney, Ron Wilson, Randy Carlyle and John Tortorella. For someone to say that Colton Orr served no purpose in the NHL, is to say that none of those coaches or organizations knew what they were doing when they dressed him. He has also not fought since the pre-season with 4 penalty minutes in 14 games.
Nobody knows what the future holds for Colton Orr or the Leafs for that matter, but allowing him to play in this final contest is a classy move by the organization. You are honouring a fan favourite, a player and a person. By honouring him you also honour the players who came before him and filled the same role, who didn't get the privilege to play a final game. The transactions and moves made by the Leafs are often misguided or plain wrong so let me be perfectly clear one more time: this isn't one of them. Colton Orr never turned in his colours.