When The Hockey Writers spoke with New York Islanders center Frans Nielsen three weeks ago his team was in a far more comfortable playoff position than they are at press time on April 9. A lot has changed since then, including the number of regular season home games left in his team's tenure at the Nassau Coliseum. The Isles fans have been loud and proud this season — at home and on the road — as their team has possibly their best team since the early 1990's entering the playoffs.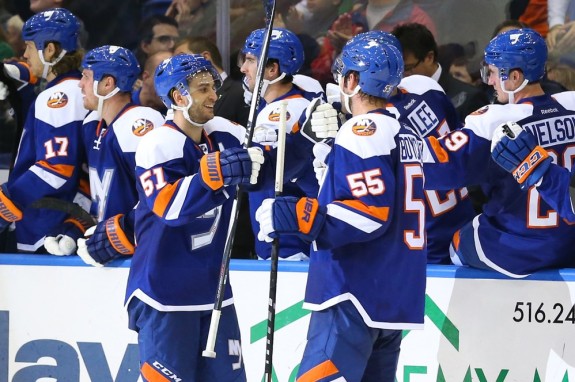 THW talked with the 30-year-old Nielsen after a shutout win over the New Jersey Devils about the impact the fans have had on the Islanders this season as well as interacting with the players from the dynasty teams and how much of a rock star the first Danish player in the NHL is back in his home country.
The Hockey Writers: How important was it to win this game after the losses your team has had recently?
Frans Nielsen: We weren't too happy with what we've been doing, how we've been playing, lately. We had three days off in between games and we had some time to go over some video, talk about what we had to do better; I think we came out (tonight) with a great effort. We had a tough stretch (there), but it's nice to get a win again.
Frans Nielsen recorded his first career hat trick earlier this season vs Dallas:
THW: How much attention do you pay to the standings personally? Is it something you look at daily this time in the season?
FN: You watch the scores a little bit more this time of year; we were in a really good position, but with some bad games here lately…you definitely feel the teams coming up from behind us now. It's really important these last nine games, it's going to be hard; it's going to come down to the last game and hopefully we can battle to get home-ice advantage in the playoffs.
THW: Your fans have been very loud this year at home — and on the road, like tonight in New Jersey; what has their presence meant to you and the Islanders this season?
FN: It's been awesome (smiles); I've always heard stories about back in the 1980s how it was every night in our building and how loud it was. I think we've been feeling that this year; we have a good team, the fans have been coming out and it's been incredible. Sold out every game, it's been loud and it's been really fun. It means a lot to you when you have fans like that, it gets that little extra out of you when you have your fans behind you.
The Islanders players have embraced the chant their fans have started this season:
THW: So they do have an effect on you? Some players say they don't notice one way or another.
FN: For sure (laughs); coming out there in front of 10,000 or 16,000 is different. You feel them, you hear them; it definitely gives me some energy for sure. They've been a force for us this year — it's been fun.
THW: Is it more special for you being here now as part of the team's successes after going through a lot of rough seasons as part of this young core?
FN: Definitely; you definitely appreciate it a little more. We have a bunch of guys on this team that have been through it from day one of this rebuild; it's been some tough years. I think we all appreciate it even more but at the same time GM Garth (Snow) has been keeping this core together. It's been fun winning with those guys that you are trying to improve every year with — becoming your best friends. We've had this focus for so long and now we are starting to win, we all appreciate it a lot and it's made it even more fun to come to the rink everyday than it usually is.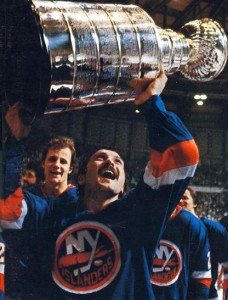 THW: A lot of the players from the 1980s Islanders teams have been around the Coliseum a lot this year; do you get to interact with them at all and if so what do you take away from that?
FN: Some of them. Butchie (Butch Goring) is with us all the time, (Mike) Bossy is there almost every day in the office. So you get to see them a lot and talk to them. (Bryan) Trottier is coaching with Buffalo now but you always make it a point to say hi to him when we play them. I had him as a player development guy my first two years in Bridgeport. Those guys mean a lot to me and it's always fun to sit down and talk hockey with them; they definitely know what it takes to win, it's great to have them around.
THW: In your home country are you a big rock star back there? How much do they pay attention to what is going on with you here?
FN: (laughs) I think people know who I am but it's still a big soccer country. We are trying to grow the sport (of hockey); people know who I am but at the same time it's not crazy like people come running up to me. I can just be myself and walk around there; it's pretty nice.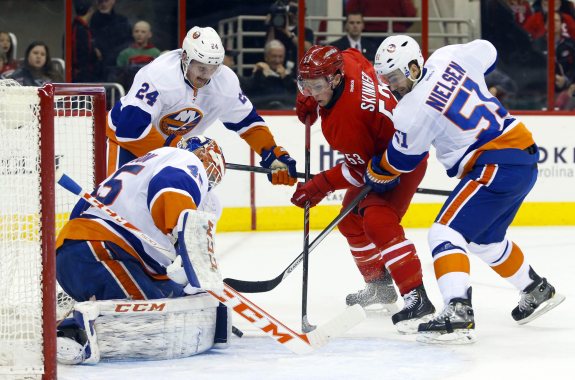 THW: You have a pretty gnarly beard going on right now, when the playoffs start are you going to shave and start over or will you let it keep growing?
FN: Ahhhh (laughs) I don't know, we'll see; we'll see how it goes these last few games.