Salary cap leagues are all about getting the most "bang for your buck" — determining what player to sign, for what term, at the cheapest rate possible. The best general managers strike a proper balance, paying for star power while digging for gold in the league's bargain bin.
The Florida Panthers appear to have set themselves on the right track following an offseason of change. With general manager Tom Rowe pulling the strings, the club locked down members of its youthful core to long-term, cap-friendly deals, while completely re-tooling its defense.
But just how efficient are these transactions? Are the Panthers overpaying for their talent, their scoring?
By using Cap Friendly's financial measures and HockeyDB's player records, we may better gauge how cost-effective the Cats' 2016-17 roster is on a per-point basis. Since quantifying production from skaters is the primary focus of this article, goalies will be excluded from analysis.
Admittedly, this endeavor might be slightly flawed — past efforts, while a generally decent indicator of future performance, don't account for player progression and regression. Additionally, new line combinations and deployment, courtesy of the aforementioned roster makeover, could help or hinder statistical performance. This exercise, however, should at least offer a ballpark figure, and future articles could compare the 2015-16 Panthers to other teams league-wide.
Forwards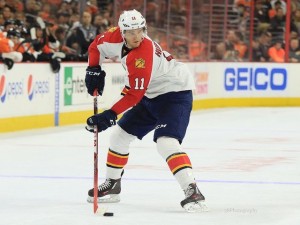 Seven forwards who dressed for an NHL contest with the Panthers last year have been re-upped thus far this summer, and for good reason.
Spearheaded by Team North America alternate Vincent Trocheck, Finnish pivot Aleksander Barkov and the ageless Jaromir Jagr, among others, Panthers forwards (still signed or otherwise) notched 487 total points, contributing to the league's eighth-best offense.
Given the unit's youth, scoring should continue to blossom with time. Additionally, while trade-deadline rentals Teddy Purcell and Jiri Hudler weren't re-signed, free-agent pickups Colton Sceviour and Jonathan Marchessault, alongside recent acquisition Jared McCann, ought to shore up scoring from the bottom six.
Per Cap Friendly's count, the Cats currently have 14 forwards rostered at the major league level, with the club investing over $40 million— or roughly 58.4 percent of the team's total cap hit — in the group. The contingent posted 465 points across all regular season contests during the 2015-16 campaign, breaking down to an average of 33.2 per player and a rounded price tag of $86,278 per point.
Some skaters pulled their weight — using his upcoming cap hit of $3.425 million, winger Reilly Smith, the recent beneficiary of a five-year, $25 million deal, put up a total of 50 points at a cost of $68,500 each, approximately 20.6 percent less than the team average.
Others, not so much.
Dave Bolland's time in Sunrise has, thus far, been an unmitigated disaster. The team's second-highest paid forward, Bolland's albatross of a contract carries a $5.5 million cap hit. However, due to injury, the native of Mimico, Ontario, only managed to appear in 25 games this past season, accruing a paltry five points.
Florida paid the former Stanley Cup hero over $1 million per point in 2015-16.
Defense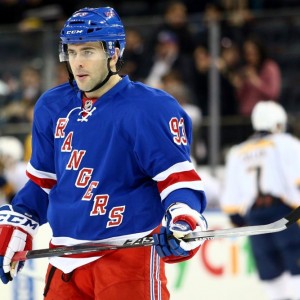 If you were to describe the Panthers' offseason as a cyclone, the defensive corps would have been its eye.
Keith Yandle, Mark Pysyk and Jason Demers are in to replace Brian Campbell, Dmitry Kulikov and Erik Gudbranson, three regulars who appeared in an average of 73 games apiece during the team's historic 2015-16 regular season.
A product of an ideological shift in the front office, the incoming trio were tabbed for their proficiency as puck-possessing rearguards. Their style of play — a penchant for crisp breakout passes and puck security — ought to drive offense and boost scoring from a group that potted 124 total points last year.
Aaron Ekblad — recently selected as the league's 46th-best player by the NHL Network — highlights a talented, yet fairly inexpensive group of seven rostered defensemen. With a mean cap hit of roughly $2.416 million per skater, the defensive contingent is the cheapest positional group in the clubhouse. Helped by Ekblad and playoff standout Michael Matheson's rookie contracts, the team has a grand total of $16.915 million tied into the defense, equating to 24.6 percent of the squad's total cap hit.
Scoring an average of 19.4 points per player, this new-look defense potted 136 total points last season, breaking down to an average cost of $124,375 for each point produced by the blueline.
Ekblad and 24-year-old Alex Petrovic were the most efficient of the bunch — still on his rookie ELC, Ekblad's defense-leading 36 points came at a ridiculously low cost of $25,694 each, while Petrovic's 17 points through 66 appearances tagged the Panthers at a rate of $61,765.
Additionally, the power play's back-end attack ought to become more efficient. Ranked 23rd overall, the special teams unit converted only 16.9 percent of its chances last season — the second-lowest regular season mark of any playoff team — with 25 power-play points generated from the blue line.
On his own, Yandle posted 22 power-play points, scoring twice in the process. Should he replicate his success while running the point for the Panthers' odd-man advantage, the former Arizona Coyote would account for approximately 157 percent of Campbell's, Kulikov's and Gudbranson's combined output.
Using both Cap Friendly and General Fanager's salary records, that translates to a discount of roughly $709,665 per power-play point.
In conclusion, while the Panthers' group of forwards rightfully shoulder the offensive load, the team's defense provides scoring punch at more reasonable price. The additions of Demers, Yandle and Pysyk should spark production on the power play, and the forwards should respond in kind, furthering the unit's efficiency and finally helping it creep out of the league cellar.
And, with a total cap hit of $68.671 million — 17th in the league and lower than all but four 2016 playoff contenders — the team is left with $4.329 million in wiggle room, opening up late season trade possibilities and enabling the squad to take a flyer out on a deadline rental. 
The Florida team is on the cusp of great things, and have managed to position themselves for a deep playoff run without breaking the bank.
A rower-turned-writer at the University of Florida and an incoming MA in Journalism student at DePaul University, I have: Worked as a staff writer for the Independent Florida Alligator; covered the Florida Panthers for The Hockey Writers; reported on international tournaments for Hooked On Hockey Magazine; and functioned as an entertainment correspondent with the Gainesville Sun. If you're interested, you can also follow me on Twitter @ajlb95.