As the NHL draft approaches, general managers across the league will be looking to better their teams in multiple ways. Whether it be drafting the next big piece to the puzzle, signing an unrestricted free agent to a long term deal or simply shedding salary to lock up assets.
The Panthers have already unloaded a bunch of salary in the Erik Gudbranson and Marc Savard trades, and it is likely to ensure they can lock up their four big restricted free agents this offseason, or next.
I'll break down what I think each player is worth on a long-term deal.
Vincent Trocheck
Trocheck was easily the Panthers biggest surprise this year and now, without a contract, the Panthers hope they can lock him up to a long-term deal to solidify their centre depth alongside Aleksander Barkov and Nick Bjugstad.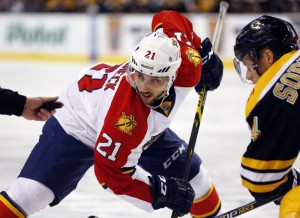 Trocheck's contract, in my eyes, falls right in between those two players.
Bjugstad signed a six-year deal at the end of last season that averages out to $4.1-million per year and Barkov, the team's number one centre, signed a six-year contract where he will make $5.9-million each season.
I expect Trocheck to sign a six-year deal at around $4.7 to $5.2 million dollars per year.
In his first full season as a centre in the NHL, Trocheck potted 25 goals and 53 points in 76 games, had a plus 15 rating and won 49.5% of the faceoffs he took.
Trocheck left very little to be desired while playing as the Panthers second line centre, and the Panthers would be wise to sign him to a long-term deal now, before his price goes up again.
Reilly Smith
Reilly Smith was without a doubt the most versatile forward on Florida in 2015/16, but he often went unnoticed because of all of the other big story lines the Panthers had last season.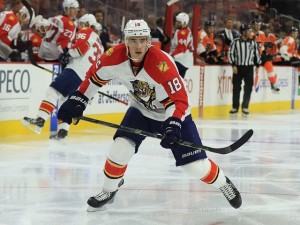 Coming to Florida last offseason in the Jimmy Hayes trade, former Panthers General Manager, Dale Tallon, successfully made a low-risk move, that would benefit his team immediately and for years to come.
In his first season in South Florida, Smith scored a career high 25 goals and added 25 assists and instantly had an impact on the Panthers powerplay and penalty kill units.
Smith actually played the most shifts per game on average of any other Panthers forward and played the second most ice time per game of the Panthers forwards.
All in all, Smith became the perfect second liner for Florida and his price is a tricky one to gauge. I see him getting roughly the same as Trocheck, on the high side of $4-million per year, but not much higher than $5-million on a long term deal.
Jonathan Huberdeau
The Panthers selected Huberdeau third-overall in 2011 and after a breakout, Calder winning rookie season, Huberdeau has slowly developed into a first-line left winger.
Like I said, Huberdeau has come a long way as a player since being drafted in 2011, putting on plenty of size and working on his defensive game and board work. But he is still a pass-first player and this is both his biggest strength and weakness as a player.
Here's an example of where his pass-first mentality paid off.
This, for me, is the easiest of the contracts to get a value determined.
My comparable for Huberdeau is Brandon Saad.
Both were drafted in 2011 and have almost the same amount of points in nearly the same amount of games played. Saad signed a six-year $36-million contract with Columbus last offseason and I believe Huberdeau will get something similar, if not identical to that.
Aaron Ekblad
How much is a 20-year-old number one defenseman worth?
This is the question that Panthers management is going to have to figure out over the next 12 or so months.
Ekblad came into the league immediately after being selected first overall in 2014 and does everything at an elite level. He passes both the eye test and the analytics test with flying colours, as well as putting up points at a very steady rate and playing almost 22 minutes per game, all just in his second season.
Here's one of his 15 goals this season.
The Panthers will want to lock him up to a 6 to 8 year contract, but again, what do you pay him?
Maple Leafs defenseman, Morgan Rielly, who isn't quite the defenseman Ekblad is, just signed a six-year $30-million deal, so we have to expect Ekblad will get closer to $7-million or even $8-million on an eight-year deal, don't we?
I'm thankful I get to watch Ekblad as a Panthers fan and look forward to him playing for Team Canada in coming years. I'm also very thankful that signing Ekblad to a long-term contract is not my job.